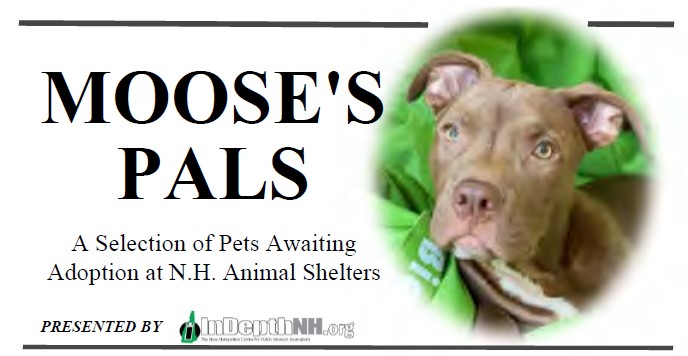 Welcome to this week's edition of Moose's Pals, a weekly column devoted to pets that are available for adoption at local animal shelters. Moose is our mascot here at InDepthNH.org, and each week he and adult friend select those who are waiting for new homes. He scans the websites of New Hampshire animal shelters and randomly selects five pets available for adoption to feature in this column. Contact the shelter listed for each pet to find out their process and adoption fees.
1. Blizz and Frosty are young, domestic short hair, white, medium males. Blizz and his brother Frosty are the best of friends and have always been together. They were from a litter of four in Florida. These two spend hours together every day, grooming, playing and sleeping together. And purring? They are purring machines! So if you want to double your trouble and have two lap cats entertaining you, Frosty Paws and Blizz are for you! PS: They wanted me to tell you they love massages too. And baby-talk. Maybe kisses, too! They are described as good with dogs and children, and are house trained.
Available at the Greater Derry Humane Society, P.O. Box 142, East Derry, NH 03041. Phone: (603) 434-1512.
2. Luna is an Akita with a brown and black long coat. A medium female, she is 2 years and 1 month old. She is smart, confident, and silly. It can take her some time to warm up to new people, but once she does she is the sweetest! This fun-loving girl enjoys going for walks and play ball. Typical to her breed, Luna can be very strong-willed. She would do best with adopters with previous Akita experience. She is crate trained and knows her basic commands but would certainly benefit from continued training. Luna would be happiest in a home without other pets or children. She would make a wonderful companion for an active couple or individual.
Available at the Monadnock Humane Society, 101 W. Swanzey Road, Swanzey, NH 03446. Phone: (603) 352-9011.
3. Spooky is a female, domestic short hair, black and white, and is 7 years, 5 months old. Spooky spent most of her life in a basement. She wants to be friendly and likes to be touched but is very scared. She is looking for a home with someone who has a lot of patience and time.
Available at Animal Rescue League of New Hampshire, 545 Route 101, Bedford, NH 03110. Phone: (603) 472-3647.
4. Rocky is a Saint Bernard with a brown and white coat. A large adult male, he is 3 years old. This sweet boy wants nothing more than your time and attention. Rocky needs someone who can take it slow with him and let him warm up to his surroundings. He loves adventures but loves exploring where it's less crowded and just him and his people! Rocky may be okay with other dogs pending meet and greet. We have no idea if he has ever lived with cats, so if you have a feline resident in your home, he would need a slow introduction.
Available at the New Hampshire SPCA, 104 Portsmouth Ave., Stratham, NH 03885. Phone: (603) 772-2921.
5. Oliver is a male, domestic short hair, orange and white, and is 1.5 years old. He is happy-go-lucky, curious and loves nothing more than being patted. Oliver is intrigued with the cats here, so he would probably be okay with your resident cat, if a proper introduction is made between them.
Available at the Manchester Animal Shelter, 490 Dunbarton Road, Manchester, NH 03102. Phone: (603) 628-3544.