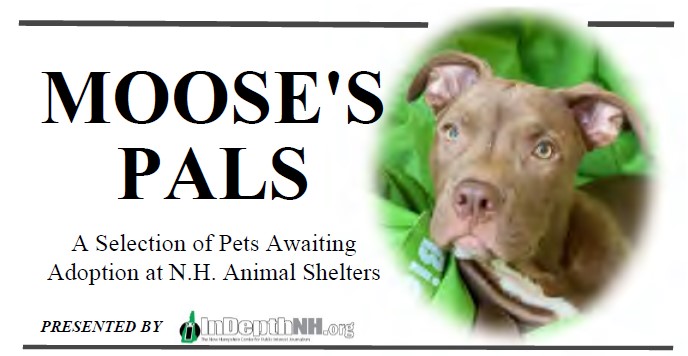 By CHELSEA HENSLEY, InDepthNH.org
Welcome to this week's edition of Moose's Pals, a weekly column devoted to pets that are available for adoption at local animal shelters. Moose is our mascot here at InDepthNH.org, and each week he selects those who are waiting for new homes. He scans the websites of New Hampshire animal shelters and randomly selects five pets available for adoption to feature in this column. Contact the shelter listed for each pet to find out their process and adoption fees.
Katana is an American Staffordshire Terrier/Pit Bull Terrier mix with a short coat. He is a large adult male, aged two years and four months. Meet the newest Padawan in the galaxy – Katana! This handsome guy is originally from a galaxy far, far away (Texas), but he is now looking for his new home in New Hampshire. The (puppy) force is strong with this one – he is curious, happy and smart. He knows "shake" but he would benefit from basic obedience classes to reach his true jedi knight potential. He is great in the landspeeder and loves to go on adventures, but also loves to snuggle on the couch. If you are looking for a baby Yoda look-alike to explore the galaxy with by day and watch the new season of The Mandalorian with by night, Katana is for you! He is described as good with dogs, children, and is potty-trained.
Available at the Greater Derry Humane Society, P.O. Box 142, East Derry, NH 03041. Phone: (603) 434-1512
2. Reptar is a female, domestic shorthair, black, and is 13 years and 7 months old. She is good with dogs, children, and has a sweet, gentle personality. She loves being with people, enjoys pats and scratched, and seeks out attention. Reptar prefers a quiet, low-key home and thrives on routine. She is a social eater and enjoys her dinner dates with family.
Available at the Monadnock Humane Society, 101 W. Swanzey Road, Swanzey, NH 03446. Phone: (603) 352-9011.
3. Gunner is an American Pitbull Terrier with a short coat. A large adult male, he weighs 77 pounds and is 3 years and 10 months. If you are looking for an enthusiastic life partner, look no further please! Outdoor adventures? Gunner is all about those, especially if it's with you! Food? He's all about that too! He enjoys everyone that he's met at the shelter so far, and if you're looking for a goofy, loving boy, Gunner is the one for you! He is described as good with older children and adults.
Available at Animal Rescue League of New Hampshire, 545 Route 101, Bedford, NH 03110. Phone: (603) 472-3647.
4. Belle is a female, domestic shorthair, gray and white, and is 6 ½ years old. Belle is outgoing, quite social, and friendly. She does still need some time to warm up (she doesn't jump paws in) but in no time, she's a cuddlebug! Belle would do best as the only feline in the home and it is not known how she would do with canines.
Available at the New Hampshire SPCA, 104 Portsmouth Ave., Stratham, NH 03885. Phone: (603) 772-2921.
5. Panda is a Pit Bull Terrier mix with a black and white short coat. A large adult female, she is 1 ½ years old. She is a very energetic girl who loves to do zoomies! Panda loves to swim, walk, and play! She would make a great hiking buddy or running partner. Panda is still learning manners and working on training, so small children may not be the best fit for her. She is a smart girl and learns fast. She would not mind another energetic doggy friend.
Available at the Manchester Animal Shelter, 490 Dunbarton Road, Manchester, NH 03102. Phone: (603) 628-3544.