Welcome to our very first edition of Moose's Pals, a weekly column devoted to pets that are available for adoption at local animal shelters. Moose is our mascot here at InDepthNH.org, and each weekly he selects those who are waiting for new homes. He scans the websites of New Hampshire animal shelters and randomly selects five pets available for adoption to feature in this column. Contact the shelter listed for each pet to find out their process and adoption fees.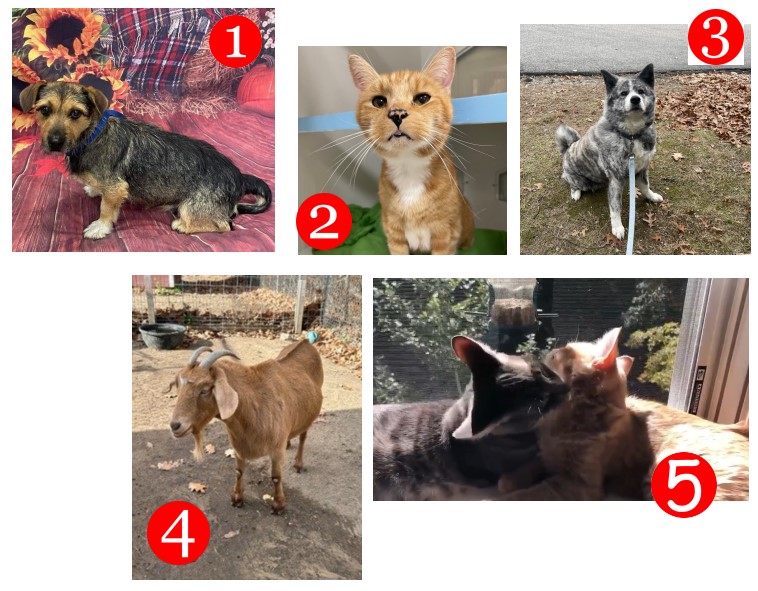 1. Piper is a terrier / mixed with a short coat. A small adult female, she weighs about 13 pounds and is 3 years old. She is described as "adventurous." In fact, she's so adventurous that sometimes she takes herself on field trips to explore. You would think that her humans would be happy that she is so curious and self-motivated, but nope. They usually just try to stop her from leaving. Piper responds: "Well, maybe I want to see the world and broaden my horizons. Maybe I like being independent. Maybe I want to travel the world and experience new things. Sigh." Anyway, Piper is looking for humans that will understand her craving for adventure, while also keeping her safe. She is described as good with dogs, kids and is potty-trained
Available at the Greater Derry Humane Society, P.O. Box 142, East Derry, NH 03041. Phone: (603) 434-1512
2. Melvin (aka Prince Harry) is a male, domestic shorthair, orange and 13 years and 4 months old. He prefers an only cat household, but is good to try with dogs and children. He is easy-going and affectionate, social with everyone he meets and a lovable boy who will be devoted to his people., He settles into new places easily, seeks attention and will do well in most homes. Melvin is hyperthroid and currently regulated on medication. Staff would love to discuss his treatment plan with you when you call.
Available at the Monadnock Humane Society, 101 W. Swanzey Road, Swanzey, NH 03446. Phone: (603) 352-9011.
3. Suki Is a female Akita who weighs 70.2 pounds, She is six years and five months old. If you are an Akita person, you will totally understand her personality. She is a very sweet lady just looking for her final home. She is a little over weight and staff are currently working on that.
Available at Animal Rescue League of New Hampshire, 545 Route 101, Bedford, NH 03110. Phone: (603) 472-3647.
4. Ginger is beautiful copper colored female goat. Ginger is social and an easy keeper. Ginger needs other friends with horns as she likes to play rough. She is an angora female, 4 years old.
Available at the New Hampshire SPCA, 104 Portsmouth Ave., Stratham, NH 03885. Phone: (603) 772-2921.
5. Donut and Crepe are a bonded pair. They are 9-month-old bonded brother and sister pair searching for a quiet and cat savvy forever home. Their perfect home will be dog free and child free, as they will scare this timid duo. They are playful and full of energy, but also happy snuggling each other. They will need a home with someone that will help them acclimate to their new environment at their own pace, but will also play and socialize them daily to help them continue to become more and more confident. Another confident, cat friendly cat in the home would be okay with these two — they might help Donut and Crepe adjust more quickly. This timid pair needs an experienced, cat savvy human, with a strong vet history. First time adopters will not be considered.
Available at the Manchester Animal Shelter, 490 Dunbarton Road, Manchester, NH 03102. Phone: (603) 628-3544.