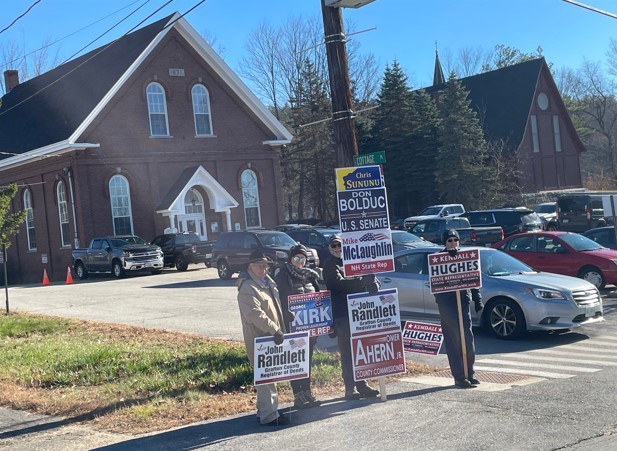 By PAULA TRACY, InDepthNH.org

ASHLAND – Secretary of State David Scanlan's predictions for a record voter turnout in a midterm election seemed to be on target as voters and poll workers across the state reported big early morning crowds Tuesday punctuated by a busy lunch hour.

Polls were expected to be open in most all precincts until at least 7 p.m. and an after-work rush in the dark was expected.
Scanlan visited the polling places in Ashland, Woodstock, and Campton Tuesday. The percentage of absentee votes will likely be around 10 percent, according to Scanlan, which is in line with the 2018 election.

RANDOM AUDITS

Scanlan announced midday that devices in four communities had been selected for post-election audits to ensure accuracy.
Randomly selected were the AccuVote electronic ballot counting devices in Tilton, Pembroke, Somersworth Ward 3, and Durham for the post-election audits of the State General Election as directed by law.

The moderators were notified of the audit at noon in the middle of the election.

A public audit of the ballots processed by the AccuVote devices in these polling places will be conducted on Thursday, Nov. 10 at 8:30 a.m. in Concord at New Hampshire Archives and Records Management building at 9 Ratification Way.

Results will go to the public no later than Friday, Nov. 11 at 12 p.m., Scanlan said.
Chosen to carry out the audit are state Senators Donna Soucy and James Gray, a Democrat and Republican respectively; Patty Lovejoy, Senior Deputy Secretary of State; Attorneys Christopher Regan, Orville "Bud" Fitch, Eric Forcier, and Jennifer Coté; and Ira Margulies and John Chadbourne of Clear Ballot, the company that provides ballot-counting devices, hardware and software.

VOTERS GET THEIR SAY
After weeks of intense campaigning and mail, voicemail, and email boxes filled with candidates slamming their opponents on issues of inflation, abortion, the economy, border security, and more, it was time for the voters to have their say.

They were voting on a U.S. Senate seat, both of the state's U.S. House seats; a new, two-year term for Governor; a slate of five Executive Council seats, and the entire 400-member state House of Representatives and 24-member state Senate, along with county official seats.

Pollsters had many wagers on it being a tight race and the voters were not dissuaded by a cold breeze on a November day.

Standing closely together against a stiff wind outside the Ashland Elementary school were John Randlett, Brenda Maillet, Ivan Maillet, and Ron Howe holding signs for Republican candidates, including Randlett who is running for Grafton County Registry of Deeds.

Meanwhile, prospective voters circled the parking lots in search of a place to park and old neighbors were talking in small groups both in and out of the polling center.

Inside, a bake sale in support of St. Mark's Church was on the basketball court just outside where voters were casting their ballots and the location couldn't have been better for both sales and those who wanted to scoop up fresh chocolate chip cookies and warm gingerbread.

Volunteers at the bake sale there said they were nearly running out of baked goods and said they had never before seen so many voters so early in the day.

Not far from the scrum of Republican candidates battling with their signs in the wind  was George Hacker, standing alone with his gloved hands holding signs for Democratic candidates Cinde Warmington of Concord for Executive Council, and Bill Bolton for New Hampshire State Representative.

"Good thing we don't have elections in January," Hacker quipped as he greeted voters and fellow residents of Ashland.
About 20 miles to the south and east at the Town Hall in Center Harbor, Town Clerk Mary Richardson said she was very impressed with the high voter turnout so far. It was 10:30 a.m.

Police Chief Mark Chase was inside the door greeting voters and said the election was going well and there was no trouble.

In the small town of Bath, at about the same hour, there were no lines but a few voters. The quick turn from summer-like weather of the weekend to 40 degrees was not enough to keep voters from coming out in a steady stream.

At noon, there was a line out the door at Plymouth Elementary School as students from nearby Plymouth State University got off shuttle buses and there was a line when the doors opened with voters, said Zach Tirrell, chair of the Plymouth Selectboard, who was staffing the ballot box about 2:30 p.m.

He said it had been steady overall with voters not waiting in line to vote with the exception of the first morning hours and lunch.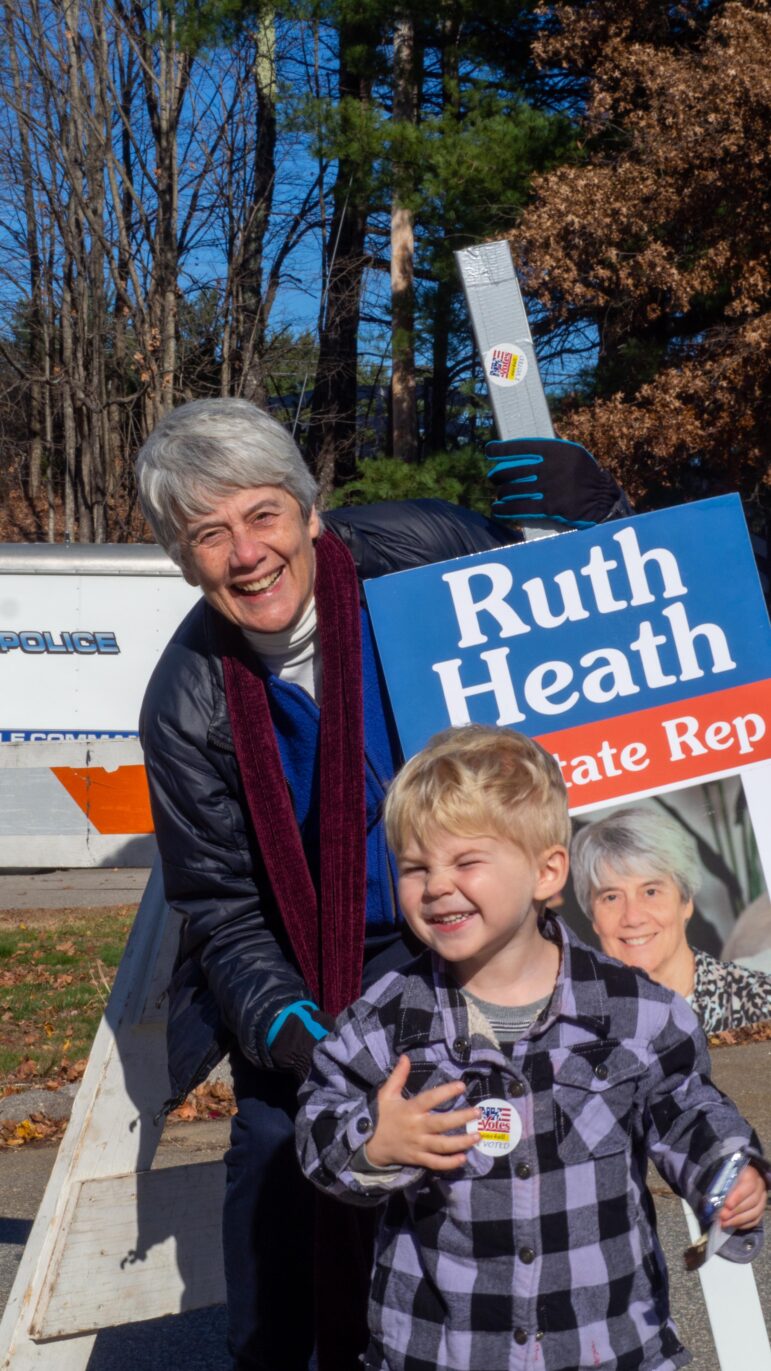 ATTORNEY GENERAL OVERSIGHT

Looking over the whole process to ensure the fairness of the election were approximately 70 attorneys, investigators, and Attorney General's office staff.

They were assigned to locations across the state to ensure the safety and fairness of the election.
Attorney General John Formella's office was also operating its Election Day hotline from 6 a.m. until 8 p.m.
"We encourage voters and election officials with concerns or questions to call 1-866-868-3703 (1-866-VOTER03)," he said in a statement.
Inquiries and complaints may also be submitted via email at electionlaw@doj.nh.gov.

SCANLAN'S FIRST MAJOR PREDICTIONS
The new secretary of state, Scanlan, predicted more than 66 percent of registered voters or 591,000 would cast ballots Tuesday, more than the record set in a midterm of 580,214 in 2018.
Because New Hampshire allows for same-day voting, the number of registered voters in the state is expected to increase but by just how much is still unknown.

CANDIDATES VOTE
The candidates themselves were out voting and urging everyone else to vote including in Hopkinton where District 2 Congresswoman Annie Kuster shook hands with supporters before she cast her ballot. The Democrat is running for reelection against Republican Robert Burns.

"I was proud to cast my ballot in Hopkinton today for candidates I believe will make a difference for our communities and fight for our values," said Kuster. "I encourage everyone to use their voice and cast their vote today. This election is so important to the future of our state and our country — do not sit this one out! Make your plan to vote."