By NANCY WEST, InDepthNH.org
My heart is heavy after just learning that Lincoln Soldati of Portsmouth has died.
I had hoped to say goodbye in person, but there was to be no time as he died Sunday after checking into Hyder House hospice on Friday after being diagnosed with stage four esophageal cancer at age 73.
I am writing as a friend and reporter, probably mostly as a reporter – and for a few weeks his editor – because that's how I knew him best.
Lincoln was the rare public servant who always took my calls, always responded to my questions and always tried to help explain whatever issue I was writing about as simply as possible so people could understand the legal world he operated in as Strafford County Attorney for many years, then as a defense attorney.
Lincoln, who was married to Kathleen Soldati, never minced words even when he knew that going public might cost him some friends, even important friends in high places.
It is with high praise that I can honestly say: Lincoln Soldati always responded to my questions as a reporter. Lincoln Soldati never lied to me.
Trust me, that's not nearly as common as it should be.
One time he criticized the state Supreme Court. I can't remember the issue, but he thought they were wrong and said so.
I couldn't believe my ears. Lawyers in this small state usually choose their words far more carefully or simply don't respond, but Lincoln chose the words he did because they told the truth.
You could hear in his voice how much he cared about victims and would do what it took to help them.
Lincoln served as Strafford County Attorney for many years, worked as a defense attorney, ran for the U.S. Congress, served as mayor of Somersworth and later drove for Uber. He helped many people along the way in every job he had.
I know he gave a friend of mine a second chance as a prosecutor when no one else would hire him.
I know he helped me by showing what honest people in high places can do. He was the gold standard.
For a final celebration, Lincoln asked to have loved ones gather to dance to his favorite music, break bread and share memories. The family is hosting a potluck event, "The Party of Life for the Life of the Party, Lincoln Soldati" Sunday, November 13, 2022 3pm Somersworth VFW 43 High Street Somersworth, NH 03878
In 2016, I got a call from Lincoln saying he was traveling to the Standing Rock Sioux Reservation in North Dakota where several thousand native Americans and others were gathered in opposition to the Dakota Access Pipeline. He wanted to report for InDepthNH.org and he got the first press pass we ever issued.
He wrote heart-felt stories and sent beautiful photos from the reservation. I am including some of his reports and photos because he felt so strongly about being helpful there.
I am including his report from Thanksgiving 2016 from Standing Rock Sioux Nation in North Dakota and photos that he shared. And another one here when he headed home: https://indepthnh.org/2016/12/05/soldati-reports-cautious-optimism-at-oceti-sakowin-camp/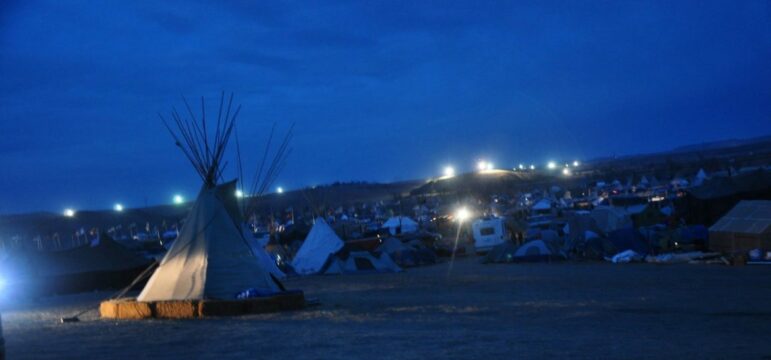 From Standing Rock, Thanksgiving evening, 2016.
By LINCOLN SOLDATI
An incredible evening after a somewhat disheartening morning.
I went to the white dome for what I thought was going to be a 6 p.m. meeting to discuss direct action. After my morning experience, I had a lot of questions.
It was an action in the city Mandan that was unauthorized, and it was disturbing. And I wanted to make sure I knew where and what I was going to in the future.
I was early so I took a seat around the circle. People kept streaming in. A native elder sat near me and began playing a wooden flute. Soon the dome was nearly full. Tables were brought in and food began being brought in as well.
I began to suspect I was not at the meeting I thought I was attending. My suspicions were soon confirmed.
So many people were in the dome that there was not enough room for everyone trying to enter. A young native woman announced that elders were to be given preference and seats should be given up for elders. No one told me to move so I remained seated.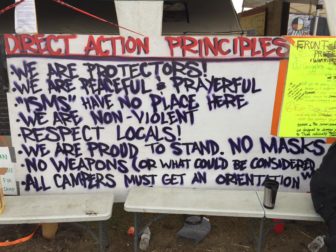 Whites were told to wait outside so that indigenous people could be fed first. Still no one asked me to move or leave. As the room filled, even the younger natives were asked to wait outside to ensure all the elders were seated and fed first.
Not having moved for the hour I'd been sitting and watching all this unfold, I turned to my friend with the wooden flute and asked him what defined an elder. He looked at me and said, "a white mustache."
I remained seated among the native elders. I shared in their blessings and prayers, listened to their songs.
One elder addressed us about a new way of thinking about Thanksgiving. His words were words of inclusion and love, of moving beyond the past. I felt such humility and honor to be there.
When the feast was ready, the younger Lakotas served us at our seats. Only after all the elders were served were others allowed in to the food line. The meal itself was "pre-colonial." I can't tell you everything I ate, but it was delicious and very filling.
I felt very privileged to participate in this feast. The reverence for elders was very moving.
I can tell you without hesitation this is one Thanksgiving I will never forget and will always be thankful for.