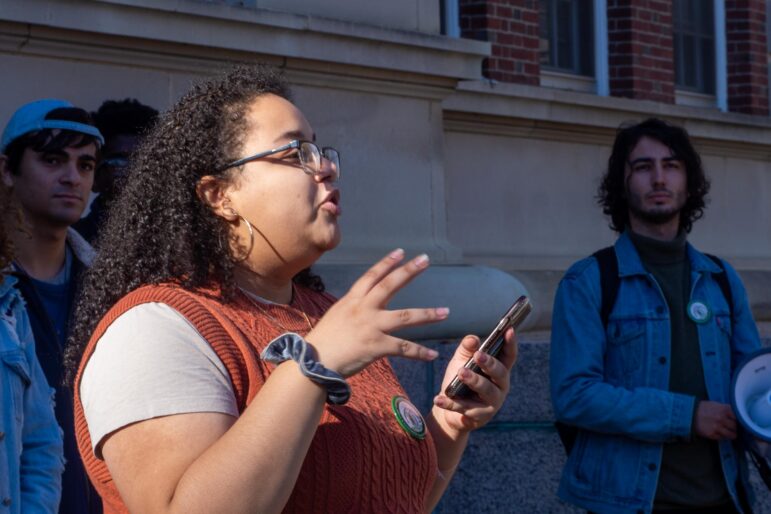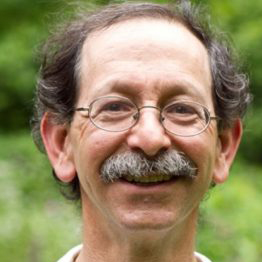 Arnie Alpert is a retired activist, organizer, and community educator long involved in movements for social and economic justice. Arnie writes an occasional column Active with the Activists for InDepthNH.org.
By ARNIE ALPERT, Active with the Activists
HANOVER –When student workers at the Dartmouth College dining service agreed they were being treated unfairly, they did what others in countless workplaces have done before. They organized a union, the Student Worker Collective at Dartmouth (SWCD).
Fifty-three weeks after they started conversations about unionization, and 31 weeks after a unanimous pro-union vote in an NLRB supervised election, the SWCD is at the negotiating table with college administrators demanding $21 an hour, sick pay, and bonuses for "especially challenging" shifts.
At a rally held Thursday in front of McNutt Hall, union members, mostly international students, described the long hours, inadequate pay, and the disrespect they experience from white, privileged Dartmouth students who make up much of the student body. It's a huge class divide at one of the wealthiest private colleges in the country.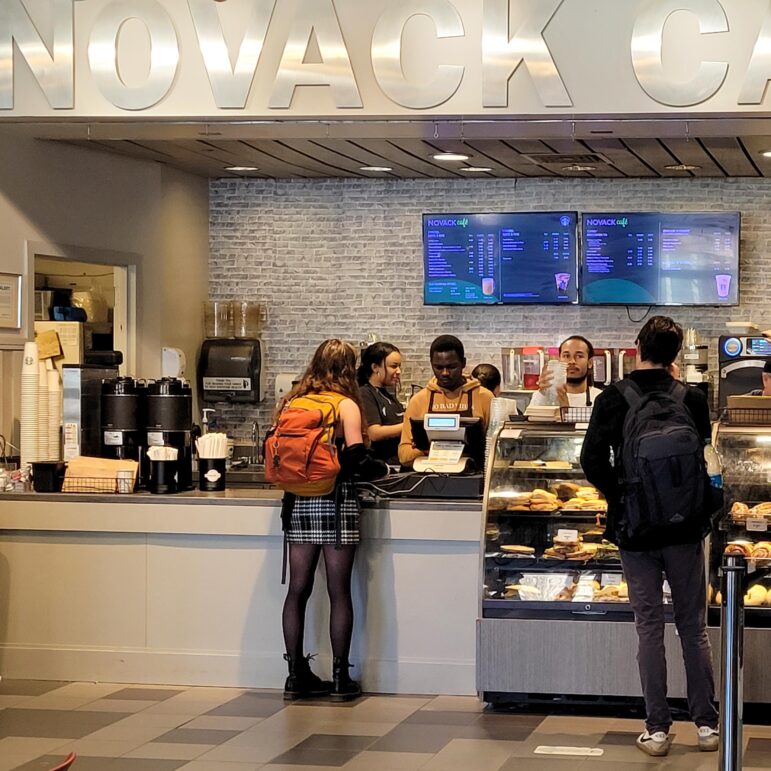 Like many of the other students, Esmeralda Abreu-Jerez works at the Novack Café, where she described getting a scar from a minor on-the-job injury. "I got hurt on the job, because I was stressed and because I was in a rush to make food for the students that don't work," she said. But she's more disturbed by what she called the "Novack scars."
A Novack scar is "the emotional scar that I get when someone doesn't look me in the eyes when they order, when someone doesn't say 'thank you' when I give them their food, when I have to serve my professors, or I have to serve a student I just had a debate with in class. That's what a Novack scar is to me. It's a scar of not having a life and not having as much fun. It's a scar of missing a party or missing an event because I was working."
Abreu-Jerez said she works because she has to pay rent and send money home to her family in the Dominican Republic, where her mom takes care of her sick grandfather. "That's why we demand $21 an hour," she said to cheers from the crowd.
"I work at Novack because I have to," said Alejo Rincon, a student athlete. "I'm on financial aid. And most of what I earn goes towards paying for my college and making sure that I can graduate with as little debt as possible." Higher pay for him would be "monumental," he said, a chance to have a social life and get some sleep.
Solange Acosta said the community of workers at Novack means a lot to her, but "what I'm asking for, what we were all asking for here, is a chance to be a student first and a worker second."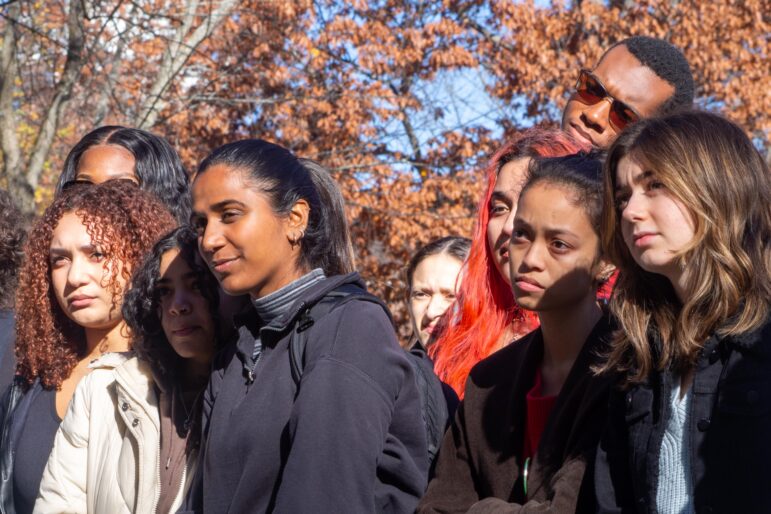 More than one hundred people, mostly students of color, nodded, snapped their fingers, and broke out into occasional cheers as the speakers expressed their grievances and their determination.
"We are trying to tell the Dartmouth administration that we are here, and we are not afraid of making use of the organized power of workers," declared Kaya Colakoglu, the union's chairperson.
The SWCD was conceived a year ago when student workers got nowhere after voicing concerns to their managers about stressful pandemic working conditions. Speaking at a rally in Manchester last May, Ian Scott expressed the frustrations experienced by dining hall workers, mostly international students, undocumented students, and first-generation college students from working class families. "Our financial aid packages are such that we have to work, have to have a work study, in order to keep our financial aid," he said. "And while they are still going through the trials and tribulations of being a student in the pandemic, trying to balance all the academic work that they have, trying to have some form of a social life in the midst of all this, they then have to clock in for a long shift with a bunch of rich and white students."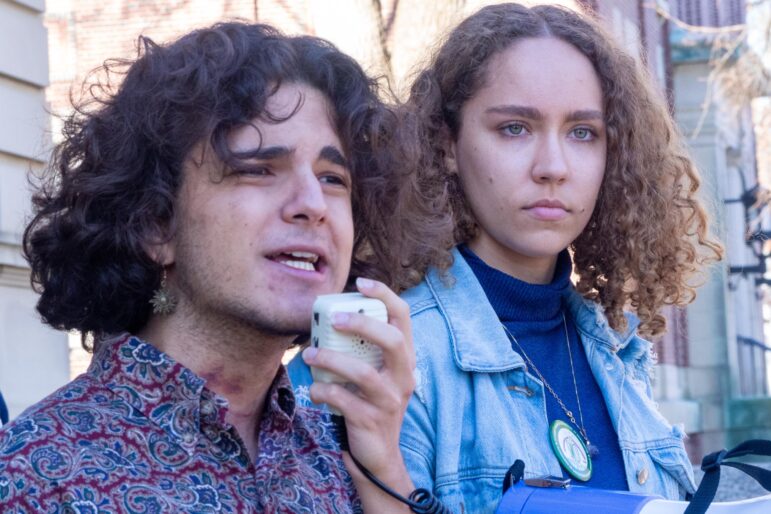 "They're terrible to us," Scott said.
In an interview with several Dartmouth students published last March in Jacobin, Colakoglu said, "One professor noted that when you walk into Novack Cafe, it is a startling sight. You have poor, international people of color on one side behind the counter preparing your coffees. Waiting in line, you have a mass of the stereotypical Dartmouth demographic — the WASPy, top 1 to 10 percent, mostly white student population — asking for their coffees. People who were exposed to this sight day and night ended up having the first impulse to get organized."
After consulting with other unions, including the Service Employees International Union local which represents other Dartmouth workers, the Student Worker Collective went public as an independent union at the beginning of the year. Five days later, the college announced a temporary pay increase of 50 percent.
When the college refused to recognize the union and forced them to petition for an election under the supervision of the National Labor Relations Board, they won the election 52 to 0 at the end of March. Where once the term "student union" referred to a campus building, it's now a union of student workers. According to Ale Morales, the Dartmouth group was the fifth union of undergraduate student workers in the country. Since April, they have been working toward their first collective bargaining agreement.
At the top of the union's list of demands is a base wage of $21 an hour, the amount the dining hall workers were getting as "hazard pay" during the pandemic. But the hazard had apparently ended by last June when their hourly wage reverted to pre-pandemic levels and their sick pay was withdrawn. If the college could afford $21 during the height of the pandemic, said Colakoglu, they can still afford it now. After all, pointed out Sheen Kim, the union's vice chair, Dartmouth has more than $8 billion in its endowment.
The union is also demanding sick pay and increased pay for special shifts, such as during rush hours and late nights. "Student workers dealing with impatient customers, drunk students and tiring machinery should be paid appropriately," according to Demand 7 on the union's "Contract Negotiation Platform." And they want to get rid of "Josephine," their nickname for an espresso machine that makes one cup at a time and frequently breaks down.
Grad students, too, have recently formed a union, the Graduate Organized Laborers at Dartmouth (GOLD), affiliated with the United Electrical Workers. Within just a few weeks, they have already secured union cards from more than half of the eligible members, said Chris Callahan, a PhD student who spoke at the rally. Even without recognition from the college or a date for an election, they've already won a raise.
"Yesterday, Dartmouth administration announced a tentative raise that would increase our stipends by $400/month to $40,000 starting next academic year," the new union tweeted on Wednesday. "Pressure from our union has clearly forced the administration to respond to pleas that grad workers have been making for years."
Colakoglu said the SWCD union will resume negotiations with the college next Tuesday morning.
"Dartmouth is meeting regularly with the SWCD this term in an effort to reach a contract as soon as possible," according to an email message from Diana Lawrence, Dartmouth's Associate VP for Communications. "Negotiations have taken place with a positive spirit of cooperation and understanding. Dartmouth looks forward to reaching a signed agreement," she said.
"We are not going anywhere," said a defiant Colakoglu as the rally drew toward a close. "We are not taking a step back. We have tasted power. We have experienced what it means to live for ourselves and not for others. We now know what it means to live a life free of servitude and we have no intention of going back, ever."
After listening to the student worker testimonies, Jan Schaffer, a union veteran from Warner, took the stage and said their struggle reminded her of the 1912 textile workers strike in Lawrence. There, the workers demanded "bread and roses," meaning the ability to lead a dignified life, not just earn enough money to put food on the table. "Twenty-one dollars and a union," she chanted.
Throughout the one-hour rally, Alice Ignacio Oliveira held up one end of a banner reading "Support Our Struggle." She's a member of the class of 2026 and is working in child care. She believes the union should grow beyond the dining halls. "It should expand to include all the workers here," she said.
Colakoglu vowed, "We are in the process of making Hanover a union town."