Editor's note: InDepthNH.org is launching a new project called Celebrating Pets. You can write about your beloved pet on our Celebrating Pets page starting soon. More details to come, but for $20 you can share your love and joy for your pet, with a portion of that money going to animal rescue organizations. Stay tuned for more details.
Amber came to us as a Greater Derry Humane Society foster dog. Dear friends Paula and Marty asked us to foster Amber as she awaited her forever family. She was a beautiful long-haired red girl with the heart of a lion. I say this because we learned of her life before we got her at eight years old, and she had survived a puppy mill, shipping off in a large truck for adoption, and the loss of a long-time family who could no longer care for her. Another change in her life was just too much for her to bear.
She was utterly brokenhearted to lose her family. Her behavior showed when I first thought I could kiss her on her head. She growled and bared her teeth at me. We could pet her but could not get too close to form a loving bond. However, she was a good girl in that she slept through the night, never messed in the house, wagged her tail at us, and began, after at least one year, to begin to allow us to love her.
However, in that first year, we were foster parents. We were not supposed to fall deeply in love with her because she would be leaving us, and it would hurt her and us as well. So in that first year, we tried to get someone to see what a great girl she was. It's hard, though, when she would growl at and charge someone's dog who needed a companion for their home. We even tried having a doggie behaviorist come to our home and see if they could interpret a way to get through to her.
The fostering attempts were a failure. My husband, Michael, and I knew in our hearts that we could not ask her to make another change in her life. We knew that we were her forever home.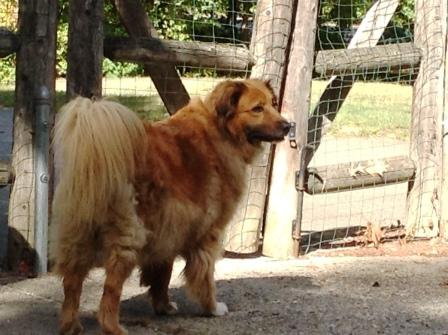 We have a huge, fenced backyard, but Amber would spend her time at the front gate watching the busy road in front of our house. No one was safe from her wrath. Big trucks would fly by, and she would grab her soft toy and shake it at them to warn them of what would happen if they came into the driveway. Heaven forbid a bicyclist would peddle by. There's an uphill climb on the west way in the road, and the less fit would slowly chug up the hill. They would have been mincemeat should they even look her way. The same fate awaited joggers and walkers. Yet, when Michael took her out on her leash, she was a good girl enjoying a Sunday morning walk with her brother, Buddy.
Amber was terrified of thunderstorms. She would pant and pace and search for some safe place in the house. Our house rule has always not allowed dogs upstairs in our bedroom. But this was the one place she found sanctuary by running up the stairs to the quietest place she could find, a corner or sometimes the shower. We could not deny her this. Eventually, she became the only dog in a long line of dogs in our house to sleep in our bedroom.
Every night she would come upstairs with me and get a snack. Then, as I climbed into bed, she would come over to me and want to say good night. She'd stand by my bed, and I'd pet her, tell her how pretty she was, and eventually send her off to sleep.
We loved her so very much. Unfortunately, in the last six months of her life, she struggled. There were several times when we thought we had lost her, and the lovely vets at the Crossroads Animal Hospital were able to bring her back to life. However, the final episode showed it was apparent that she was exhausted and unable to fight anymore.
If you've ever had to decide to send your beloved pet across the rainbow bridge, it is the hardest task a compassionate person has to do. But our dear vet helped her to a peaceful end. She was thirteen.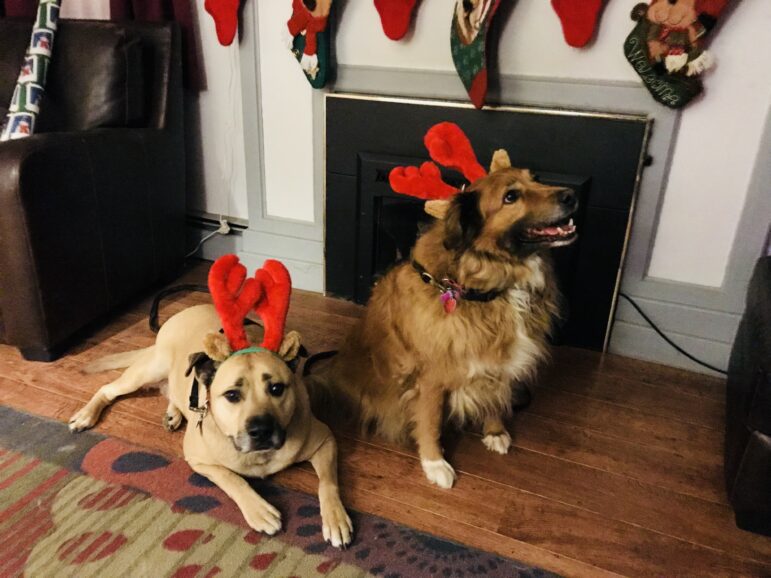 One night, I asked the heavens to let me know how she was. I had gotten signs – you know them when you get them – and had heard nothing. One night, when I was walking Buddy on a late-night walk, I asked again. We finished our walk, which was so dark. I moved along with the help of a flashlight, and looking down, I found a penny. I had lost a penny I had found at Salisbury Beach a few weeks earlier. Finding a penny is good luck, whether it's heads or tails. And one moonless night, I ask for a message from Amber, and I find one. She is now and always will be in my prayers.