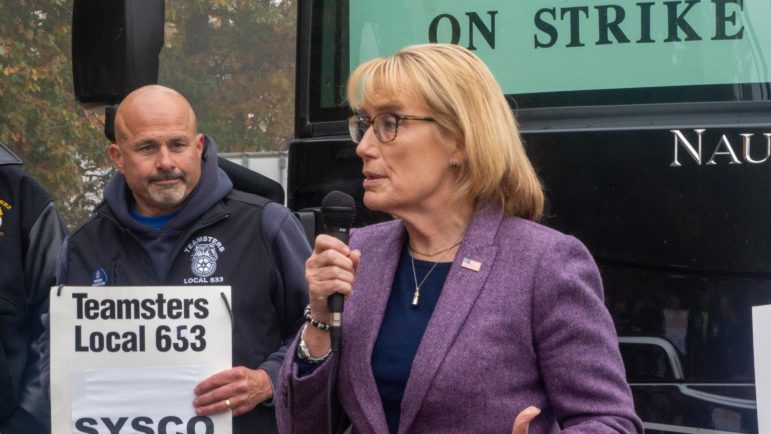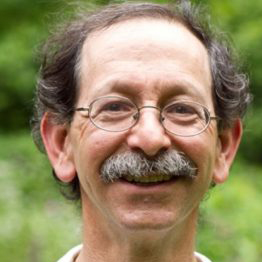 Arnie Alpert is a retired activist, organizer, and community educator long involved in movements for social and economic justice. Arnie writes an occasional column Active with the Activists for InDepthNH.org.
By Arnie Alpert, Active with the Activists
As they prepared to return to the negotiating table with hopes for a new union contract, striking Sysco drivers were joined by high profile Democrats at a support rally alongside Route 125 in Epping Monday morning.
The drivers, members of Teamsters Local 653, walked off the job at the beginning of October when negotiations for their second collective bargaining agreement broke down over wages and benefits. The work stoppage affects the company's drivers and customers throughout New England. Talks are expected to resume Tuesday.
Based in Houston, Sysco calls itself "the global leader in food distribution," with contracts at a wide range of restaurants, health care facilities, lodging establishments, and schools. In a statement released October 6, the company said they offered "industry-leading pay," with substantial raises over the life of the new contract plus a higher employer contribution to the health care plan. The union said the offer wasn't good enough.
"We want to keep our Teamster health insurance. We want to increase our hourly wage," said Donovan Reed of East Kingston, who has driven for Sysco for ten years. He's also hoping drivers can get time-and-a-half pay for each shift they drive over eight hours, instead of overtime being calculated on a weekly basis.
Last week, Sysco reached an agreement with another Teamsters local, in upstate New York, which went out on strike in September.
Dave Remick, a union steward, said, "We're thinking positive and we're hoping the company is going to come to the table to negotiate in good faith."
Karen Calabro of Hollis said she knew the Sysco drivers from her time as a chef in a hotel kitchen. "These people were the face of Sysco for me, and they were the ones that helped me be the best I could be. I help them in return."
Calabro is now running for a state Representative seat in Hillsborough County, but said, "I'm not here as a candidate. I'm here as somebody who supports the people. I believe in the unions as being the best answer to solve the problems for the working people and keeping government out of those entities. So, I'm here to support the Teamsters today." She was far from the only candidate in the crowd, which numbered around 75.
U.S. Sen. Maggie Hassan, D-NH, in the thick of a re-election campaign, stopped by and gave a short speech to show support for the drivers. "I am so grateful to stand with you, and to stand for the right to organize, to stand for the right to collectively bargain so that our country, our people, our businesses, our families, all move forward," Hassan said.
Dr. Tom Sherman, the Democratic candidate for governor, was there, too. After mixing with the crowd, he said, "We have to have a right to strike, we have to have a right to collectively bargain, and we have to repeatedly, and over and over again, say 'no' to 'Right-to-Work.'"
At press time, spokespeople for Gov. Chris Sununu had not responded to requests for comment.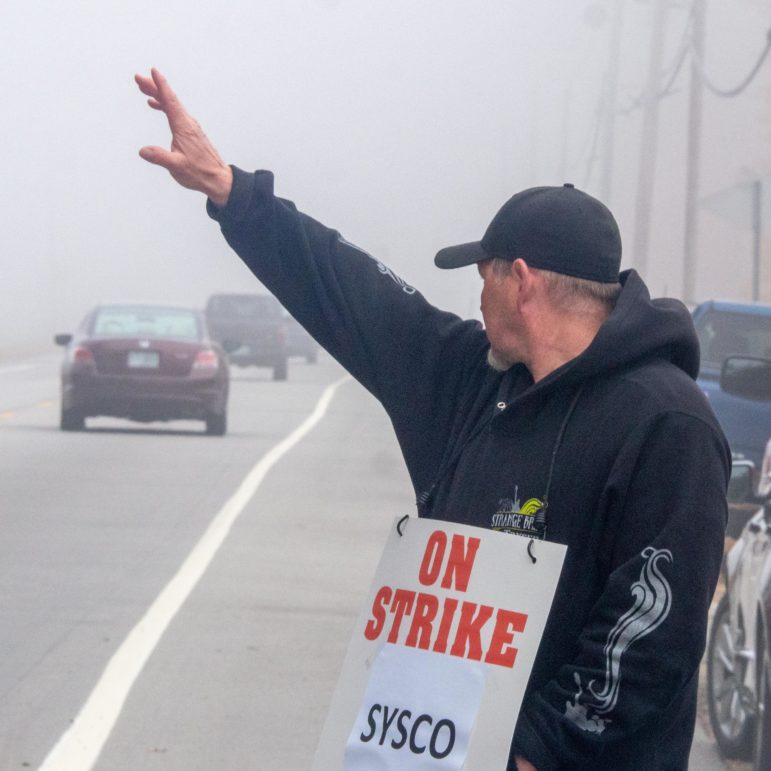 Others in the pro-union crowd included candidates for Executive Council and NH House, in addition to representatives of the AFL-CIO and several other unions.
The rally wasn't the only show of support for the strikers on Monday. Keith Judge of Hooksett, a business agent for Teamsters Local 633 of New Hampshire, said he had been at an overnight rally at Sysco's regional warehouse in Plympton, Massachusetts early that morning. More than 500 Teamsters from all over New England and as far away as Minnesota were there, he said. "It was overall a success in our opinion, we shut the company down pretty well. I think we sent a significant message to them and we're back at the table with them tomorrow."
"They wanted to see how strong we were. And now we showed them," Donovan Reed said. "So hopefully, tomorrow will be a big day for us."
Dave Remick, one of the union negotiators said, "We're upbeat, we're standing strong. We're going to see what happens in the next round of negotiations. We're being optimistic and hopeful that we can bring this to an end."