By SUSAN DROMEY HEETER, Joyful MUsings
PORTSMOUTH – Sunday marked the end of the New Hampshire Film Festival and the two films that marked my finale included The Wet House and A Stage of Twilight. Both films dealt with disease, tragic endings, both were beautifully filmed but left me with some questions and uncertainties.
Wet House is a documentary which "explores the lives of men with chronic alcoholism who live at the Glenwood Residence-the largest wet house in the United States." The film followed men whose lives had been ravaged by the disease of alcoholism, who were in the end stage of the disease, who were mere shadows of the men they had once been.
It was heartbreaking to watch, to witness. My thoughts went to those members of my own family who have died from active alcoholism, who looked a lot like some of these men pictured taking pulls from vodka bottles beneath a bridge.
But my question to the writer and director, Benjamin May, was if there were any criticisms of this film in its stereotypical portrayal of alcoholics: unshaven men drinking from paper bags beneath bridges, those men who have lost everything. He remarked that his intention was to show the humanity behind the disease of alcoholism. And, honestly, the film does that beautifully. My feeling, however, is this film does not depict alcoholism in its most wholistic of forms: those women and men who have not lost everything, who hide in homes with "Mommy juice" and laugh at "having a couple" when, in fact, they were in a blackout.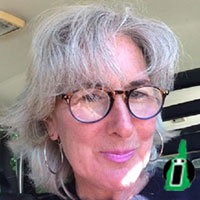 Alas, perhaps coming from a family background of alcoholics, this film hit a little too close to home. I did feel like I saw many an aunt and uncle in the eyes of these men – most of whom died before this film was released.
But the beauty of any good film is the thought that is provoked, Wet Brain most definitely gave me pause on the cunning, baffling and powerful disease of alcoholism. It is stunning how many people end up at insanity or death or both.
The final film I watched was, A Stage of Twighlight which has the following synopsis from its IMBd page:
"Cora and Barry are a retired couple enjoying life in their seventies. One day, Barry has a severe coughing fit and is rushed to the hospital where he is diagnosed with a terminal heart disease. No longer able to hide his illness, or the unpleasant side effects, Barry makes the decision to rent a trailer home in the middle of the woods where he can die alone. His hope for a dignified death proves to be a dispiriting struggle for Cora, especially when Joey, a 17- year-old neighbor who acts as a surrogate son to the childless couple, enters the picture. As the days wind down to Barry's departure, she is driven to make a critical decision for them both."
Again, a downer but with a great twist and lovely acting by Karen Allen, William Sadler and Alfredo Narciso. There were some beautiful moments, some beautiful lines. I must admit, however, I could not get past the uber clean house – so little dust, no empty boxes of Depends around, pill bottles cluttering side tables, a kitchen so clean it looked as though it had just been installed. For me? Someone's dying – or not dying – maybe it's just me, but where are the artifacts that something is deeply amiss? Overflowing trash perhaps? A sink filled with dishes? Unmade beds?
Obviously, we bring ourselves to the films we watch. I cannot wait to attend next year's festival where, yes, I will bring my own eyes and experiences and bias.  But that is the beauty of a festival, so much to take in, so many options of experiences: good, bad, interesting, dull.  What a weekend.  Thanks for coming along.
Susan Dromey Heeter is a writer from Dover who recently let her hair go au natural white. Writing has been her passion since her English majoring days at the University of Massachusetts in Amherst.  Dromey Heeter has lived in The Netherlands, Alaska and currently basks in all things New England, including the frigid winters. An avid swimmer, Dromey Heeter's great passion is to bring back body surfing as most children have no idea how to ride waves without ridiculous boogie boards.