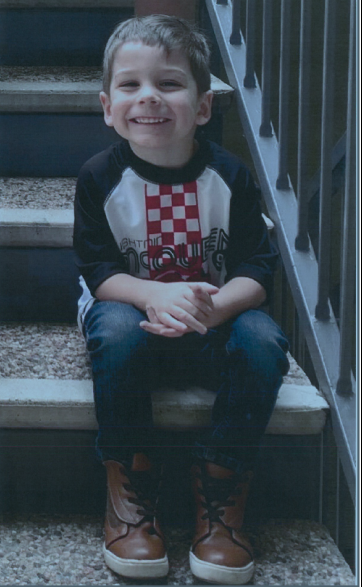 By DAMIEN FISHER, InDepthNH.org
Elijah Lewis, 5, suffered close to a year of torture, beatings, and starvation at the hands of his mother, Danielle Dauphinais, and her boyfriend Joseph Stapf before his undersized body finally succumbed to one last beating, according to Assistant Attorney General Bethany Durand at Stapf's plea and sentencing hearing Thursday.
Elijah's badly beaten body was found in the woods in Abington, Mass., after investigators started asking about the Merrimack boy's whereabouts. He was left in a shallow grave and his mother and Stapf were trying to run away from police at the time.
Elijah's father spoke at the hearing.
"No matter how many years you sit in a cell for what you have done, it will never be forgotten, and you will never be forgiven," Timothy Lewis, the boy's father said.
Stapf, 31, pleaded guilty Thursday in Nashua's Hillsborough Superior Court – South to charges of manslaughter, second-degree assault, falsifying evidence and witness tampering as the result of a fully negotiated plea agreement. Stapf will serve between 22 and 45 years in the New Hampshire State Prison for Men as part of the deal.
Stapf made a brief statement.
"I never meant or wanted any of this to happen to Elijah," Stapf said. "Elijah deserved to be loved."
Dauphinais, 36, is facing multiple charges in connection with the murder of her son, including one count of first-degree murder and one count of second-degree murder. The cause of Elijah's death was violence and neglect, including facial and scalp injuries, acute fentanyl intoxication, malnourishment and pressure ulcers, according to the Office of the Chief Medical Examiner in Massachusetts.
Dauphinais is also charged with three counts of witness tampering for allegedly trying to keep people from talking to authorities about Elijah's disappearance.
Dauphinais and Stapf were arrested Oct. 17, 2021, by officers of the New York City Transit Authority in the Bronx, New York, and both pleaded not guilty at the time of their arrests.
According to Assistant Attorney General Durand, they knew Elijah was in rough shape in the weeks before he died, but instead of protecting the boy, or even bringing him to a doctor, Stapf went along with Dauphinais's torture.
"He knew Elijah was being tortured," Durand said.
Dauphinais starved her son, made him stand for hours without clothing and blankets in his room in their basement apartment in Merrimack, and she beat him, cut him and burned him, Durand said.
"Yes, he is a POS big time. Wow, I cannot stand that boy," Stapf wrote in a text message to Dauphinais, when she complained about the child wanting to eat and sleep with a blanket.
As time went on, according to Durand, Stapf wanted Dauphinais to feed the boy and clothe him. The concern, according to the text messages, was getting Elijah healthy enough that the couple could safely leave him with another relative.
"Maybe let him sleep and feed him," Stapf wrote at one point. "No more you know what to him, he needs to look good so we can go out," Stapf wrote.
Elijah's mother was not willing to show any mercy or kindness to her son.
"This (expletive) kid deserves nothing," she wrote back.
Elijah weighed 19 pounds when he died. The average 5-year-old boy weighs 40 pounds. At one point, in September of 2021, Stapf grew concerned about a rotting hole in the boy's back.
On Sept. 21, 2021 Elijah suffered one last beating at the hands of his mother, Durand said. Stapf found the boy naked in the bathtub surrounded by broken tiles smeared in blood. Stapf still did not get the boy medical help. Instead, he bandaged the wound on his head and put him back in his room.
Elijah spent the first four years of his life in Arizona with his father, Timothy Lewis. After what was supposed to be a short visit to New Hampshire to see his mother, Elijah stayed in the basement apartment with the parental figures who would take his life, according to Durand.
Lewis said that Thursday's hearing does not represent any justice for his son. He called Stapf a coward for letting his boy be tortured and murdered.
"You could have stepped in and stopped this at any point, if you were man enough," Lewis said to Stapf. "You cannot begin to imagine how every area of our life is now saturated with pain and sorrow."
Judge Charles Temple agreed with Lewis, saying there is no justice in Thursday's sentencing.
"How can there be justice when this beautiful little life is snuffed out in this way?" Temple said.