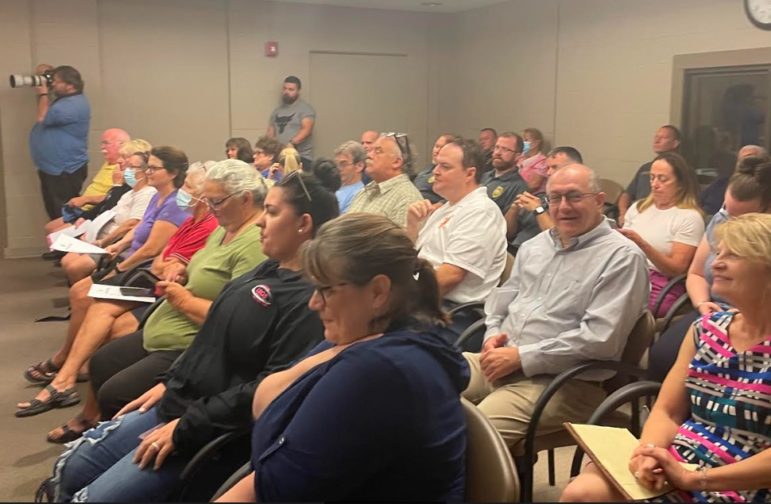 By PAULA TRACY, InDepthNH.org

LACONIA – Free Stater state Rep. Mike Sylvia, R-Belmont, stepped down as chairman of the Belknap County Delegation Thursday, claiming that an emergency meeting to deal with a crisis at Gunstock Aug. 1 was illegal because he did not call for it.

After Sylvia also claimed some of the 50 people at the meeting were "Marxists," that the county was being held hostage by Gunstock employees, and accused state Rep. Tim Lang of accepting a $100 bribe that was a donation, the meeting was then followed by a vote to ratify the minutes and decisions of the Aug. 1 emergency meeting, which is being challenged in court for its legality.

Sylvia and other members of the all-Republican legislative delegation, which is comprised of members of the state House of Representatives in Belknap County, are all up for re-election this month. Critics say some are extremists who are members of the Free State Project and Libertarians who call themselves Republicans but are acting to dismantle county government. The meeting Thursday was at the Belknap County complex offices in Laconia.

The 9-1 vote at the emergency meeting Aug. 1 to accept the resignation of one of Sylvia's and his delegation supporters' appointees, former Gunstock Area Commissioner David Strang, is in court. Strang is saying that the emergency meeting was illegal and that he did not resign in an attempt to get his seat back on the commission.

Strang is suing the new chair of the Gunstock Area Commission, Douglas Lambert, and has asked a judge to include as defendants the GAC itself.

Also during the three-and-a-half-hour meeting Thursday, state Rep. Barbara Comtois, R-Center Barnstead, stepped down as secretary of the delegation while state Rep. Dawn Johnson, R-Laconia, stormed out of the meeting.
"Progress!" wrote Brian Biehl, organizer of the Political Action Committee Citizens for Belknap in an email to supporters following the meeting.

"These Reps are wounded, dangerous, and still members of the delegation until they must be removed with your vote!" He included a link to the organization's Voter's Guide at https://www.citizensforbelknap.org/votersguide.
"It's important for Belknap County voters to remember that the state representatives who kept Mr. Sylvia in power, Reps. Dawn Johnson, Glen Aldrich, Paul Terry, Peter Varney, Barbara Comtois, Gregg Hough, and most of all, Norm Silber, are still on the Delegation and could cause more chaos. Voters should use their vote on September 13th and November 8th to remove Mr. Sylvia and his extremist colleagues," said Alan Posnack, chairman Citizens for Belknap in an email after the meeting.
Sylvia has said the organization has no support of the residents of the county.

Sylvia, Johnson, and Comtois were not present at the emergency meeting Aug. 1 which was called by state Rep. Harry Bean, R-Gilford, among others. Bean and a majority of the 18-member delegation constituting a quorum, met and voted to accept the resignation of Strang.
It was a proviso for Gunstock General Manager Tom Day and his leadership staff to return work, thereby reopening the resort for summer operations and importantly for legal reasons allowing SoulFest 2022 to go on as planned.

Sylvia said the Aug. 1 emergency meeting of the delegation to deal with the crisis at Gunstock was not properly called and therefore illegal. He did not attend.

"It was not actually a meeting," he said at Thursday's meeting and then said, "I am stepping down as chair."
Sylvia moved to another seat at the table Thursday and did not resign his legislative post. He is running for re-election and is known as the sponsor of a failed bill calling for a constitutional amendment for New Hampshire to vote secede from the union.

When he called the meeting to order Thursday, Sylvia asked for a pledge of allegiance but did not place his hand to his heart.
Bean was nominated to replace Sylvia as chair and won.

State Rep. Tim Lang, R-Sanbornton, who is not running for re-election but instead running for state Senate, was installed as vice-chair to fill a vacancy left by the resignation of state Rep. Raymond Howard Jr., R-Alton, who moved out of state.

This changes the leadership positions from a radical base, members of the Citizens for Belknap asserted.

Bean and Lang were among the leaders of the delegation who worked to get Gunstock reopened after it was closed by the resignations of its top management staff for a dozen days.

Sylvia said there was no explanation of the emergency and no emergency. He asked whether Strang's resignation was verbal or written.

Bean said he called for the meeting after he got a legal opinion from the Belknap county attorney "and his legal opinion is that everything that happened that day was legal."

Lang noted that ratification of what occurred at the meeting was needed now to avoid lawsuits. Bean said he thought the vote was fruitless and would be taken up by the courts.

Sylvia said there was no emergency articulated. He said the delegation and the county were "held hostage and extortion was being demanded," referring to Day's resignation and his and his staff's promise to return if certain members of the commission were removed.

Sylvia said Day violated his contract by walking off the job. Day gave two weeks notice but was summarily removed the next day, along with his staff by the former Gunstock Area Commission.  

"Furthermore we have a problem with Rep. Lang accepting campaign donations from Tom Day which Lang should know is bribery," Sylvia said.

Lang said he accepted $100 from Day for his campaign but rejected Sylvia's assertion.

"Gunstock (is) a public asset being held hostage so that Tom Day and others can control the mountain," Sylvia charged.

Sylvia added that Day also, on Gunstock's behalf, sent donations to Gov. Chris Sununu's reelection fund over the years that were not authorized and that Day was offered a position by Sununu in state government after Day quit.

"Anyone who considers this a laughing matter other than the Marxists in the crowd…this is a serious matter. Frankly, talk about legal action, I won't be surprised to see federal racketeering charges," Sylvia said. "Fortunately this will all get settled in a week and a half," referring to court battles that are going forward.

"Wow," said Lang. "It is true I took a $100 check from Tom Day."
However, Lang said that was not the issue before the delegation. He explained the need to approve the minutes and ratify the contents of the Aug. 1 meeting accepting Strang's resignation to be clear.

He said the Aug. 1 "emergency" was the fact that the county delegation knew Gunstock was to host SoulFest for about 7,000 youths, that the state tram board would not allow them to open the lift without management on the property, and then there was an issue of insurance for the event. Should they not have senior staff on the property, the insurance company would not indemnify the county.

"If that is not the definition of an emergency I don't know what is, " said Lang.

The question was moved to vote on the minutes and Rep. Johnson wanted to ask a question but was ruled out of order by Bean.

"So you are limiting anyone out of order because no one can have an opinion but your own? I am leaving, because nobody knows how to lead," Johnson said.

Applause ensued as she exited the room. The vote passed and Bean urged calm and respect.

Bean said: "We really need to respect one another. I think that is lacking this morning."

The delegation went on to ratify four union contracts with raises for its over 250 employees of the county.
After lengthy discussions and questioning of funding requests, it voted to approve close to $500,000 in federal American Rescue Plan Act dollars for the needs of the county and those of several nonprofit organizations.

Included were $100,000 to broaden sidewalks for about 1,000 feet in Lakeport for the WOW recreational trail's phase one of its new Opechee loop; $31,900 for backup power for the Laconia Municipal Airport Authority; and $100,000 for an HVAC system for the Belknap Mill.

None of this money is coming from county taxpayers but instead from the federal program related to the impacts of COVID-19.

Also in federal dollars to be spent, some of which Lang noted is cost avoidance for county taxpayers, the delegation approved additional funds for items that have gone up in price while the delegation considered the requests.

Items included on the list were $30,000 for phones, $80,000 for a new sewer line for the nursing home; money for new jail toilets and a hot water heater, among others.