For nearly five years, Christina Holbrook worked on her novel, All the Flowers of the Mountain, set in a small town in the White Mountains of New Hampshire. In 2022, she was diagnosed with a brain tumor at a time when she had just acquired an agent and was about to seek a publisher.
Glioblastoma is a very scary word. Yet, Christina Holbrook has faced this head-on with strength and purpose and, in that journey, has given us all a better understanding of life and her determination to publish her book.
Enter Karen Wyatt and her publishing company, Sunroom Studios, in Colorado. She knew of Christina, her book, and something of her health issues. She approached Christina and said she would get this book published in a couple of months, an unheard of short time for any publishing. Along with Karen, a group of wonderful, talented, busy women working with publishing houses in New York City signed on to help with copy editing, proofreading, and cover design to help get the novel published.
If you love New Hampshire, you will find All the Flowers of the Mountain a great read as the characters travel to familiar places "set amidst the mountains, farmlands, and elegant summer homes of rural New England" and explores "the enduring power of love."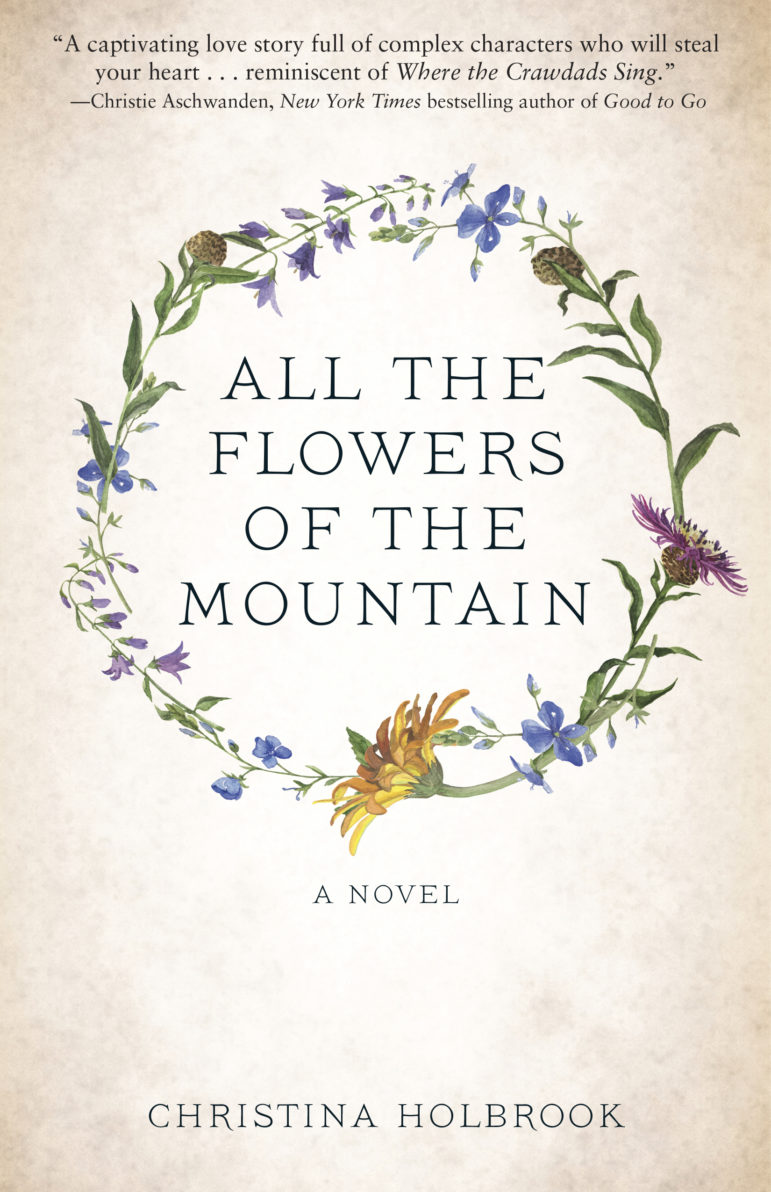 Christina and I spoke via Zoom; she is in Colorado and joined me in New Hampshire. Behind Christina was a portrait of a woman who peered over her shoulder and watched us as we talked.
Who is the lady in the picture behind you?
I'm sitting in front of one of the many portraits we had in the house I grew up in, and this is a portrait of the woman my parents always referred to as Grandma Morgan. It's someone on my dad's side of the family. In my novel, All the Flowers of the Mountain, the family name I chose is Morgan, and there is a Grandmother Morgan, who sort of figures in the background. There's a moment where one of the main characters is seated with family portraits looking down on her.
You're in Colorado.
Yes, I moved out here in 2014 to be with a man I had known in high school. We had been very fond of each other in high school but had lost touch. I kept in touch periodically, but then we reconnected in our fifties, and I moved out here. We got married in 2018. There's a theme of love found, lost, and found again.
Tell us about this line, "A haunting exploration of trauma and the abuse of privilege, of desire and enduring power of love."
The two main protagonists come from very different social classes. The young man, Michael, is a local guy from Franconia, New Hampshire. His dad owns the hardware store. The female protagonist, Katherine Morgan, comes from New York City, spends summer at a big family estate and farm in New Hampshire. In each case, each of these characters struggles with the families and social expectations they have grown up with. That's some of the turmoil. The privilege issue certainly is more apparent from Katherine, "Kit," in her world, the expectations, the assumptions that certainly come out more in her side of the story. There is the issue of trauma that is part of the story.
Did you experience something like that in your life?
Not to my memory did I experience what happens to any of those characters. But I think this was true when I was growing up in the 70s and 80s. There was always the threat of issues around violence or being taken advantage of. That was there when I was in high school and college, something my parents worried about. I'm sure something for many young women, their parents worried about that a lot. I went to Europe for the first time when I was sixteen. From that point on either traveled on vacations or work-related things, and there was always a lot of anxiety on my family's perspective and sometimes from me too about dangerous situations that one might get into that wouldn't be the same for a man. Her parents would like her to follow the path that all the other daughters have in the family.
Your character is wealthy.
She's wealthy, a debutante, and is expected to marry within her social circle. Certainly, her parents perceive that as safe. But also advantageous to them, too, to some extent.
She wants to get away from that life.
She wants to be an artist, experience the world, and live on her terms. That includes making mistakes, too.
What kind of background do you have?
Like Kit, I was also a debutante and grew up in New York though not in the city. My dad's family was from the city and had a similar background. For old families like my dad's, they wanted to proceed in a certain [way] that seemed very old-fashioned and restrictive to me. My mother, too, would have preferred I had chosen a more traditional path of maybe going to college for a couple of years but then getting married, having a family, and living a life very similar to theirs. They had many good reasons for wishing that. It was safe. Running around the globe and holding political views that were different from theirs seemed to them that might get me into trouble or be a bad idea.
You did go to college.
I went to Wellesley College in Massachusetts. After college, I was keen to move to New York City and get into publishing. I moved there, and I lived there for about twenty years. I held a lot of different positions. I started out working in publicity at EP Dutton. I worked for the Metropolitan Museum of Art in the area where art reproductions were made into various gift items for people. In the late 1980s, the Met had a huge business selling reproduction jewelry, posters, and sculptures. I worked in that area, writing copy for the catalogs. I had my first experience traveling overseas to print these particular catalogs, which got me very interested in printing high-quality color reproduction pieces.
I moved to another company, the Black Book, where large catalogs of commercial photography, illustration, and design works were produced. I ended up doing a lot of freelance projects for artists and photographers. Most of those projects were printed overseas. It was this great opportunity to travel the world on someone's very nice budget and do some fun and interesting work. One step led to the next. By 2001, I was publisher of the Black Book and took that company public very briefly. It was a time when many companies were going public and then falling apart or having difficulties. At that point, by 2003, I'd had enough of the city, and I moved to the Adirondacks. I was married and lived in a small cabin. That was when people started working remotely with their Blackberries and their dial-up computer connection. I worked for an Italian publishing company at that point selling rights internationally. I'd be there in my little spot in the cabin and then fly out of Albany to meet with customers around the country and sometimes go to Europe for trips.
Were you writing all along?
It wasn't until 2010 that I wanted to have pieces published under my byline and started to work towards that end. My background was in business. The first pieces of writing I got published were in Forbes.com, business-type pieces. They often had a softer topic in a business wrapping. In 2014, I moved out to Colorado to  Breckenridge. By now, I was writing food and travel pieces. I had a column for about six years in the local paper, the Summit Daily, that ran twice a month. That was about a city slicker moving to the mountains.
I had the idea of writing this story that takes place in New Hampshire. It's just been on my mind for decades. Somehow at the end of 2017, I sat down and started to try to put together some structure for this story. I picked up The Great Gatsby once again, and in a certain way, it's a simple book and a simple structure. I looked at that and thought I could take this structure and use this as a basis for my novel. That was nearly five years ago. It's probably impossible to see that now, but it helped me to understand the structure of dynamic and dramatic fiction. I started there, wrote my first draft in six months, and thought very naively that I'd finished my novel. I spent the next year revising, showing the manuscript to friends, and revising some more. I finally got an agent around the beginning of 2020.
The novel starts in the first person from the perspective of Michael, the main character, and was written in first-person. The first thing my agent advised me was that it should be in the third person. I rewrote the whole thing, and it sounded a lot better. As she was sending it out to different editors, people were interested. People were always interested in the New Hampshire setting. About a year and a half ago, a writer friend looked at this and said you have to have both the woman and the man's perspective and find a way to weave them together. I thought I can't write this whole book again. I was stumped about how can I do that and not give away the mystery part of the story. I did end up writing the entire thing to include both perspectives. I turned in the manuscript to my agent in March. I felt so gratified that finally, this manuscript would be sent out and was full of hope that a well-established publishing company would take on the book.
It was over the weekend, and that following Monday, I was diagnosed with a brain tumor. The diagnosis is quite serious to the point that I understood if it takes two or three years to pitch a book to publishers, to get somebody to pick it up, for that book to come out, I don't know if I'm going to be around in that amount of time. I was at a point of despair.
I was approached by this small independent publishing company in Colorado, Sunroom Studios. I knew the publisher, Karen Wyatt, and she knew my health situation. She said I'll get this out for you in a couple of months. We'll get this out this summer.
How did she know about your story?
She lives part-time in Colorado with her husband and part-time in California. We knew each other through our husbands. Both of our husbands are doctors. She knew my story of this book, working on it and trying to get it published, and knew of my health diagnosis. That's when she said I will publish this for you. It was a huge scramble, but a wonderful group of people came together. The editor I worked with was in New York and pulled together a team. Karen, the publisher, oversaw the copy editor, book designer, and proofreader. All of these women worked in New York at major publishing houses. I feel fortunate to have some very talented people work on the project. I feel happy with it. The book was published July 4, 2022, which was the pub date, and as we got closer to that date, Karen and I were crazy. We were like, is this really going to happen? It did.
I love that story. Yet, I hate that it comes from your pain but the generosity and how people, women, just jumped to when there is a need.
It's so true. All of these women had packed schedules. They all work freelance but work for the publishing companies they came from originally. They were all extremely busy, but everybody just jumped in and pushed and made space for this. I'm very grateful for that.
Where can people buy it?
The book is distributed through Ingram. That's the distribution channel for all bookstores. You can buy it at your local bookstore or order it through the local bookstore. Of course, you can get it on Amazon, BarnesandNoble.com. Because the process happened so quickly and we are a small team trying to promote the book, getting it into all the bookstores where I would like it to be will take some promotion.
Are you going out on a book tour?
The book launch was in Colorado. I will be traveling from Colorado to Maine in August. We always drive to a cottage in Maine my husband's family has, and we always stop in New Hampshire. I take a few days and visit all the old familiar places. I have a few friends helping me organize book signings in [various] communities.
You write about Mike, the main male character, "the sparring and circling in on each other, his slow-motion fall toward her – the irresistible desire to be with Kit had caught fire that day." Talk to me about Mike.
I wrote the first draft in the first person from his perspective. He is a restless personality. He's grown up in this particular environment. Kit comes into his life and opens up possibilities he hadn't thought about. She seems sophisticated and out of his league, beautiful, wonderful, and smart. He notices at first that she's reading books and drawing. She represents something that he would like in his life. As they get together, she responds and finds him interesting and funny. She wants to talk to him and get his opinions about things. He's only sixteen. But it's the first time someone he admires looks at him that way and sees him with so much potential. That is the attraction. She opens his eyes to what his life could be.
Would you explain your connection to New Hampshire?
My connection, as you can see from some of those early photographs [on her website], I was a baby. When I first came to New Hampshire, it was primarily in the summers, and we were on vacation. My mother and father first took us to my grandparent's [dairy] farm in New Hampshire, which I believe is on the border of Sugar Hill and Lisbon. My grandparents on my mom's side first came to New Hampshire in the fifties and began vacationing at a resort called Mittersill. It was on Cannon Mountain, a resort established by this Austrian, Baron von [Pantz], and attracted many Europeans fleeing after World War II. My mom's parents first came to New Hampshire and stayed at Mittersill.
My grandfather bought a dairy farm. I think I was about seven or eight, and my mom and dad bought this beautiful house in Sugar Hill. Cedaredge, the house in this novel, is a creation of where I grew up. My parent's house had this beautiful turret on one side of the house. I talk about the characters walking to the edge, looking out on this turret, and looking at the mountains. Some of my grandparent's farm worked their way into my imagining of this estate owned by the Morgan family.
You have "our house on Sugar Hill with its long porch and fairy tale turret. Can I use the website images?
Yes, use courtesy of Christina Holbrook. My grandfather's dairy farm was so fascinating to me as a child. Even into their older age, my grandparents had this farm on the border of Lisbon and Sugar Hill and then bought a farm in Landaff. That was when they became too old to be in farming. So, they let other farmers have the fields to graze their cows.
You have a postcard from Thayer's Hotel and Grill.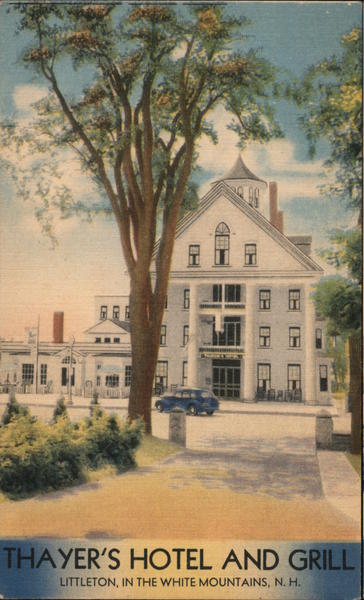 The Thayers Hotel still exists in Littleton, and we often stay there when we go through Littleton. When I was growing up, there was a pub called Oliver's Pub, and there was a guy named Oliver. We referred to it as Ollie's. It had live music and was a fun place to go.
Do they have any idea they're being portrayed in the book?
At the start of the book, I have a disclaimer because I'm very much hoping these places, even though they are somewhat fictional renditions, are written from my memories from these places I had so much attachment to, and I portrayed them [in a way] they would feel comfortable with.
Polly's Pancake Parlor. I love that you use these images on your website.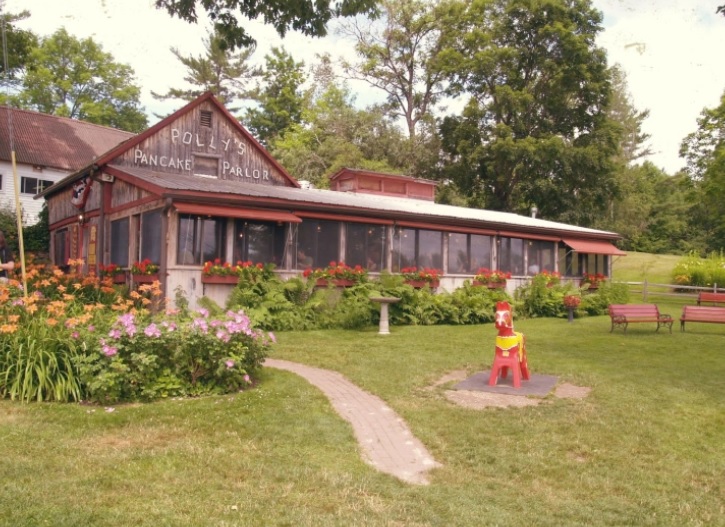 I worked at Polly's Pancake Parlor. I was a summer person, but we lived so close, and we went there for breakfast all the time. I did ask; I think it was Mrs. Aldrich, the owner if I could get a summer job there, and I think they weren't completely sure if I could handle being a server, so I worked the cash register. I was the hostess, and I could hand out the menus and run the cash register.
How many years did you come to New Hampshire?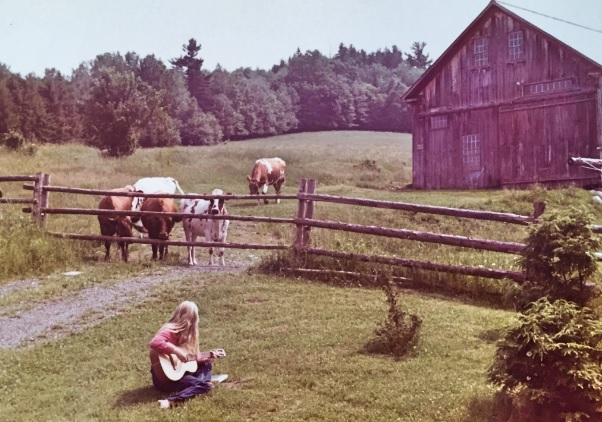 I'm 61 years old and have been coming to New Hampshire since I was one or two years old. My family finally sold my grandparent's farm in 2019. That's almost 60 years. The most intense and impressionable time for me was certainly my teenage years from 12 to 20.
You wrote, "In the spring of 2022, I suddenly and unexpectedly faced a serious illness." I'm not sure how comfortable you are talking about it.
It's okay. I feel like I've been fairly public on social media with people I know. I was diagnosed with a brain tumor at the end of March. I had surgery at the beginning of April. It was a glioblastoma, and it is quite serious. Three weeks ago, I finished six weeks of chemo and radiation, and I just saw my oncologist yesterday to review the first MRI to follow the surgery and chemo. He was very pleased there was no sign of the tumor. My brain swelling seems to be going down. I don't want to get too much into discussing it, but it's pretty serious, and they can come back.
How are you feeling today?
I'm feeling pretty good today. The doctor said it was a great MRI. I don't usually see them looking this good. That made me feel good. It does change your perspective on things going through surgery and radiation. I still needed to work with the publisher and review the copy and manuscript. My eyesight was affected. It was a struggle. I also think it was something very hopeful for me to latch onto. This book was going to be published, and I was going to see it. That's what I wanted after all these years working on it and being so easy to dive in and be in that world, and I couldn't imagine it finally being a book. So, I'm very happy that I could see that through. I'm very grateful to the publisher. Her patience as I got frustrated trying to proofread things. She said take your time. We'll make things happen. I owe her quite a lot for pulling this thing together.
Where are you with faith and circumstances that occur in life?
It's something I think about all the time. I think that we are all on a path of growth if we choose to take, that there is something in the universe that is pushing us to grow and evolve. Even this cancer situation, I'd prefer not to have it happen; it does change you, and it changes what's important. It feels like everything is pushing you if you let it allow it to happen to learn, grow, and evolve.
Christina Holbrook will be signing books at Gibson's Bookstore, 45 So. Main St., Concord, NH on Saturday, August 27 at 1 pm.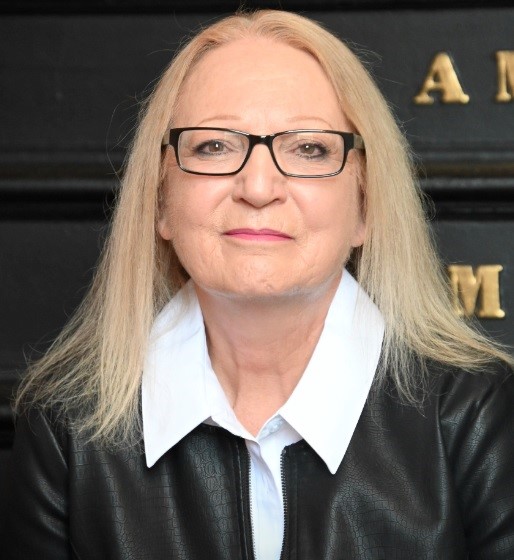 Beverly Stoddart is a writer, author, and speaker. After 42 years of working at newspapers, she retired to write books and a blog. She is on the Board of Trustees of the New Hampshire Writers' Project and is a member of the Winning Speakers Toastmasters group in Windham. Her book is Stories from the Rolodex, mini-memoirs of journalists from the 1960s, 1970s, and 1980s. She has been married 45 years to her husband, Michael, and has one son and a rescue dog.