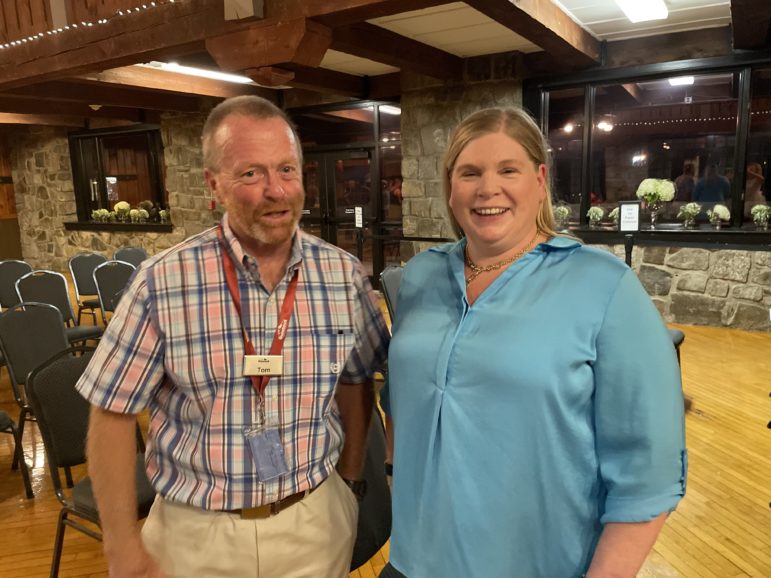 By PAULA TRACY, InDepthNH.org

GILFORD – Ten of the 18 Republican House members who serve as the Belknap County Delegation met to deal with the emergency at Gunstock Monday night, voting 9 to 1 to accept the resignation of Gunstock Area Commissioner Dr. David Strang of Gilmanton.
State Rep. Thomas Ploszaj, R-Center Harbor, was the only one present to vote with regret "no" in accepting the resignation.

The delegation also chose an interim replacement, selecting one of the most vocal opponents of Strang, Denise Conroy of Alton.
Conroy said she is a relative newcomer to the area and her husband is a ski instructor at Gunstock.
State Rep. Mike Sylvia R-Belmont, a Free Stater and chair of the delegation, who was criticized by Gov. Chris Sununu for helping to cause the crisis, and Rep. Norm Silber, R-Gilford, were among delegation members who were not present for the vote Monday.
A Union Leader reporter tweeted Monday that Sylvia said the meeting Monday night was defective because it didn't receive a seven-day notice, but Commissioner Doug Lambert said County Attorney Andrew Livernois disagreed and said it was legal.
Gov. Chris Sununu issued a statement after Conroy was appointed.
"Congratulations and thank you to the citizens of Belknap County for their successful efforts, perseverance, and strong advocacy," said Sununu. "They spoke up, made their voices heard, and saved Gunstock."

Earlier Monday, Sununu was criticized by Commissioner Lambert who told InDepthNH.org that Sununu had done nothing to help the crisis at Gunstock. In fact, Sununu made matters worse by offering Tom Day and other senior managers who resigned on July 20 state jobs at the Parks Department and Cannon Mountain if they didn't return to Gunstock. That offer came the day after they resigned. Sununu's press office didn't respond to requests for comment Monday.
The actions taken at the Gunstock base lodge with about 200 people present Monday night will allow the county-owned recreation area to reopen in time for this weekend's SoulFest 2022, which is to draw over 6,000 youths for a three-day Christian music festival.
When Day and senior staff quit en masse on July 20, they insisted they would not return with Strang and Chairman Peter Ness on the board.
Lawyers and insurance officials said without the senior staff, the county could be liable for a lawsuit.
Ness resigned Friday. Strang initially refused to quit, though he said he would once a replacement was appointed as interim commissioner.
And he did just that. Strang tendered his resignation, state Rep. Gregg Hough announced to applause at about 8 p.m. Monday night.
People in the crowd were hugging and sharing high-fives at the news.
The county delegation first accepted the resignation of Chairman Ness and Commissioner Gary Kiedaisch of Gilford, a longtime ski industry administrator at Stowe, Vt. and Waterville Valley, who resigned in sympathy with staff and frustration with the commission July 20.

But as Commissioners Jade Wood and Lambert stood up to Ness and Strang and called for their resignation, Kiedaisch indicated he would be willing to return.

Gunstock General Manager Tom Day said his team is now "ready to return to work."
Day sat in the front row of the meeting Monday night with former Director of Snowsports Peter Weber.

At the end of the meeting, Day held up a set of keys to the applause of the crowd.

Day said he would be ready to return with his staff Tuesday morning and there was a lot of work to do to get the operations going for the weekend.

In a statement issued Monday, Day said his staff "quit as a team" and will then be returning as a team once Strang is out.

"We want to protect Belknap County from potential lawsuits," Day also noted. A breach of contract with the organizers of the event was possible without top management on site and on operations like zip lines and chairlifts.

SoulFest 2022 and event organizers, New Sounds Concerts Inc., have a contract in which access for event-goers to the Gunstock zip lines, slides and ropes course, and chairlift to the summit is included.

Insurance, provided by Safehold Special Risk, was in jeopardy without a general manager and staff to operate the property.

SoulFest 2022 https://www.thesoulfest.com/events/soulfest is expected to draw more than 6,000 youths for a Christian music concert. It is the last year for the event at Gunstock. It will move next summer to Western Massachusetts.
The two remaining commissioners, Lambert and Wood said not only had Strang refused to resign and obstructed efforts to host SoulFest in so doing, he also had not been on the property to help them deal with the crisis when Gunstock closed the day after senior management resigned.

Wood has said she is pregnant, due with twins in two weeks but was determined to stay on to help the mountain and the county residents she said she pledged to serve.

Lambert has indicated the same and praised Wood for her leadership.

The Votes
All members of the Belknap County Delegation are Republicans though some identify more with the Free State and libertarian movements. One member has moved out of state and resigned from his post.

A movement to Save Gunstock has a petition in which residents argue that the Belknap County Delegation stacked the Gunstock Area Commission with political extremists who want to lease the profitable, county-owned property.
The majority of the House members in Belknap County are running for reelection in November and the political movement is recruiting residents to run against what they see as the extremists trying to privatize the recreation asset of the county.
They needed 11 votes to remove Strang and said Sunday they had the votes, but it did not come to that.
Nine of the 18 were required for a quorum. The meeting had 10 state Representatives, including Rep. Tim Lang who attended remotely by phone.

State Rep. Thomas Ploszaj of Center Harbor was the only one not to support the request of Strang to resign.

Voting to accept the resignation were Reps. Harry Bean of Gilford, Jonathan Mackie of Meredith, Mike Bordes of Laconia, Gregg Hough of Laconia, Julie Harvey-Bolia of Tilton, Tim Lang of Sanbornton, Douglas Trottier of Belmont, Travis O'Hara of Belmont and Richard Littlefield of Laconia.

Not present were state Reps. Glen Aldrich of Gilford, Norm Silber of Gilford, Dawn Johnson of Laconia, Paul Terry of Alton, Peter Varney of Alton, Mike Sylvia of Belmont, Barbara Comtois of Center Barnstead, and Raymond Howard Jr. of Alton. Howard has resigned because he moved out of state.