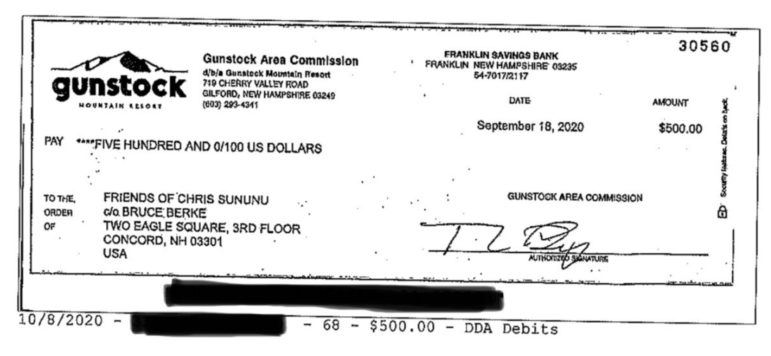 By PAULA TRACY, InDepthNH.org

GILFORD – Republican candidate for governor Karen Testerman has called for an outside investigation of a Sept. 18, 2020 check for $500 to the campaign of Gov. Chris Sununu which was signed by Tom Day, who was then Gunstock's general manager. The check was written on a Gunstock Area Commission account.
Sununu's campaign manager Paul Collins said there was nothing wrong with the donation.
And during this chaotic time at the lucrative county-owned recreation facility that is still mostly closed, Gary Kiedaisch, a member of the Gunstock Area Commission who verbally resigned along with Gunstock's senior staff July 20, said he has withdrawn his resignation.
Kiedaisch claims that his resignation was never accepted by the county delegation, which has not yet met since he walked out of a Gunstock Area Commission meeting July 20.
A copy of the check to Sununu's campaign was released to the public by state Rep. Mike Sylvia, R-Belmont, a Free Stater who chairs the Belknap County delegation, after Sununu on Wednesday called Sylvia and two other Republican House members "crazy."
Sununu said he supports the removal of Gunstock Area Commission members Dr. David Strang and Peter Ness from the five-member commission as the best possible way to get the recreation area open before the lucrative winter ski season.
Sylvia insists the donation to Sununu's campaign was inappropriate and possibly illegal.
"Since gunstock is owned by Belknap County all of its funds are public monies and using public dollars to support a political campaign is clearly improper and possible violative of law," Sylvia said in a published statement.
Sylvia said because the commission is in the midst of an audit, its first with an audit committee and "an internal legal investigation authorized by ALL of the Gunstock Commissioners, this and other financial irregularities are coming to light."
Sylvia said Sununu has also publicly offered a state job to Day.
"This is an ethical quandry for the governor as it interferes with the leadership of a competitor ski area whose closure stands to benefit his family and his pocketbook," Sylvia said.
Testerman, a far-right conservative who received just over 9 percent of the vote against Sununu in the last primary election, said in a news release that the check to Sununu's campaign raises questions of legality and charged that the state has a "shameful lack of oversight" of public officials when compared to other states.
"In light of this discovery, I am calling for a full independent OUTSIDE investigation and depositions of Governor Chris Sununu, his involvement from the beginning with both Waterville Valley Ski Resort and Gunstock Ski Resort, his campaign staff, and the employees of all entities," Testerman said.
Sununu's campaign manager Paul Collins said: "Under state law, a contribution from the Gunstock Area Commission is not a prohibited political contribution and the Friends of Chris Sununu did nothing wrong in accepting a contribution.
"The governor is standing with thousands of citizens in Belknap County and beyond calling for a new commission that will get Gunstock open and serving the public again," Collins said in an email.
He said there is "no quid pro quo, and such an accusation is without merit. If any of our contributors request a refund of their contribution, we of course oblige their request."
Collins said since becoming governor, Sununu has had no involvement with the operations of Waterville Valley, which he formerly ran as part of his family's business, and he has no legal ability to influence operations of the business.
Kiedaisch spent his career working at some of the largest ski resorts in New England, including Stowe, Vt., and Waterville Valley when it was owned by Tom Corcoran. Day also formerly worked at Waterville Valley.
Kiedaisch said the check was intended as an industry donation to Sununu and is given to those who support the industry, and he said he was unsure why the check was drafted on an account of the Gunstock Area Commission.
Currently, Gunstock has a bank balance of over $7 million, Kiedaisch said, and the names on the account still include Tom Day and himself.
A meeting called for Aug. 4 by 10 members of the Belknap County delegation has apparently been cancelled and one reportedly scheduled for Aug. 8.
Gunstock is a Belknap County-owned asset that made a record $18.5 million last year.
Mount Sunapee, which the state has leased for $400,000 a year plus 3 percent of net revenue, is operated by Vail Resorts and the majority of its revenue is returned to its headquarters, while a small percent of the revenue goes to state ski operations at Cannon Mountain in Franconia.

There are a number of ski resort operators looking at leasing Gunstock and other resorts in New England.

The recreation area, with its zip lines and mountain coaster, is now mostly closed for a lack of staff who have resigned in the wake of the political upheaval, primarily related to a libertarian and or Free State philosophy over whether the county should be competing with the private sector for business.

Some members of the delegation, who have appointed the commission and can remove members, have stated interest in leasing the operation.

Kiedaisch does not support leasing and is the longest-serving commissioner and the only one with ski operations experience.

Mike Garrity, spokesman for Attorney General John Formella, said there have been a number of matters related to Gunstock which have come to the department's attention and they are investigating.

Meanwhile, over 2,500 people have signed a petition urging the delegation to leave control of Gunstock to its commission and opposing the concept of leasing the ski area to a third party.
"Recent events reveal that the delegation is misusing its limited authority in an effort to seize control of Gunstock…." the signed letter reads https://sign.moveon.org/petitions/belknap-county-residents-for-gunstock.
What Kiedaisch said he wants to know is why members of the delegation would now not want him on the Gunstock Area Commission.
Either way, he said, he wants the delegation to meet on who is to be on the commission and to get things to reopen as time for Gunstock to prepare for the winter is of the essence.
"We are not talking weeks but days," Kiedaisch said. "Every day is a week."