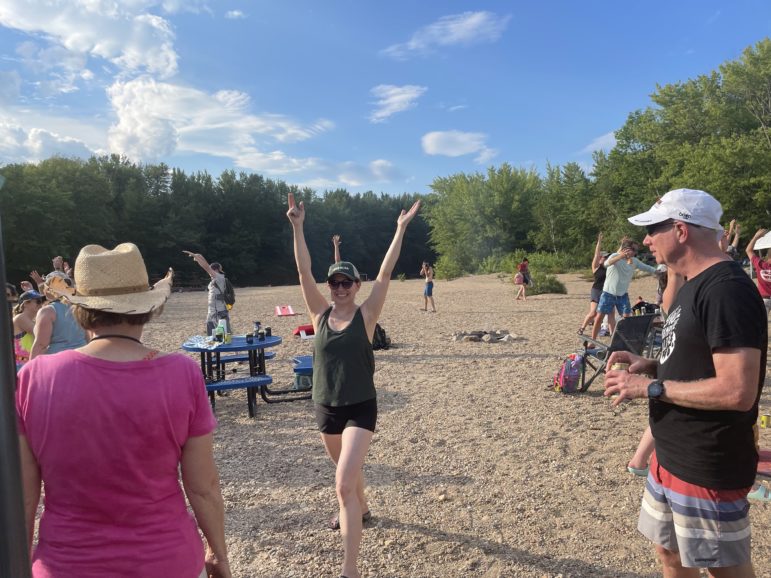 By PAULA TRACY, InDepthNH.org

NORTH CONWAY – The state's outdoor industry is getting an inventory of what it has to set a foundation and understanding of its importance to the state's economy.

SE Group of Burlington, Vt. has been retained by the state to do a deep dive into what we have here and Tyler Ray of North Conway, an attorney and director of Granite Outdoor Alliance, said it will be a hugely important resource going forward when the industry wants to talk to lawmakers.

Ray brought the outdoor business community together for a six-mile paddle down the Saco River last Wednesday, which ended with dinner on a sandy beach where they learned about the statewide plan to take stock of what the state has for outdoor recreation and what it means to the state's economy.

The New Hampshire Department of Business and Economic Affairs and its division of Outdoor Recreation Industry Development have retained the SE Group, formerly Snow Engineering of Littleton to define and quantify the extent of the outdoor recreation industry.
The data will serve as a foundation for ORID's work, said Caleb Weathers, an analyst for SE Group.

He said they are starting right now with a survey and will also work on developing an outdoor recreation database.
It will be "a dynamic process that will bring stakeholders, regions, businesses and recreation enthusiasts together," according to a brochure for the project distributed at the event.
"These guys have a quite amazing reputation," Ray said.

Founded by famous ski trail designer Sel Hannah of Franconia, the organization has worked to develop resort designs and economic studies for resorts, municipalities, and states from Cannon Mountain to Aspen. It has offices in Colorado, Vermont, and Utah.

At The Beach Camping Area, Ray said "I'm stoked on this project because…they will be able to bring empirical data to the policymakers in Concord."
Included in the project will be an inventory of the outdoor assets the state has, which has never been done on a comprehensive basis.
This will include all trails, parks, businesses, firms that hire employees to work in the outdoor industry from retail to guides and livery services and will create a whole new data set.

The study will be done over the course of the next year.
Among those listening was Stuart Hickey of Northern Waters Outfitters of Errol, who started his whitewater rafting business during the pandemic and is anxious to see it grow in the northern reaches of the state.

His business is typical in the state's outdoor industry.
Hickey said "we're pretty small, pretty-low key," and works to promote through word of mouth.

He urged others in the industry to "come check us out" on the Androscoggin River where they take guests down Class II rapids and have a remote campsite on the Rapid River.

The sold-out paddle event, a bit like a Chamber of Commerce mixer, included outdoor industry officials like Jessyca Keeler, executive director of Ski NH, those in the retail and outdoor clothing business, and officials from the state's renewable energy sector.

New Hampshire is the 16th state in the nation to create an office of outdoor recreation. It did so two years ago.
Scott Crowder, the state's first outdoor director in the new state Office of Outside Recreation Industry Development, is returning to the private sector after successfully launching the division.
A new director has yet to be named by the BEA.

The effort comes at a time when a report by Backyard Concept LCC shows New Hampshire's employers in the outdoor industry are targeting a younger demographic to fill the growing demand for work, but are finding it difficult to fill the open positions with qualified help.
The report shows that the industry saw a huge boom during the pandemic.
A lack of workforce reinvestment, professional development, and stagnant wages have left open positions, contributing to a weakening labor pool that is holding back potential development.