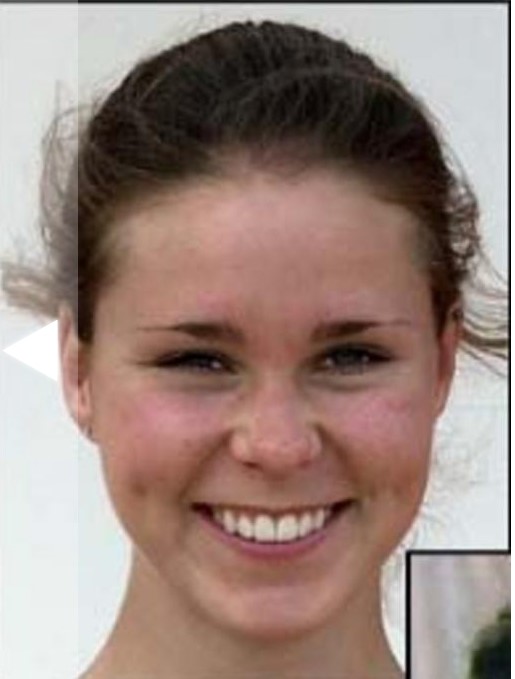 By PAULA TRACY, InDepthNH.org

EASTON – State Police and the New Hampshire Fish and Game Department searched the woods along the Wild Ammonoosuc River near the Landaff town line for clues to what happened to Maura Murray, who went missing 18 years ago.
The then-21-year-old Massachusetts woman was last seen immediately after her vehicle hit a tree in Woodsville on a cold winter night, about 4.5 miles from the location law enforcement officials, trained dogs and a helicopter searched for clues Wednesday.
There have been several other unsuccessful searches for Murray over the years. Mike Garrity, spokesman for Attorney General John Formella, said he expects the search to conclude Wednesday.
"That area was searched because it had only been previously searched in a more limited fashion. We are not commenting on the results of the search," Garrity said.
The sight of such a large law enforcement presence was welcome by Thornton resident Barbara Lojko who said she has been working with Murray's family for the past seven years to find out what happened to her.
"I am so thrilled, particularly to see the dogs. The dogs are essential," Lojko said as a helicopter hovered over the dense woodlands along the curving Route 112.

Lojko said she was in contact with Murray's sister, Julie Murray, who lives now in Virginia, and their father, Fred Murray, a resident of Massachusetts.

The searchers carried sticks walking about 10 feet from each other through the rugged terrain on the north side of the road. It is near the Easton/Landaff town line and far from any houses.

Lojko said there are several theories about what happened to Murray.

"It's swirled in many circles from the crash site," she said of likely evidence. "Within seven minutes she was taken," Lojko said, the night of the crash.

She said a forensic specialist the family brought in who worked for 11 days on a probable site for remains was focusing on the same area being searched Wednesday.

Several years ago, she noted, a house near the crash site was examined by State Police which found nothing, she said, but she was told the only thing found was "a dead mouse."

Many passersby Wednesday slowed and asked what was going on as about 20 State Police and Fish and Game vehicles lined both sides of the road.
Murray went missing in February 2004 when she was a student at UMASS-Amherst college and left the college on February 9, 2004. That night her car was involved in a single-car accident on Route 112 in Woodsville, but she was not there when police arrived.
Anyone with information about Murray is asked to call the New Hampshire Cold Case Unit at (603) 223-3648 or email them at Coldcaseunit@dos.nh.gov.