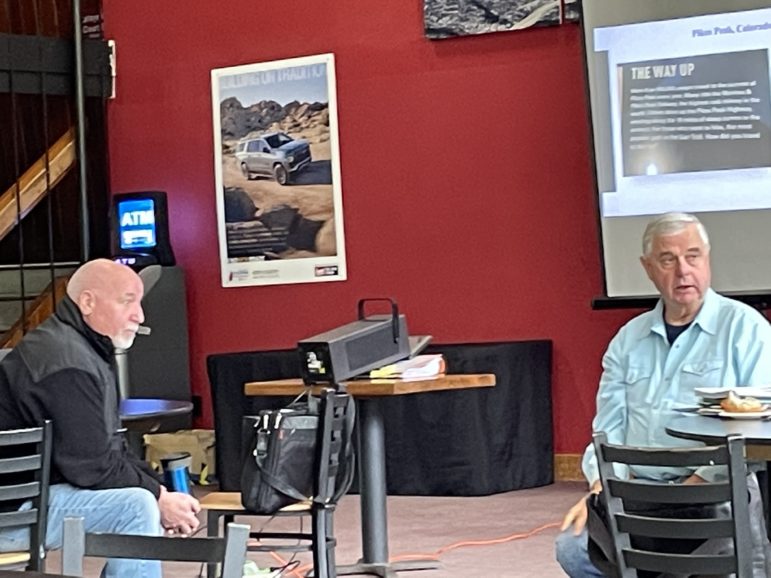 By PAULA TRACY, InDepthNH.org

FRANCONIA – The public will be asked to weigh in on a draft master plan for Mount Washington State Park this summer, which may look at limiting access and climate change concerns.

North Country environmentalists attending a meeting of the Mount Washington Commission Friday where the draft was discussed said the state should perform an environmental assessment first before the master plan, looking at climate change and how it may be impacting the fragile summit and the highest peak in the northeast at 6,288 feet.

The popular tourist destination is under pressure. A reservation system to limit overcrowding may be part of a future plan.

It was debated whether access can be limited, however, because of a 1964 deed between the state and Dartmouth College, which conveyed the summit acres for a state park, said one member.

State Sen. Jeb Bradley, R-Wolfeboro, chair of the commission, suggested the master plan go forward first and then seek state money needed for an environmental assessment which he said could cost the state "six or seven figures."

He said it would be easier to get the money for the study with a master plan in hand than wait, like environmentalists suggested, to do the assessment before the master plan is done.

The draft will be the subject of two public informational meetings with written comments accepted for those who cannot attend.

Informational meetings on the draft master plan are tentatively planned for Conway at 6 p.m. on Aug. 22 and at the Legislative Office Building in Concord at 10 a.m. Aug. 23.

The document will be placed on the state website (with a link at the bottom of the story) along with the 1964 deed Dartmouth College conveyed.

Jamie Sayen of Stratford, an author, and environmentalist, attended the commission hearing Friday at Franconia Notch State Park.

He said he thought a new environmental analysis is needed before a draft is finalized so that impacts can be first assessed. Bradley disagreed.

He said there will be a process in the next capital budget or the park's operating budget, to do such an assessment and said it would take a year or more for the environmental process to begin.

"We would be back here in two years doing this process again," he said, of the master plan.

He said the draft could go forward with the proviso that the commission would write an addendum to reflect the changes needed from the environmental assessment.

"I'm concerned," Sayen said, adding "hopes" don't always translate into environmental action.

Lucy Wyman, another North Country resident with similar concerns for the summit's fragile environment, said she thought climate change should be the driver of how the master plan reads.
Parks Director Phil Bryce said he did not think the money for the environmental assessment would come without a master plan in place calling for it and that the document can be altered after the report is made.

"I hear your point," he said.
Public access and limitations because of the park's location were also a focus of discussion.

In addition to handicap access were issues of financial access and physical limitations.
There are only three ways to get to the park. The first is an arduous hike by foot. The other two are paying to access it through private road or by rail.

Sarah Stewart, commissioner of the department, said state parks have a strong mission to ensure access to all, regardless of finances or athletic ability.

"We realize the challenges to access," she said, but wanted in the document a way to explore the concept of a NH Day or access to school children which would be free of charge or limited in cost.

"I want to recognize in the master plan accessibility not only physically, but financial," she said.
Overcrowding potentials at the summit were discussed as well as part of the access discussion.

The draft reads, "In general, NH State Parks should evaluate limiting the number of visitors, using reservation systems or changing operating hours with respect to structures while recognizing the requirements of relevant deeds and the Commission's charge."
Members of the commission include owners of the privately-owned Mount Washington Auto Road and the privately-held Mount Washington Cog Railway.

Wayne Presby, the owner of the Cog, said the 1964 deed to the summit indicates that there shall be no limits on the number of people accessing the summit.

Kris Pastoriza, a member of the public, asked a number of questions related to carbon and the impacts of visitors on the environment at the summit.

Bryce noted that parks have been able to come up with solutions in the past to overcrowding, noting the hiker parking on the side of the interstate through Franconia Notch.  

"Even though it was not the parks' responsibility we came up with a solution," to shuttle hikers from Cannon Mountain parking lots, and he noted it is working.

Howie Wemyss, former general manager of the Mount Washington Auto Road, said from his perspective he did not have a problem with limiting access and he asked Presby where it said that there would be unlimited access.
Presby said it is included in the 1964 agreement with Dartmouth.

"I'm just curious if that is the way it reads. I need to understand it," Wemyss said.

The current draft states "consideration must be given to management techniques and objectives for the summit that take into account the number of current and expected visitors. Based on the rights of the summit partners, there cannot be any limitations on the number of visitors in the park boundary. The only constraint on visitors is the life safety capacity for the Sherman Adams Building," which holds 495 people on the main floor and 298 on the ground floor.

For more information on the Mount Washington State Park Master Plan draft and previous plans visit https://www.nhstateparks.org/about-us/commissions-committees/mt-washington-master-plan-and-resources