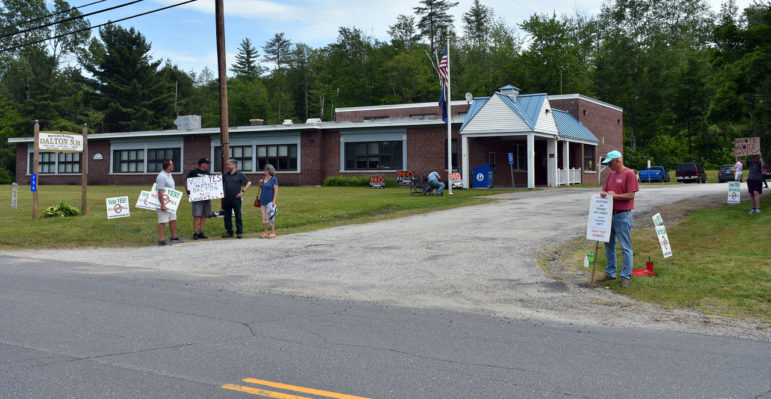 By Thomas P. Caldwell, InDepthNH.org
DALTON — The one thing that both supporters and opponents of zoning regulations in Dalton agree upon is that debate over the matter has divided the town, pitting neighbor against neighbor. The June 7 vote that defeated a permanent zoning ordinance is not likely to end that division.
An all-day voting session at the town's municipal building produced 475 votes, defeating the zoning ordinance, 195-280.
Town Clerk Jessie Wentworth said there had been 653 registered voters on the checklist, and by 2 p.m., there had been 20 new voters registering. She said a turnout of 300-350 is typical in local elections.
Voters worried about the impact of a new landfill in town had enacted a temporary zoning ordinance aimed at stopping Casella Waste Systems' plans to site such a facility near Forest Lake State Park. That ordinance was due to expire on June 7, so the special ballot vote was scheduled to let voters decide whether to make the regulations permanent.
A group that calls itself Concerned Citizens of Dalton has distributed signs and mailed postcards to convince residents that "The zoning ordinance put together by town officials is BAD POLICY, developed using a BAD PROCESS and will produce BAD RESULTS for Dalton."
Among those distributing information from the "Concerned Citizens" were people associated with Casella, which recently withdrew its landfill applications for Dalton but said it would be refiling for permits in a few months.
Jon Swan of Save Forest Lake says that Casella's Tom Cue had set up a "control center" across from the municipal building with a postal box full of mailers stating they were paid for by Concerned Citizens of Dalton. Another man, whom Swan identified as Tom Ahearn, sat as an observer in the middle of the polling place with multiple clipboards, texting and periodically crossing the street to where Cue had set up. A third man, Brian Mills, whom Casella had hired as a public relations consultant, "worked the phones," according to Swan.
Casella had never made a formal application to the town under the temporary zoning ordinance, with company officials saying that would come later, after the state and federal requirements had been addressed.
Those supporting permanent zoning say the ordinance is not aimed solely at the landfill because it offers other protections for the town. Unlike the 92 percent of New Hampshire communities that have adopted zoning, Dalton has no regulations in place to prevent anyone from damaging the environment or infringing on their neighbors' properties.
Opponents say that is as it should be.
"I don't want it to be up to this town administration to say I can't grow a garden," said Eric Pillotte, who sat with a No Zoning sign in front of the municipal building during Tuesday's polling. Saying he was born in Dalton, Pilotte said, "I don't need permission to have a bunch of cars here if I want to have a picnic."
His wife, Robin, agreed. "They want to say what we do on our property," she said. "We pay taxes here."
Eric said passage of permanent zoning would not stop Casella from putting in a landfill; it would only cost the town money fighting it.
"The town's lawyer said as much," Robin added. "She said the only one to make money is her. She'll get her money."
"It's divided the town," Eric said. "They want to have the right to tell people what to build."
Tom Tower of the North Country Alliance for Balanced Change was outside the polling place with other Alliance members. He said it is important to protect the groundwater in the state, and zoning is one way to do so.
"Whether or not the landfill goes in, zoning will make sure the town has a seat at the table" during the siting process, Tower said.
Wayne Morrison, another Alliance member, said Dalton's zoning is tangential to the organization's goals to protect the environment, but it is important to the town. Without zoning, Casella could get an agreement with the town that is one-sided, he said.
Some residents were worried about out-of-town people casting votes on the zoning question. Cathleen Fountain, chair of the Supervisors of the Checklist, said the town followed all of the procedures necessary to verify identity. Those registering on the day of the vote had to provide proof of residency or fill out an affidavit that would be verified later.
Selectman Jo Beth Dudley, who was observing the vote, said that, given the town's typical turnout and the expectation of what the interest in the zoning question would be, they had printed 400 ballots, but had to print an additional 50 ballots when more voters showed up.
She said 437 votes were cast on the day of the election, leaving 13 uncast ballots, but there also were 38 absentee ballots, making a total of 475 votes cast.
The master plan upon which the zoning ordinance is based is being updated to reflect the results of the 2021 Master Plan Survey results, but very little has changed since the completion of the last master plan in 2011, officials say.
As the survey notes, "Opinions regarding the role of zoning, or land use regulation in Dalton were expressed by many respondents, however there was not a clear trend or majority interest regarding such a topic. Respondents opposed to regulation fear loss of property rights, interference with existing operations and land uses, and increased costs of development and municipal services. Those in favor of regulation are largely in favor of limiting heavy land uses such as waste disposal and landfill within the community. However, several stakeholders noted a desire to see heavy land uses located in specific areas of town if they will be permitted. Opinions regarding regulation of residential properties and accessory land uses were greatly mixed."
The new zoning ordinance runs 22 pages, acknowledging those survey findings: Dalton should remain a residential community; future development should protect the town's natural environment; future development should continue its focus on single-family homes; the town should encourage forestry, agriculture, and recreational activities; and limited commercial and industrial development may be good for the town, but should be sited appropriately.
The other key points were to encourage the development of business in the town center that preserves and enhances Dalton's small-town character; and property owners "must be able to count on full protection of their property rights … subject to health, safety and nuisance considerations."
That latter point is reflected in the ordinance: Temporary carports, shelters, and "hoop house" greenhouses would be allowed without a permit, as would decks, porches, and patios; fencing with no setback from the property line; non-residential buildings of 200 square feet or less; and home-based businesses "where customers do not regularly interact with the business on-site."
Home-based daycare centers, farm stands, forestry, agriculture, and the slaughtering of animals and poultry also would allowed without a permit, subject to state and federal statutes.
If passed, the zoning ordinance would have required permits for dwelling units, and there were stipulations for home-based businesses, such as limiting excessive noise, traffic, and dust.
Special exceptions would have been required for small commercial businesses with as many as 40 employees.
The ordinance would have placed the selectmen in charge of granting zoning permits and enforcement of the regulations.
Swan said after the vote, "It's like we've turned back the clock and it's 2019 all over again. No zoning, no landfill permit applications, but certainly great awareness across the state and a clock that is ticking for Casella, with 2026 being three years closer than in 2019." That is year Casella's landfill next door, in Bethlehem, is slated to close.