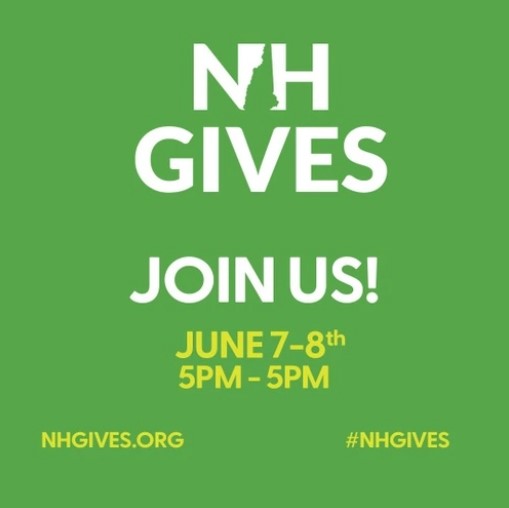 By Nancy West, InDepthNH.org
At InDepthNH.org, we are getting ready for NHGives June 7 at 5 p.m. to June 8 at 5 p.m. and need you to help us make it the most successful fundraiser ever by providing a match donation before the big day so please act soon.
We will publicize your match donation of any amount you choose. Call or email Nancy West soon at nancywestnews@gmail.com or 603-738-5635. This will help us raise the funds we need to continue bringing you important news that matters in New Hampshire from our veteran reporters Garry Rayno, Paula Tracy, Nancy West, Tom Caldwell, Damien Fisher and our special columnists and podcasters Wayne King, Arnie Alpert, Roger Wood, Terry Farish, Bev Stoddart, Susan Dromey Heeter and George Liset.
Next week, the New Hampshire Press Association will honor Paula Tracy with a Lifetime Achievement Award, InDepthNH.org's fourth with editorial cartoonist Mike Marland winning one last year, Garry Rayno the year before that and Nancy West the year before that. We are the best, most ethical reporters and writers in the state. I love it when I get to brag.
This is a special year as well for NHGives because the New Hampshire Charitable Foundation and its donors are providing a $200,000 bonus pool to encourage donors to give.
The site-wide bonus pool aims to help encourage you folks to continue your generous giving to InDepthNH.org. The bonus pool is a proportionate match that is determined by the overall amount that InDepthNH.org raises online during NHGives' 24 hours of giving. Every organization that raises $300 or more online between 5 p.m. on June 7 and 5 p.m. on June 8 will receive a proportionate amount of the bonus pool.
We need you now and know you will come through. After seven years reporting New Hampshire news online, I know you have come to trust our nonprofit news reporting and hope you will provide a match donation and donate to our mutual cause, that is unbiased journalism that reports news without fear or favor. Thanks. Nancy West
In case you don't know who we are:
On Thursday, June 9, the New Hampshire Press Association will honor InDepthNH.org's senior reporter Paula Tracy with the Association's Lifetime Achievement Award. Since 2018, Paula has been covering the State House, the Governor's office, the Executive Council and writing about important topics the people of New Hampshire need to know for InDepthNH.org. Her love of New Hampshire expands into her, Out and About column, where she "helps us find those less well-known spots to get a breath of social distancing fresh air." Before coming to InDepthNH.org, Paula was a senior staff reporter for the Union Leader for more than 25 years before moving to WMUR. We applaud the N.H. Press Association for honoring an accomplished professional journalist and genuinely kind person. Paula joins 2019 NHPA Lifetime Achievement honorees Nancy West and veteran statehouse reporter Garry Rayno in 2020.
At the awards dinner June 9, the finalists will find out if they placed 1st, 2nd or 3rd. The finalists who write for InDepthNH.org include:
Garry Rayno and Paula Tracy for their reporting on "Staying Healthy Amid COVID-19"
Garry Rayno and Paula Tracy for government reporting
Garry Rayno for Journalist of the Year
Nancy West for First Amendment award for "The Battle for the Laurie List of Dishonest Cops"
Terry Farish's story, "Everyone Has a Story."
Michael Davidow's column, Radio Free New Hampshire
George Liset's column, Writing on the Fly
Wayne King's podcast, New Hampshire Secrets, Legends, and Lore
Roger Wood's podcast, Roger Wood's Golden Voice
InDepthNH.org is a nonprofit watchdog news website published by the New Hampshire Center for Public Interest Journalism. Nancy West is the Executive Editor. The mission of InDepthNH.org believes that vigorous, in-depth news coverage focused on government and public servants are the bedrock of a thriving democracy.