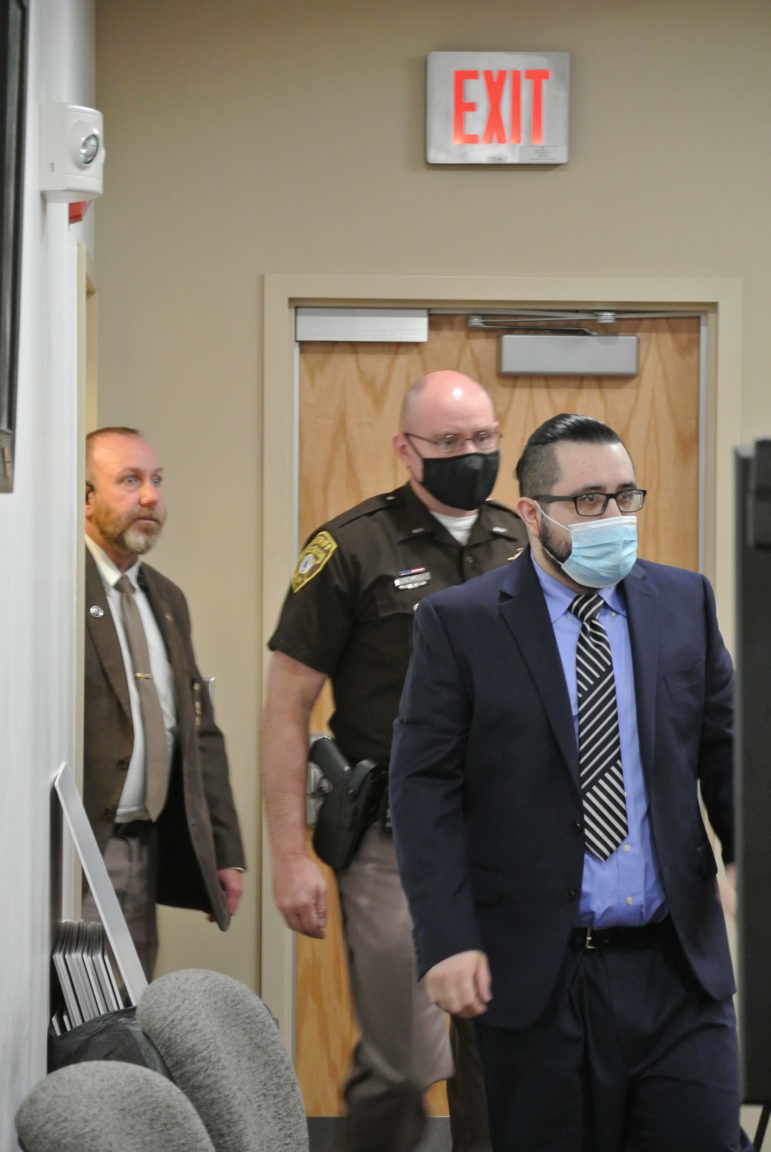 By DAMIEN FISHER, InDepthNH.org
KEENE — Jurors heard grim details this week about the night of Sept. 19, 2020, when Armando Barron allegedly murdered Jonathan Amerault in Rindge before later forcing his wife, Britany Barron, to cut the head from the corpse in Coos County.
What they are unlikely to learn in Cheshire County Superior Court during his murder trial are details about Armando Barron's alleged infidelities, his past physical abuse of his wife, and his arrest for desertion from the military. All that evidence has been sealed, but there are clues in the available records.
Armando Barron, 32, is trying to claim that he did not murder Amerault, 25, but instead after he beat and tortured Amerault and terrorized his wife — leaving her with a broken nose and covered in her own blood — it was then Britany Barron, 33, who took the loaded .45 caliber revolver and shot Amerault.
Defense attorney Meredith Lugo questioned Britany Barron on Thursday about the trip to the remote woods in Atkinson Gilmanton Academy Grant in Coos County where she was allegedly forced to cut off Amerault's head while her husband watched.
Lugo was careful to stick to the night of the murder and the following days when Britany Barron was left alone in the woods without a working car or cell phone. Lugo did not venture deep into why Britany Barron did not report the murder sooner when she had the opportunity.
That's because questions like that could allow the state to bring up Armando Barron's prior bad acts, according to court records filed in the case. The jury heard about Armando Barron's assault on his wife the week before the murder, but not any of the other assaults that allegedly took place throughout the marriage.
"Separate and in addition to the defendant's assault on Ms. Barron the week before the assault and murder of Jonathan Amerault, the defendant's past history of assaultive and controlling actions against Ms. Barron would become admissible to explain her delay in reporting the defendant's commission of the attack upon her and Jonathan's murder should the defendant attack her credibility for failing to do so," one prosecution motion states.
The alleged assaults included hair pulling, slaps, and grabbing her by the neck, according to documents. Part of the reasoning that the prior assaults are being excluded is that Armando Barron wasn't charged with domestic abuse in those cases.
Also left unsaid in court are allegations that Armando Barron cheated on his wife at some point in their relationship. Motions dealing with the alleged infidelity are sealed, and the reasons for the sealing are unknown to the public.
In court, there was a clue left when Britany Barron testified on Tuesday that there was an incident sometime in July of 2019 that caused her to lose trust in Armando Barron.
Britany Mitchell, her maiden name, grew up in an abusive home, leaving when she was in high school to live with Armando Barron and his family. They had met at church in Las Cruces, New Mexico, and that church community was insular and isolated.
"It was my life. I didn't hang out with anybody else," Britany Barron testified in court on Tuesday.
The couple married in 2007 when she was 18 and he was 17, after his mother, Marialena Rekas, pushed them. According to Britany Barron, the deeply religious Rekas told them they were living in sin.
"She said 'If Jesus was to come back right now you would be fornicating,'" Britany Barron said.
The couple started having babies right away, but their life together before they moved to Jaffrey remains a mystery. Britany Barron testified that around 2014 they moved to the Boston area to live with one of Armando Barron's brothers. After the brother started having family problems of his own, they moved to Jaffrey. Eventually they moved into the Main Street duplex they shared with Mariaelena Rekas and her current husband.
Britany Barron was the breadwinner in the family. She worked retail and restaurant jobs until she got hired on as a machine operator at Teleflex in Jaffrey about six years ago, where she would eventually meet Amerault. It's not known what Armando Barron ever did for work. Britany Barron testified that he homeschooled the children and did not work outside the home.
At one point, however, Barron was enlisted in the United States Army. What he did in the Army is unknown, except for how he left his military service. Armando Barron is a deserter, according to court records.
"During the course of the investigation, detectives learned that the defendant had an Other than Honorable Discharge in Lieu of Trial by Court Martial from the United States Army after he deserted from his post. This discharge occurred several years after his desertion when he was found and arrested in 2018," one prosecution motion states.
Prosecutors plan to bring in evidence of Armando Barron's military discharge if his attorneys use his military service as a positive character trait, according to the court records. So far, that has not happened.
Details about Armando Barron's 2018 arrest, his service, and his desertion were not immediately available on Thursday.
The court will be closed on Friday for an administrative day, and the trial will resume on Monday with more witness testimony.