By Arnie Alpert, Active with the Activists
MANCHESTER—Raising wages for Manchester city employees and standing up for immigrants topped the agenda at Monday's May Day rally at Manchester City Hall Plaza. Despite intermittent rain and a blustery late day wind, upwards of 50 people sang, chanted, and listened to speakers including local elected officials and members of several activist groups.
"Right here in the city, Manchester school paraprofessionals get less than $15 an hour to start," protested Bobby Jones of the American Federation of State, County and Municipal Employees, which represents municipal and county workers in several New Hampshire communities. Housekeepers, laundry and food service workers, nursing assistants, cafeteria workers, and custodians are among the professions where wages are too low, he charged.
"Now more than ever it's time to guarantee public sector workers, the backbone of New Hampshire, the backbone of our communities, be able to earn a living wage. A living wage," he emphasized. "When costs are rising, these people are struggling. We need to have their backs because they have our backs. "
Sudi Lett, the Granite State Organizing Project's youth organizer, agreed, stating that support for paraprofessionals in schools is essential for children to get a decent education. "It's not a job that brings joy when Friday comes and it's time to pick up your check," he said.
Linds Jakows of Granite State Interfaith Action urged participants to text messages supporting municipal workers to members of the Board of Alderman.
Alderman Pat Long, who was one of the speakers, and Alderwoman June Trisciani, who was in the crowd, didn't need the text messages to show up on the side of city workers. Nor did school board members Jim O'Connell, Jason Bonilla, and Chris Potter need any additional encouragement.
Outrage at the actions of Senator Maggie Hassan and Representative Chris Pappas, who have endorsed legislation restricting entry of asylum seekers, was evident. Maria Perez, a State Representative from Milford who two weeks ago led the departure of the Latino Caucus from the Democratic Party, said Hassan and Pappas have ignored repeated requests for meetings with immigrant community members. Once they saw Senator Hassan for five minutes, Perez said, but then the senator was rushed away by staff. Rep. Perez said that Rep. Pappas hasn't even responded by email.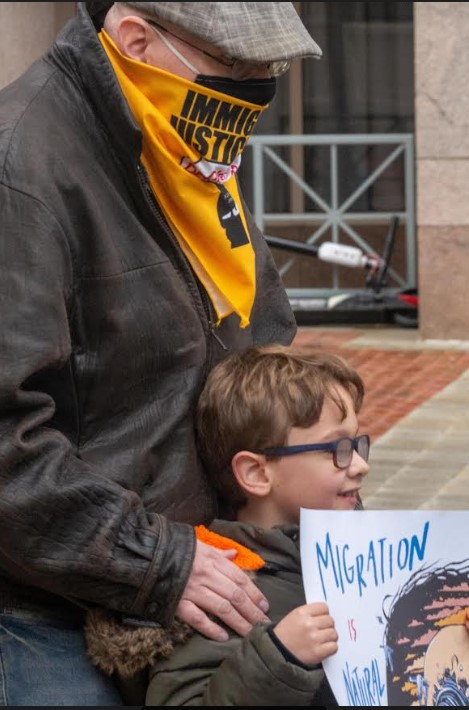 At issue is Title 42, a Trump administration policy which under the guise of public health protection has barred entry of asylum seekers at the southern border. While the Biden administration has vowed to end Title 42, Hassan and Pappas are backing legislation to keep it in place. Hassan even travelled to the border and called for additional funds for enforcement measures. Exceptions are now being made for Ukrainians, but not for darker-skinned migrants from violence-stricken countries such as Haiti, Honduras, El Salvador, and Mexico.
"What's wrong with both of you?" Rep. Perez asked the absent officials. After noting "the other side is worse," she urged people to think carefully before they cast their ballots, but seemed to keep the door open with Hassan and Pappas if they would agree to hold town hall meetings. "Come out and meet with the community," she said.
Enrique Mesa, a local immigration lawyer, explained that families trying to immigrate are in many cases fleeing persecution. What they want, he said, is a chance to tell their story and see if they qualify for asylum.
"What really hurts the most," he said, is that "after four years of the Trump Administration doing horrible things against immigrants, now this administration that we had so much hope [for], that was going to stop a lot of the tactics like Title 42, unfortunately they're just continuing."
Noting that his own family's immigration from Cuba would have been prevented by Title 42 had it been in place, Mesa said, "What we need is for this administration to give immigrants a chance. Let these immigrants be heard."
If anyone from the offices of the state's Congressional delegation were there, they kept a low profile. But to make sure they would get the message, Linds Jakows was there with a placard urging people to send text messages to Hassan and Pappas.
"Remember who is for workers and immigrants when you cast your vote," urged Eva Castillo, who served as emcee. It was a familiar role for the Manchester activist, who heads the NH Alliance for Immigrants and Refugees. Castillo has been leading May Day rallies since 2006, when immigrant activists throughout the country led the revival of pro-worker rallies on the first of May.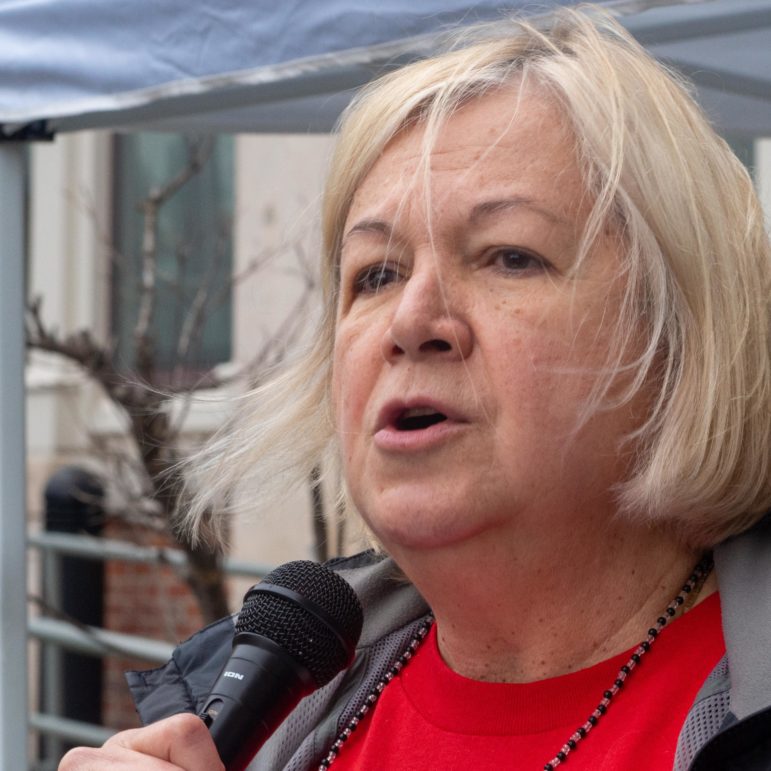 In between introducing speakers, Castillo commented on issues facing workers and immigrants and led a series of chants. "They say, 'Go 'way.' We say, 'No Way." "They say 'Shut up.' We say, 'Rise up.'" The crowd, many sporting yellow bandanas that said "Immigrant Justice Now" and "Dignity Not Detention," chanted along.
One place where immigrants and workers come together is in food services at Dartmouth College, where student workers have recently formed a union and are ready to bargain their first contract. Ian Scott, a member of the Student Worker Collective at Dartmouth, said many of the students who have to work to keep their financial aid packages are either international students or undocumented immigrants. Likewise, full-time Dartmouth workers include immigrants from West Africa. "Dartmouth feels that they can really marginalize and invisiblize the full-time staff they have at the school, too," he charged.
In addition to the NH Alliance for Immigrants and Refugees, other rally sponsors were Raise Up NH, AFSC, the Economic Justice Mission Group of the NH Conference United Church of Christ, Rights and Democracy, the Granite State Organizing Project, NH Council of Churches, Granite State Interfaith Action Fund, the Immigrant Solidarity Network, NH Voices of Faith and the NH Faith & Labor Coalition.
Standing up for workers and immigrants is a moral issue for the Rev. Dr. Gail Kinney, who led off the rally with a fiery sermonette. She closed off the rally, too, leading the crowd in singing "We Shall Not Be Moved," a union standard.