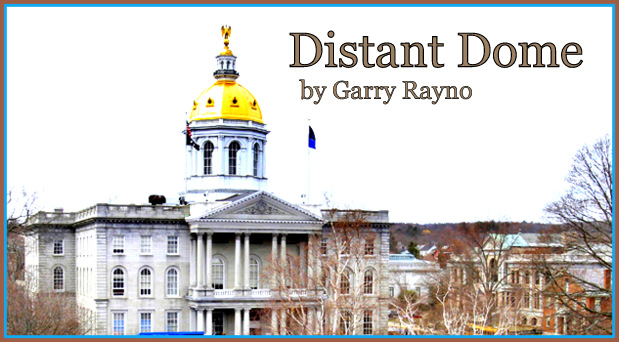 By GARRY RAYNO, InDepthNH.org
Almost two years to the day, the House will return this week to Representatives Hall for its session and the Senate will return to the Senate Chambers.
In those two years, the Senate held its session in Representatives Hall providing ample social distancing between members, but the House was nomadic.
After the pandemic hit, the House held sessions at three University of New Hampshire at Durham facilities: the Whittemore Center Arena, a soccer field, and a parking lot.
Last year, the House held most of its sessions at the Bedford Sportsplex, and this year to date at Exposition Center at the DoubleTree by Hilton in Manchester, both large enough facilities to provide social distancing.
Nearly two years ago, the House ended a 19-hour session that began Thursday the morning of March 12, but ended the next morning at 4 a.m. March 13.
It was the last time the House met in the longest continuously occupied State House in the country, and the last time this historic chamber hosted its namesakes.
If you don't remember, those sessions were not smooth and reflected the partisan divide that is even more prevalent this term.
The 2020 March 11 and 12 session days dragged on and on as several Republican representatives employed delaying tactics to prolong the days to retaliate for reprimands about a half a dozen Republican members received earlier for either refusing to attend required sexual harassment prevention training or to submit documents proving they did participate.
This term the problems began before the House could hold its first session day, with the death of elected House Speaker Dick Hinch from COVID-19.
Democrats sought to protect some of their most vulnerable members from the virus and sued House Speaker Sherman Packard to participate remotely.
Several members with health risks that could result in death if they contracted COVID-19 sued in U.S. District Court to attend the sessions remotely, including then-Democratic Leader Renny Cushing who has fourth stage prostate cancer. The group claimed the Americans with Disabilities Act required they be accommodated.
After losing the initial ruling in U.S. District Court with the judge saying the Speaker could not be sued due to legislative immunity, Democrats appealed and the decision was overturned by the 1st Circuit Court of Appeals and sent back to the U.S. District Court to determine if the Democrats were disabled under the federal law.
But before that happened, Packard asked for a rehearing, which was granted, held and everyone is still waiting for a decision.
Disabled Democrats, faced with going back into Representatives Hall and its shoulder-to-shoulder seating, filed a motion last week seeking an expedited decision, but none has been forthcoming to date.
Packard maintains a rule change is needed to allow remote access, but Republicans have voted down four proposals presented by Democrats.
The House is closely divided between Republicans and Democrats and keeping a few Democrats at home for sessions has been a political strategy from the beginning making the GOP's slim majority a little more comfortable.
Moving back to historic Representatives Hall means a few more Democrats are likely to stay home and may give Republicans an opportunity to revisit a couple of bills passed last month that did not go the way the GOP leadership wanted.
Returning to Representatives Hall — like many things during the last few terms — is provoking a high degree of partisanship bickering.
Republicans have long pushed for a return, but the Omicron COVID-19 surge delayed consideration. Some in leaderhip claim the time away from the State House has led to some of the nastiness and bickering that has been prevalent because the representatives do not socialize outside official duties and not get to know one another.
They also argue as Packard did last week "we're now in a different phase of the pandemic, and without some return to normalcy, we risk long-lasting damage to this historic institution."
But Democrats argue it is too early to be meeting in the cramped quarters of Representatives Hall where social distancing is impossible, and with no mask or vaccine mandate, a potential super spreader event.
Cushing argued last week before he took a medical leave of absence it "would be a disaster in the making."
Packard says enough precautions have been taken to ensure safe sessions, noting a state-of-the-art air filtration system is installed and will be supplemented by portable units, masks and other PPE.
And the speaker's office has distributed antigen tests to all members and recommends they use them prior to sessions. A list of COVID-19 symptoms are in this week's calendar and the speaker said any non-member is not to attend with any of the symptoms or if a family member or close contact has COVID-19, but only recommends that members do not attend for the same reasons.
He asks members to stay home if they are sick, but does not say they cannot attend the session as one member did last month with a dozen or more cases resulting.
Plastic barriers like those installed in restaurants when they returned to in-house operations were installed down the middle of section three.
N-95 masks will be available but they are optional and whether a member is vaccinated is not public information for anyone including other members.
Sherman also notes the number of cases and hospitalizations have dropped significantly and the state's recommendations have changed that indoors masks are no longer recommended.
And Republicans point to the federal Center for Disease Control's new recommendations saying indoors masking is no longer recommended for low-to-moderate transmission areas, which excludes Grafton, Sullivan and Cheshire counties in New Hampshire.
Several Republican representatives chastised Democrats on Twitter saying there was no mask requirement in the US House Chamber when President Biden gave his State-of-the-Union speech last week.
However, they failed to mention those attending had to take a COVID-19 test to enter the chamber, which some refused to do and did not attend and a half dozen others did not attend when they tested positive.
Packard has not mandated tests before the upcoming House sessions, but recommends members test themselves before sessions.
Returning to Representatives Hall with its rich history, five imposing portraits, and hallowed atmosphere is what everyone wants now or later, but it is a gamble.
Leadership is hoping the hall's presence and its history will put a brake on some of the behavioral problems plaguing the House this term.
But those hoping a return will curtail the level of ill will and nastiness not seen in the House, may be disappointed.
Much like the world outside of the State House, some do not respect those on the other side of the aisle or anyone else for that matter.
A change in venue will not impact their behavior, only a trip to the voting booth will change that.
Garry Rayno may be reached at garry.rayno@yahoo.com.
Distant Dome by veteran journalist Garry Rayno explores a broader perspective on the State House and state happenings for InDepthNH.org. Over his three-decade career, Rayno covered the NH State House for the New Hampshire Union Leader and Foster's Daily Democrat. During his career, his coverage spanned the news spectrum, from local planning, school and select boards, to national issues such as electric industry deregulation and Presidential primaries. Rayno lives with his wife Carolyn in New London.