WRITING ON THE FLY
By George Liset
Growing up in the sixties, everyone was fighting "The Man." Then, somewhere along the line, as Doonesbury so aptly put it, we became our parents.
Then the realization slowly hit me that I had become "The Man."
Then I heard about "The Manifesto", and a spark was rekindled.
I don't remember where I was fly fishing when I first heard about it, but I remember the feeling. I made it my mission to find out more about the Manifesto.
When I would be in conversation with another fly fisher I would try to work it into the discussion. Sometimes I would get a shrug of the shoulders when I would inquire, other times I might get a pause, then a knowing look with a shrug of the shoulders. I was onto something.
I was in an old, dusty antique bookstore looking for some fly fishing books when I came across what looked like an adult comic book with a fish and a cartoon character on the front. I picked it up and it made me smile.
The title of the book was "The Curtis Creek Manifesto." I opened it up and when I came to page three, there they were, the Eleven Commandments. My heart started racing. Could this be it? With excitement I thumbed through the pages and realized that I had found "The Manifesto."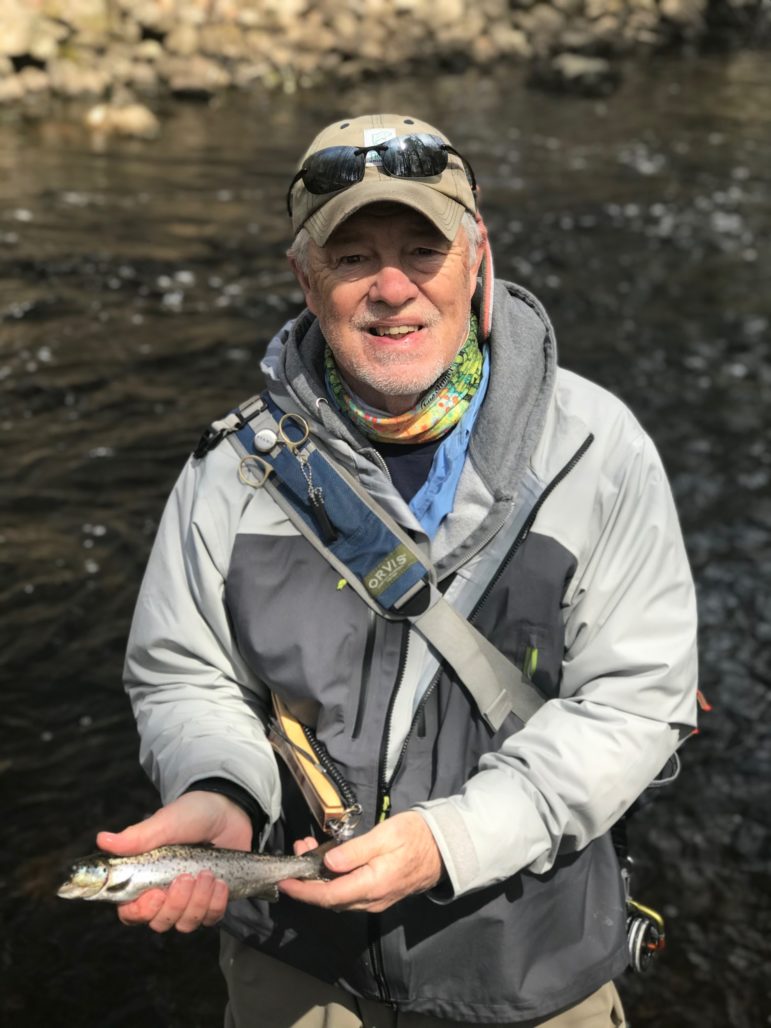 I quickly brought the book to the counter and paid and rushed home to read it. I was amazed. The Manifesto had been hiding in plain sight all these years, disguised as a comic book. Ingenious! Such a sixties thing to do.
"The Man" would never figure it out. When I got home, I did a little journalistic investigation on the author, Sheridan Anderson.
Anderson was born in Los Angeles, CA and moved with his parents to Salt Lake City, Utah, where he went to the University of Utah to study art. Sheridan, an avid fly fisher, dropped out to pursue rock climbing, writing and illustrating. It was Sheridan's love for the above that produced his ultimate tome, "The Curtis Creek Manifesto."
The Manifesto, a forty-eight page guide to fly fishing, was named after a small creek of the Blacksmith Fork River in Utah.
The guide is a wealth of fly fishing information with a lot of tongue-in-cheek suggestions which make the guide very entertaining and informative. The guide is great for beginners as well as savvied fly fishing veterans. The illustrations are clear, concise and perfect for visual learners. The guide covers the A-Z's of fly fishing with a touch of humor.
Fly fishers can become a little provincial and proper. Anderson takes a few radical digs at these fly fishermen, through his commentary and illustrations.
The book is an amazing read. If you can find a copy, here is some advice, a twelfth commandment if you will. Do not lend it out because you will never get it back.
 George Liset of Dover is an award-winning outdoor writer and avid fly fisherman who shares insights of his time on the water exploring New Hampshire streams and rivers as well of those around New England. George is a graduate of Wheaton College, Illinois, and the University of New Hampshire. His column Writing on the Fly has been honored by the New England Press Association and the New Hampshire Press Association.