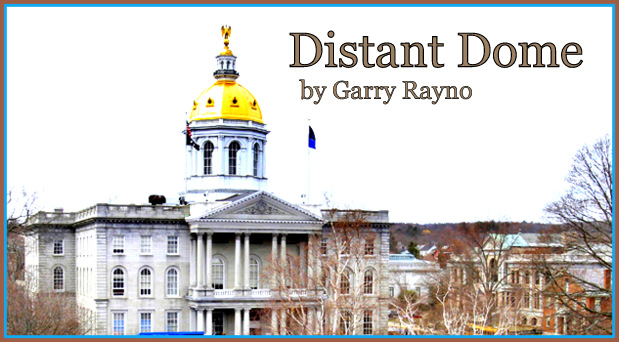 By GARRY RAYNO, InDepthNH.org
Public school officials must feel like they are living in Lewis Carroll's tale "Alice in Wonderland" hearing the Mad Hatter pontificate.
"You might just as well say that 'I see what I eat' is the same thing as 'I eat what I see'!" the Mad Hatter stated in the classic.
That is similar to what has been going on with New Hampshire schools and face masks.
With schools opening last fall and the push for in-school learning, Gov. Chris Sununu said face mask mandates were a local decision for each district's school board as he refused to impose any statewide mask mandates.
Perhaps he remembered the pickets at his Newfields home and the need to cancel his inauguration due to the threat of a major disruption after he was the final governor in the Northeast to impose a general mask mandate.
Education Commissioner Frank Edelblut also stepped into the fray saying it should be up to parents to decide if their children wear masks, not school districts.
The mask mandates adopted by many school boards became hotly contested, with some parents and activists disrupting meetings and even some board members needing police escorts to their vehicles.
Some called for Edelblut's resignation after he spoke to a meeting of the New Hampshire Government Integrity Group urging parents to make their views known to their local school boards.
Members of the group disrupted an Executive Council meeting two weeks earlier over a contract using federal money to boost the state's vaccination programs.
The message most school officials believed the state was sending was not so much "local control" as "you are on your own."
But that was then and this is now.
At his weekly press conference on the pandemic last week, Sununu and state epidemiologist Dr. Ben Chan announced the state changed its public health recommendations in light of the falling new case numbers and hospitalizations and would no longer be recommending face masks be worn indoors.
Because of the change, Sununu said some school districts will need to change their mask policies. That is what he said at first, but it became apparent under questioning from reporters he meant school districts could no longer have mask mandates.
Last Fall it was "local control" and in the Spring it is "Do what the state tells you to do."
The announcement caught school officials off guard as they had been before when Sununu issued an order sending students and teachers back into the classrooms while many were still doing remote learning.
And recently the education commissioner pushed through a rule to require schools to make up for days of remote learning due to a COVID-19 outbreaks or lack of staff at the end of the school year as they have to do for too many snow days. The message is clear who is going to make the final decision.
Sununu and Edelblut used department rules as the reason to end mask mandates.
The education department sent out a news release saying "Given the new public health guidance released today, however, mask requirements in school policies are inconsistent with the Ed 306 rules. A mask requirement may violate the district's obligation to maintain policies that 'Meet[] the instructional needs of each individual student,' Ed 306.04(a)(6), "[p]romot[e] a school environment that is conducive to learning," Ed 306.04(11), and that "[m]eets the special physical health needs of students.
"Therefore, consistent with prior public health recommendations, schools should transition to adopt these new public health recommendations as quickly as possible," the release said.
At his press conference Sununu cited the rules and essentially told parents how to sue school boards if they continue mask mandates, although every court case so far has found school boards have the right to set health policies under statutes, not rules.
Rules are a department's standards and requirements for carrying out the policy in laws.
But beyond that there are a couple problems with the contention however.
The 306 rules are the ones governing the state's minimum standards and school district policies.
The beginning section of the rule states:
"Ed 306.04 Policy Development.
(a) In accordance with Ed 303.01, the local school board shall adopt and implement written policies and procedures relative to:"
A list of 26 items follows.
Number 2 on the list is "Promoting school safety."
One of the items cited by the governor and then commissioner is number 6, "Meeting the instructional needs of each individual student;" and number 11, "Promotion of a school environment that is conducive to learning and supports strong family and community partnerships."
The commissioner's news release cites Ed 306.04(11) "[m]eets the special physical health needs of students," but that is actually number 22.
The agency release also happens to skip over the Ed rules governing school boards and the duty of superintendents.
Under that section one rule states "(e) The superintendent shall develop and maintain a system of public schools, staffed by certified educators, qualified professionals, and persons providing support services, subject to statutory requirements, these rules, and the policies of the local districts (s)." and another "(m) Maintain a safe environment for pupils free of hazardous conditions."
The governor has often used public education and more specifically teachers to gin up his support among his base.
He has had plenty of help from this legislature as well with its divisive concepts law, which will be on the books for another year and be more fodder for articles linking New Hampshire to states like Florida and Texas.
What is clear is that running for his fourth term, Sununu believes he can use public education as a straw man and as a political wedge to enhance his standing with the growing free stater/libertarian wing of the Republican Party.
However, his positions shift frequently as they have on who decides mask mandates in schools.
Despite the lower case numbers and lower hospitalizations, under New Hampshire's guideline, the entire state is still at the "high community transmission" level although masks are no longer needed.
The federal Center of Disease Control is no better saying much the same that masks are not needed indoors for about 70 percent of the country.
The messaging has been confusing since the beginning of the pandemic and it has not become any clearer two years in, but still continues to be partisan political gamesmanship.
As Lewis Carroll wrote:
"Have you guessed the riddle yet?" the Hatter said, turning to Alice again.
"No, I give it up," Alice replied: "What's the answer?"
"I haven't the slightest idea," said the Hatter.
Garry Rayno may be reached at garry.rayno@yahoo.com.
Distant Dome by veteran journalist Garry Rayno explores a broader perspective on the State House and state happenings for InDepthNH.org. Over his three-decade career, Rayno covered the NH State House for the New Hampshire Union Leader and Foster's Daily Democrat. During his career, his coverage spanned the news spectrum, from local planning, school and select boards, to national issues such as electric industry deregulation and Presidential primaries. Rayno lives with his wife Carolyn in New London.