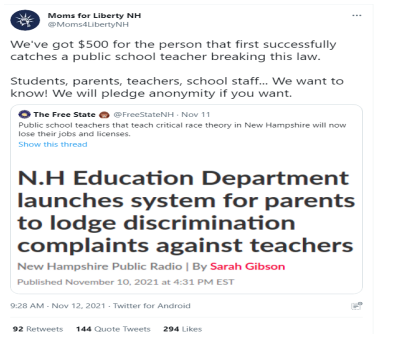 By PAULA TRACY, InDepthNH.org

CONCORD – The state's new "divisive concepts" law is being challenged in federal court, arguing it is too vague and unconstitutional.

American Federation of Teachers President Randi Weingarten together with its New Hampshire President, Deb Howes of Hudson, and legal representatives working on the case held a virtual press conference to announce the federal filing on Monday.
They claim the state is attempting to chill teachers' speech with career-ending consequences depending on how they teach everything from the suffrage movement to Black Lives Matter.

"The suit aims to protect educators from the recent onslaught of politically-motivated state laws that put teachers at risk for discussing honest and historical concepts in their classrooms," a statement by AFT explained.
See lawsuit here. https://indepthnh.org/wp-content/uploads/2021/12/AFTlawsuit.pdf

New Hampshire is among eight states that have recently enacted laws related to "divisive concepts" but lawyers for this suit claim the Granite State is the first to affirmatively take steps to enforce it because of a social media post with a bounty hunter offering of $500 to report teachers who violate the law.

Other lawsuits have been filed in Oklahoma and Arizona. The Arizona suit was put on hold for a procedural error.

"What we are seeing is a chilling effect throughout the country," on what can be taught in schools and punishment, including loss of jobs and ridicule which could ruin careers, said Weingarten.

Kim Houghton, communications administrator for the New Hampshire Department of Education, declined to comment on the pending litigation.

Officials at the National Education Association of New Hampshire were not immediately available to comment.
Republican state Sen. Jeb Bradley of Wolfeboro, who worked to craft the legislation under attack by the lawsuit said: "New Hampshire's anti-discrimination law prohibits teaching New Hampshire students that they are 'inherently superior or inferior to people of another age, sex, gender identity, sexual orientation, race, creed, color, marital status, familial status, mental or physical disability, religion, or national origin.'

"Clearly, any instruction that teaches students they are inferior or superior due to these characteristics is discrimination and it's terribly disappointing that this lawsuit has even been filed," Bradley said.
Senate Democratic Leader Donna Soucy, D-Manchester said:
"The Republican censorship of our freedom of speech has only further divided us as a state and a nation. Teachers have been painted as villains and some organizations have gone so far as to place bounties on educators, creating a witch hunt targeting teachers," Soucy said.
"This distrust of our educators does nothing to encourage unity or eliminate discrimination and instead further discourages the conversations that would move us towards a more equitable future for all. I am proud to support AFT-NH in their efforts to dismantle this policy; this harmful language has no place in New Hampshire," Soucy said.
Two New Hampshire parents have also filed the suit along with three New Hampshire teachers.

Charles "Chuck" Moerdler, a New York City attorney who is senior counsel on the suit, said the state law, which passed as part of the biennial budget and was signed by Gov. Chris Sununu, violates the federal constitution for being too vague and for violating free speech.

AFT is seeking a federal injunction to strike down the law.
He cited state law, "No action can be taken to bar or deter teachers from teaching or students from learning the nature, substance, history, role of theories or existence of ideas and subject matters concerning or pertaining to age, sex, gender identity, sexual orientation, race, creed, color, marital status, familial status, mental or physical disability, religion or national origin, past or present.' Now that shouldn't shock anyone. That's been the law of the state of New Hampshire under section 189:11."

Further, he said it reads "at minimum, there should be regular courses of instruction given on how intolerance, bigotry, anti-Semitism and national ethnic, racial or religious…discrimination have evolved in the past and can evolve into genocide and how to prevent the evolution of such practices."

Moerdler noted that the attorney general and the state Human Rights Commission and then the Education Department recognized the confusion the law would cause and at the attorney general's insistence, a number of carefully drafted questions and answers as FAQs including one about "historical existence" were published.

He said the Department of Education, on its website, includes a form for volunteers, not even parents, inviting them to file a complaint against teachers who they think teach contrary to what they think the statute reads.

He noted the attorney general's opinion on the subject is not included on the DOE website.

"Rather disgustingly," Moerdler said, "one of the volunteer groups responding on Facebook has now posted a $500 reward for any bounty hunter willing to join in their attack on teachers teaching and learning."

Attached to the complaint is that example.    

"Teachers are afraid to teach," he said noting the law signals New Hampshire believes that it is OK to censor education.

"The racial and religious discrimination which has cost this nation so much for so long, which continues to thrive, can and must be prevented," he said. "The consequences for teachers who have the guts or the foolishness to teach in violation of this face disciplinary charges loss of their license and livelihood and worse, they can be sued in a private lawsuit," and face legal fees.

Nationally, the AFT represents 1.7 million teachers from Pre-K through 12th-grade; paraprofessionals and other school-related personnel; higher education faculty and professional staff; federal, state, and local government employees; nurses and healthcare workers; and early childhood educators.