By PAULA TRACY, InDepthNH.org

CONCORD – With abortion rights likely to be a major issue in the courts, legislature, and politics in 2022, hundreds of residents attended a rally and press conference at the State House Wednesday in support of bills to protect a woman's right to choose.

Among them was Nancy Greenwood of Concord.

"I am an angry white feminist," Greenwood said, as she leaned against a life-size poster of Gov. Chris Sununu. "I am just really angry at this man," for signing a biennial budget that included restrictions on abortions and criminal charges for doctors who perform them after the second trimester.

The Sununu poster appeared to be holding a medical device used to perform transvaginal procedures that will be required under the new law for those who want an abortion.
Greenwood said in 1970 she helped a 16-year-old friend get on a bus to go get an abortion.

The fact that the Republican-backed Executive Council has not funded some clinics in the state is also a concern, she said.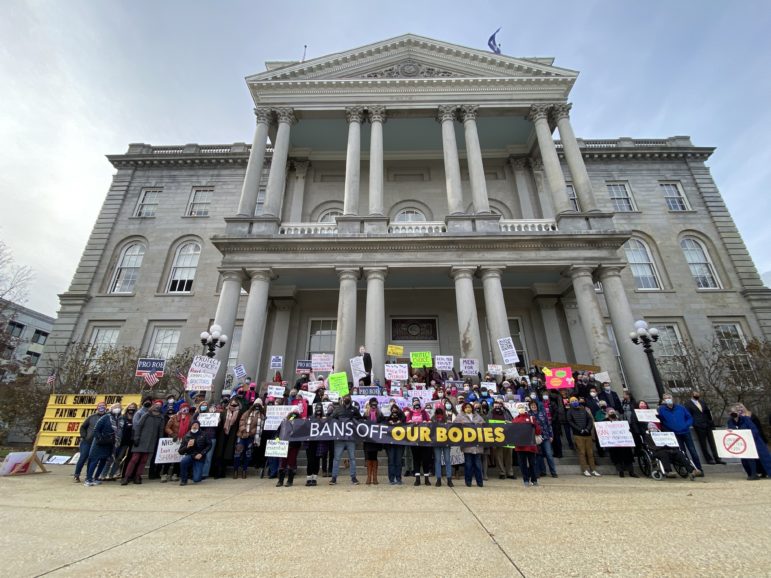 The Day of Action rally by Planned Parenthood New Hampshire Action Fund drew several hundred protesters carrying signs who listened to various Democratic state leaders.
It was held to coincide with Wednesday's U.S. Supreme Court oral arguments in Dobbs v. Jackson Women's Health Organization.
The case challenges Mississippi's 15-week abortion ban, which could overturn Roe v. Wade.
Sununu signed an abortion ban after 24 weeks of pregnancy that also criminalizes doctors who perform them as part of the state budget.
"New Hampshire is criminalizing doctors for doing their job," said state Rep. Marjorie Smith, D-Durham, at the news conference.
The event publicly launched the campaign to support LSR 2022-2704 and LSR 2022-2994, legislation in the House and Senate respectively that will enshrine protections for access to safe, legal abortion in New Hampshire statute, and highlight the need to repeal the abortion ban and ultrasound mandate which will take effect Jan. 1.
Kayla Montgomery, Vice President for Public Affairs at Planned Parenthood New Hampshire Action Fund, said this is a crisis moment for abortion rights.
"(T)he threat to the constitutional right to an abortion has never been greater in our country. Six months from now, abortion could be illegal in half the country," Montgomery said.
"We're grateful to have the support of allies and advocates who joined us today on the State House steps to urge lawmakers to take action now to protect access to safe, legal abortion in the Granite State, because abortion is essential," she said.
Devon Chaffee, Executive Director of the ACLU of New Hampshire, said if Roe v. Wade were to fall as a result of the Mississippi case at the Supreme Court, abortion would still be legal in New Hampshire before 24 weeks.
"But our state's political landscape is shifting, and attacks on abortion access are here–with the Legislature passing and Governor Sununu ultimately signing an abortion ban just this year. We remain steadfast in our dedication to defending reproductive rights and will use the full firepower of the ACLU to protect them in the Granite State," Chaffee said.
State Sen. Tom Sherman, D-Rye, who is also a physician, said, "As a doctor, I am appalled that Sununu and the Republican majority legislature would decide that they know better than the women and providers of New Hampshire, forcing women to undergo unnecessary invasive procedures and criminalizing doctors who are doing their job and medically supporting the health of both the mother and the fetus in the last trimester of pregnancy.
"This blatant threat to women's rights is unprecedented and not the New Hampshire way," Sherman said.
Democratic State Sen. Rebecca Whitley of Hopkinton, said, "Like other women my age, I grew up with the knowledge that I would have full control over my reproductive future – a right that allowed me to go to college, law school, have a career, run for office, and become a mother when I was ready. Unfortunately, it is no longer an option for us to count on the U.S. Supreme Court to protect our reproductive rights – now is the time to take proactive action to protect abortion access in New Hampshire."
At Tuesday's news conference Sununu said he wasn't paying much attention to the Dobbs case and insisted it wouldn't overturn Roe v. Wade. On Wednesday, his spokesman didn't respond to a request for comment about the rally.
Two U.S. Supreme Court cases could overturn Roe v. Wade, jeopardizing abortion access.
By next year, 26 states could lose abortion access, impacting 36 million – or nearly half of U.S. women of reproductive age (18-49) and more people who can become pregnant.
The U.S. Supreme Court heard oral arguments in Texas' SB 8 on Nov. 1, although not about the constitutionality of the law. SB 8 is a 6-week abortion ban, which is currently in place. Abortion remains virtually inaccessible in Texas.
There are 16 additional abortion-related cases one step away from the U.S. Supreme Court.
At least three bills filed in the House would further restrict abortion access in New Hampshire (HB1080, HB1181, and LSR 2022-2123), including a copycat Texas six week abortion ban bill and "allowing the biological father of an unborn child to petition the court for an injunction prohibiting the biological mother from having an abortion."