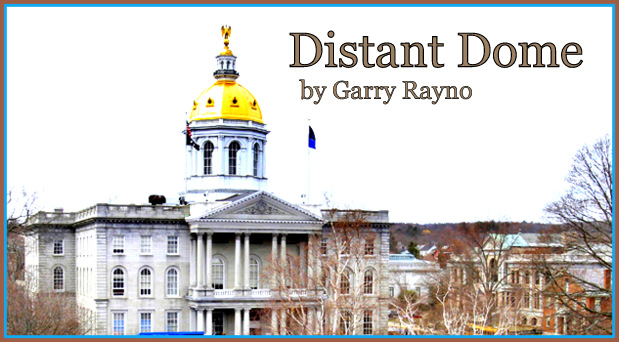 By GARRY RAYNO, InDepthNH.org
Growing up during the height of the Cold War, children believed Communist spies were everywhere gleaning information to sabotage America.
U.S. Sen. Joseph McCarthy built his political career from a dubious incident in Whitaker Chambers' pumpkin patch that led to the perjury conviction of government official Alger Hiss.
McCarthy's Congressional hearings turned citizens against their neighbors.
The German government in the 1930s passed a law that required individuals to report anyone who spoke against the Nazi party, its leaders or the government.
The technique of turning citizens against citizens and family members against each other is not new and usually used to create chaos allowing political forces to grab power.
Generally most civilized societies want justice doled out consistently by their government's judicial system through established laws and punishments without individual bias or revenge.
Most civilized societies do not want someone — through intimidation or threat — to determine their own laws and the punishment. That is vigilantism and eventually leads to anarchy.
For a number of years non-governmental militias have been patrolling the country's southern border with Mexico to stop immigrants from entering the country.
Militia groups traveled to Nevada to back Cliven Bundy in his quest to obstruct the government's attempt to collect money for his personal gain through the use of nationally-owned land and to Oregon where his son Ammon led a far-right extremist group's occupation of the Malheur National Wildlife Refuge, claiming the federal government is required to turn federally owned land to states.
Recently a right-wing militia devised a plan to kidnap the governor of Michigan because she "locked down" the state during the worst of the COVID-19 pandemic.
This year Texas passed the most restrictive anti-abortion law in the country and included a provision offering rewards of up to $10,000 for successfully filing a civil suit against anyone who helps a woman have an abortion beyond six-weeks of pregnancy, a time when many women do not yet know they are pregnant.
The provision not only turns citizens against citizens, it is also a way around a woman's constitutional right to abortion established by the U.S. Supreme Court's Roe vs. Wade decision because the government is not enforcing it, citizens are.
The Supreme Court two weeks ago heard oral arguments on the Texas law, and another anti-abortion law is teed up if that fails to convince the court to either allow greater restrictions or overturn the original ruling.
The Texas law will be introduced in the 2022 legislative session of the General Court in January. The proposed restriction follows this year's abortion ban after the 23rd week of pregnancy, the first in New Hampshire since the Roe Vs. Wade decision.
The prohibition included in the state's $13.5 billion two-year budget package, would also subject a medical provider to a class b felony if he or she knowingly performs an abortion after a women's 23rd week of pregnancy.
A class b felony carries a jail sentence of from three-and-a-half to seven years. The new law establishes fines between $10,000 to $100,000, much higher than class b fines in the criminal code.
That is the criminal liability. The law also provides for civil action against the doctor with a much lower standard for conviction.
Under the civil action section of the law, the patient, the father of the fetus if the woman is married, and the maternal grandparents would all be allowed to sue the health care provider.
The provision allows monetary damages for all psychological and physical injury.
The medical provider could face both criminal and civil action which could be very costly and bound to drive up insurance premiums for health organizations performing abortions, which is probably the intent.
Another bill, passed by the House, but was re-referred by the Senate, would require medical professionals to provide appropriate and reasonable medical treatment for any fetus born alive.
The bill would charge medical professionals who fail to follow the bill's dictates with a class a felony punishable by seven-and-a-half years in prison or more and has a mandated reporting requirement for medical professionals if a physician breaks the law.
That bill will come before the Senate again during the 2022 session.
The budget package also contained a provision that would expand other opportunities for bounty hunters.
The much debated "critical race theory" bill that morphed into an "anti-discrimination" provision enforced by the state's civil rights commission, forbids teaching that one group inherently discriminates against another, or is superior or inferior.
Last week, the Department of Education announced it had set up a web page to file a complaint if a parent believes a teacher violated the law or their child experienced discrimination.
Parents, guardians and teachers may submit complaints.
The state's two largest teachers' unions were appalled with one calling it a war on teachers.
"Totally innocent teachers could lose their teaching license over claims that are not backed up by any evidence," said American Federation of Teachers-New Hampshire president Deb Howes. "(Department of Education Commissioner Frank) Edelblut has declared a war on teachers, a war that the overwhelming majority of N.H. parents will find repulsive."
The National Education Association-NH president Megan Tuttle said the agency is trying to block an honest discussion about the nation's history.
"Playing politics with our children's future has now spiraled out of control in New Hampshire with these types of vigilante tactics and we're calling on the governor to immediately denounce putting a bounty on our dedicated educators," said Tuttle.
If you wondered how this plays out in today's highly charged political environment, all you need to do is view The Free State twitter account.
"Public school teachers that teach critical race theory in New Hampshire will now lose their jobs and licenses," the site reads, although "critical race theory" has never been taught in the state's elementary and secondary public schools.
The Moms for Liberty NH took things further on their twitter account. "We've got $500 for the person that first successfully catches a public school teacher breaking this law.
Students, parents, teachers, school staff . . .We want to know! We will pledge anonymity if you like," the tweet reads.
The word choice is telling. "Catches" implies guilt and tends to view teachers as game.
This is a very slippery slope lawmakers are heading down with state sanctioned vigilantism.
A student may receive a bad grade in a history course, want revenge and convince his or her parents that he or she is a victim of discrimination.
Who will determine if the complaint is legitimate or not?
Are we turning in our neighbors as communists again without evidence?
When Gov. Chris Sununu allowed restaurants to re-open dining rooms after the initial shutdown to combat COVID-19 spread, he imposed a number of restrictions including capacity constraints and other health safety measures.
But he said at a press conference he did not want people being snitches when a business did not follow guidelines.
With the budget package Sununu signed into law, snitching on teachers and health care professionals is rewarded, but not OK on business owners.
That is not a message the state should be sending to anyone.
Garry Rayno may be reached at garry.rayno@yahoo.com.
Distant Dome by veteran journalist Garry Rayno explores a broader perspective on the State House and state happenings for InDepthNH.org. Over his three-decade career, Rayno covered the NH State House for the New Hampshire Union Leader and Foster's Daily Democrat. During his career, his coverage spanned the news spectrum, from local planning, school and select boards, to national issues such as electric industry deregulation and Presidential primaries. Rayno lives with his wife Carolyn in New London.