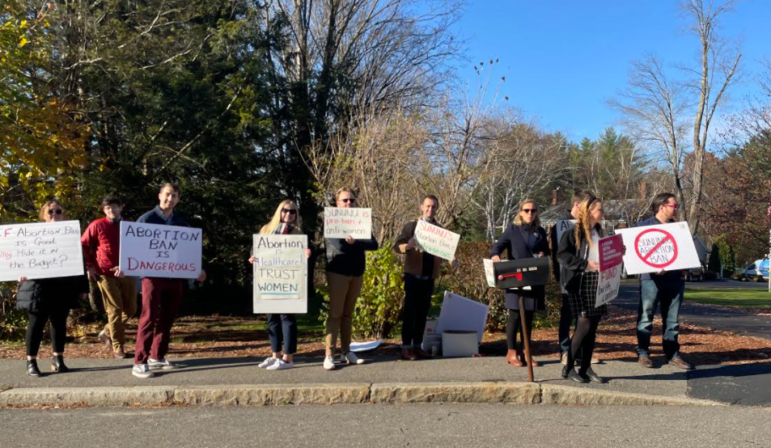 By PAULA TRACY, InDepthNH.org

CONCORD – Saying he loves his job and feels he has the skillset for it rather than running for U.S. Senator, Republican third-term Gov. Chris Sununu, 47, announced he will seek another term in 2022.

With his top advisors present and as protesters were at the driveway to Bridges House, the governor's official residence in East Concord, Sununu said at a news conference he was pressured to challenge Democratic U.S. Senator Maggie Hassan, but in the end, he chose the job he has because he feels he can fix things and be most effective for the citizens.

"I really don't believe I would be as effective," Sununu said. "We have good leadership…that holds the line to make sure that live free or die is the way we govern, here."

The issue of raising money and winning that seat was never a concern, he said, but it is what the job entails down in Washington that turned him off.
He acknowledged a lot of national interest and said he had gone back and forth a little bit.

"I think I would be a lion in a cage" down there, he said.

Sununu said he has been impactful from working on full-time Kindergarten, creating tax cuts, and the management of the pandemic.

"It continues to be the most fulfilling commitment I could possibly imagine," he said.

Sununu said he believes being an executive and responding to the Biden Administration's executive orders can be a crucial job.

"I have had to push back a lot of Washington's efforts," he said, noting there have been an unprecedented amount of executive orders including the current OSHA vaccine mandate, "that hit home right in the 603."

He pushed off the countless voices nationally, a vast majority urging him to run for the Senate and he said he took advice from his growing family with three children and considered the Washington schedule.

"The Senate is clearly a very different place," than New Hampshire, he said.
The COVID-19 numbers are really going to skyrocket this winter so I really need to focus on that, he said.

The corner office in Concord is "where you can be the most impactful" and he said the job is not done.
He said too often in the Senate doing nothing is considered a win.
Response was quick from the Planned Parenthood NH Action Fund's Kayla Montgomery.
"Today, Chris Sununu – who recently signed an abortion ban and ultrasound
mandate into law – announced his re-election campaign for Governor.
"Despite continued public support for keeping abortion care safe and legal, Chris Sununu has doubled
down on his efforts to restrict Granite Staters' freedom and constitutional rights. From the
Executive Council to the corner office, from defunding Planned Parenthood to signing New
Hampshire's first abortion ban in modern history, Chris Sununu has consistently chipped away
at reproductive rights. It's time to retire Sununu's antiquated attacks on abortion access – not
give him two more years to further restrict our reproductive freedom," Montgomery said.
Protesters outside the press conference chanted, "Hey Hey Ho Ho, Sununu has got to go."
See Youtube video here: https://youtu.be/bmThELVy_HQ
State Senate President Chuck Morse, R-Salem, issued the following statement on Sununu's decision to run for re-election:
"I have been proud to work closely with Governor Sununu for the past five years and of the tremendous success that we've achieved together including lowering taxes, creating jobs, getting through the pandemic, expanding school choice, and protecting our freedoms.
"I'm looking forward to continuing to work closely with Governor Sununu in moving our state forward," Morse said.
Inside the press conference, Sununu thanked his family including his father, former Gov. John Sununu, from whom he sought his advice as recently as this past weekend.

Sununu said he wanted his kids to be able to have their own "Super 603 Days" and acknowledged his fellow Republican governors and said he wants to continue to work with them.
Sununu also said he had a great team in the Executive Branch.

"Always put the individual…the individual has to come first. You only get one life to live. I would be honored to spend a few more years doing what I love across the state," Sununu said.