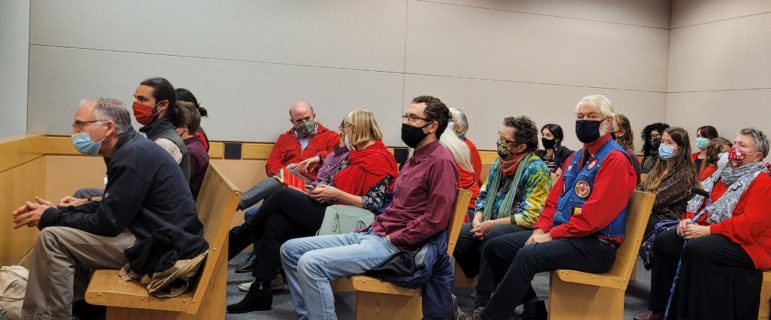 By Arnie Alpert, for InDepthNH.org
ACTIVE WITH THE ACTIVISTS
Seventeen people arrested in Bow five weeks ago circled up with supporters outside Concord District Court Monday morning to prepare for arraignment on misdemeanor charges stemming from a demonstration at Merrimack Station.
They gathered again by the courthouse's front door when the hearing was over. It was yet another display of the community which has grown around efforts to shut down New England's last operating coal-fired power plant.
In between their outdoor gatherings, all 17 pleaded not guilty and were told to return to court on March 10 for a trial management conference. In the meantime, the conditions of their release specify that they are not to get within one thousand feet of the power plant, which is owned by Granite Shore Power.
The arraignments followed a demonstration on Oct. 3 when seventeen members of the No Coal No Gas campaign marched up the plant's access road carrying shovels, rakes, soil, seedlings, and two pickaxes. Shortly after two of them hacked a trench in the pavement and the others planted a garden, several State Police cruisers drove up in front of them and dozens of troopers in full riot gear marched in from behind to arrest them.
One additional member was arrested for making a garden plot in the grass beside the roadway.
All were charged with criminal trespass. The two pickaxe-wielders drew additional charges of criminal mischief, also a misdemeanor.
The hearing itself was routine, perhaps because many of the defendants and supporters had been in the courtroom before. "When you take direct action sometimes the state says you have to come to the courts, so we do that," Cody Pajic commented after the hearing.
Judge Kristin Spath called the defendants to the stand one by one and offered to read the charges out loud. Most declined. After entering pleas of not guilty, the judge explained that they were barred from Granite Shore Power property in Bow and from coming near the power plant. Later, the defendants signed papers acknowledging they understood.
Pajic, a Boston resident who still has charges pending from a demonstration two years earlier, was charged with A-level misdemeanors for criminal trespass and violating bail conditions by returning to the power plant.
The eighteenth person who was arrested in October was unable to attend and waived arraignment.
Those charged with criminal trespass and criminal mischief were Alexander Chatfield of Lincoln, MA, and Amber "Lou" Brownlee, of Vermont.
Those charged with criminal trespass were: Catherine Bock of Charlotte, VT; Edward "Theo" Talcott of Manchester, VT; Emma Shapiro-Weiss of Peterborough, NH; Jesse Mills of Beverly, MA; John "Chris" Balch of Wilton, NH; John "Jack" Hanson of Burlington, VT; John "Elliott" Trahan of Medford, MA; Karen Bixler of Bethel, VT; Margaret "Meg" Lyczak of Keene, NH; Mark Taranta of Philadelphia, PA; Mary Beth Raven of Merrimack, NH; Rebecca Beaulieu of Dover, NH; Shaina Lee of Burlington, VT; Siobhan Senier of Epping, NH; and Susan Durling of Hillsborough, NH.
"I took action on Oct. 3 because I want to fight for a better world, because I want to shut down the Merrimack generating station, and because I want to know that I'm doing whatever I can and that I'm not letting the state stop me," Cody Pajik said after the circle broke up. "So, if the state's trying to stop us here, we're going to keep going."
Next on the itinerary for many of the No Coal No Gas activists are the Connecticut headquarters of Atlas Holdings and Castleton Commodities, the investment firms which together own Granite Shore Power and the Bow power plant.