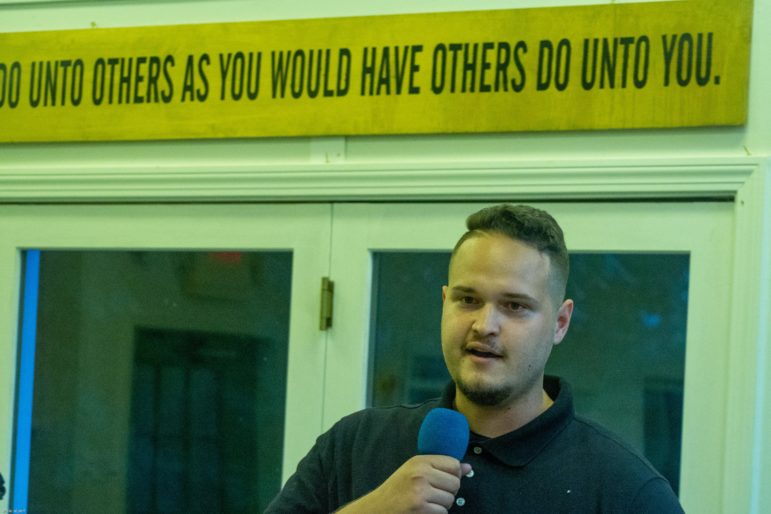 ACTIVE WITH THE ACTIVISTS
By Arnie Alpert for InDepthNH
Eustaquio "TJ" Carvalho can't forget the day he woke up to find his family's home filled with immigration police.
Nine years old at the time, he said, "I wake up to go to school and there's a man standing in the middle of my room. I knew that something was wrong."
He found out that after a workplace dispute, his dad's boss had called ICE, the federal immigration police, who had come to take his dad away and have him deported back to Brazil. TJ had come to New Hampshire with his mom a year prior to reunite with his father, who was already living in Nashua. But now, the boy and his little brother were left fatherless.
Carvalho, his mom, and his brother were able to remain despite their immigration status, but without papers, he could not get a driver's license or a part-time job when he reached his teenage years. "I couldn't do those things," he said. "My life was going to be very different from the friends I grew up with, friends I surrounded myself with, having sleepovers, playing video games, playing sports in school, life was just different."
In 2012, when President Barack Obama established the Deferred Action for Childhood Arrivals program, known as DACA, TJ was quick to apply.
Under DACA, some immigrants who were brought to the country when they were children could get a reprieve from fear of deportation and have a legal right to work. That meant Carvalho could finally get a license and a job at a pizza parlor.
Now 26 years old, the Nashua resident has been married for two years, has a daughter who turns one this week, and has a job with an automobile dealership. But he still can't apply for citizenship.
That would change if immigration reform pending in Congress passes. "I'm not one in a million, I'm actually one of millions," Carvalho told a group of 40 people Thursday evening at the Northwood Congregational Church.
And there are lots of people with stories like his, he said, people who are raising families and contributing to their communities, but who are held back by the country's immigration policies. Legislation to establish a pathway to citizenship for DACA recipients is "a pathway to keeping families together," he said.
But the pathway to citizenship is threatened in Congress, where the Senate parliamentarian recently ruled that immigration reform can't be included in the pending budget bill. That's one of the main motivations behind the Immigrant Solidarity Walk, which had 45 people holding a prayer vigil Thursday morning outside the ICE office in Manchester and two dozen walking from Epsom to Northwood in the afternoon.
The group is on its way to the Strafford County House of Corrections, which serves as an immigrant detention center and where the three-day walk will end on Saturday.
Sponsored by the Granite State Organizing Project (GSOP), New Hampshire's largest faith-based grassroots organizing network, the Solidarity Walk is focused on sending a message to Congress.
"Congress must listen to their constituents and acknowledge the millions of people who have contributed to the fabric of our society for decades," said Eva Castillo of the NH Alliance for Immigrants and Refugees and who also serves as GSOP's Vice President. "Our elected officials have every reason to pass this legislation, and we will not stop pushing until Congress no longer ignores the millions of undocumented immigrants who call America home."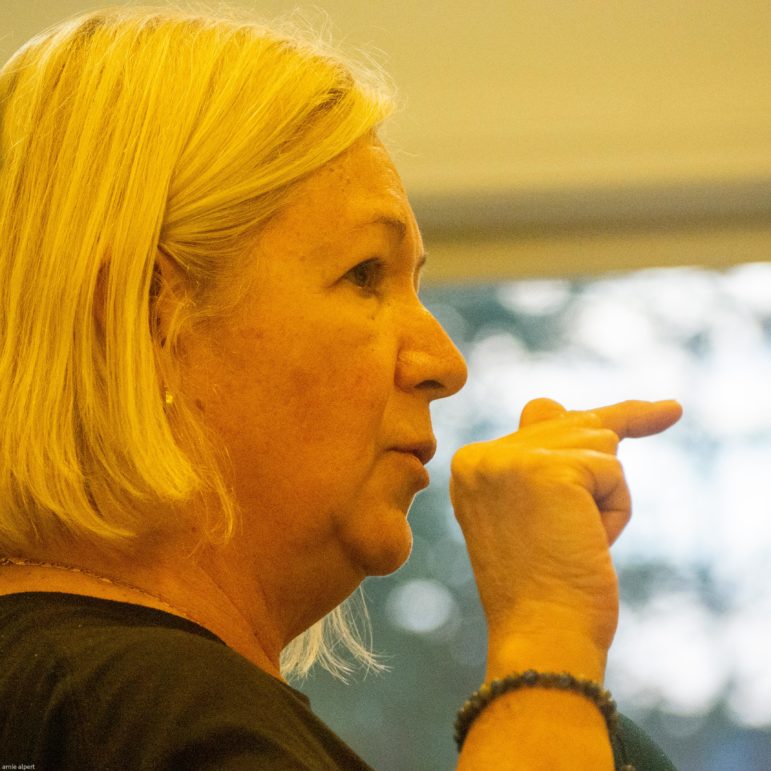 GSOP invited all four members of the state's Congressional delegation to join the walk or meet with walkers, but as of Tuesday, only Senator Jeanne Shaheen had responded. "The response we received from Senator Shaheen is that she's not available. We are yet to hear from the rest of the delegation," said Sarah Jane Knoy, the group's executive director.
Shaheen did send a letter, which State Senator David Watters read during the prayer vigil. "I am with you all in spirit," the Senator wrote. "There is no doubt that our current immigration system is long overdue for a comprehensive and permanent fix, including a pathway to citizenship for undocumented immigrants."
Christian Seasholtz read a similar statement from U.S. Representative Chris Pappas. But for Castillo and the others, the letters left them dissatisfied. "We need more than letters," Castillo said. "We need action, action, action," chanted participants.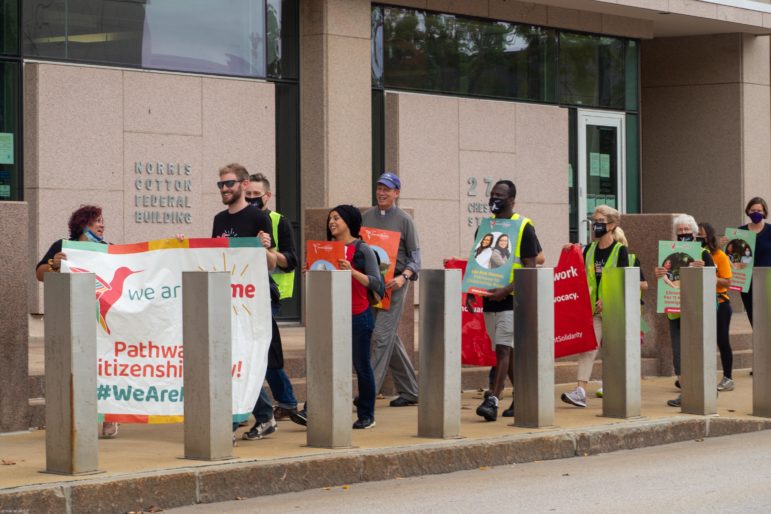 Later in the day, at the Northwood church, Castillo recalled her own family's lengthy struggles with the immigration system and reflected on her disappointment at the lack of action thus far from a Democratic president and a Democratically controlled Congress. And like others in the course of the day, she decried the recent mistreatment of asylum aspirants at the southern border, where federal agents violently repelled Haitians seeking refuge in the United States.
"Whether we get a kick in the butt with a boot or a kick in the butt with nice, fluffy socks, it's still a kick in the butt," she said.
But still, she maintained that the prospects for significant reform are the best they've been since Ronald Reagan signed the Immigration Reform and Control Act in 1986.
Grace Kindeke's message was similar to those of Castillo and Carvalho. Her mom, then a grad student, brought her to Manchester from the Democratic Republic of Congo when she was little. When her mom's student visa expired, the family became undocumented, a fact Kindeke didn't even realize until she was a senior in high school. There was no way to adjust her status, she found, until DACA was established.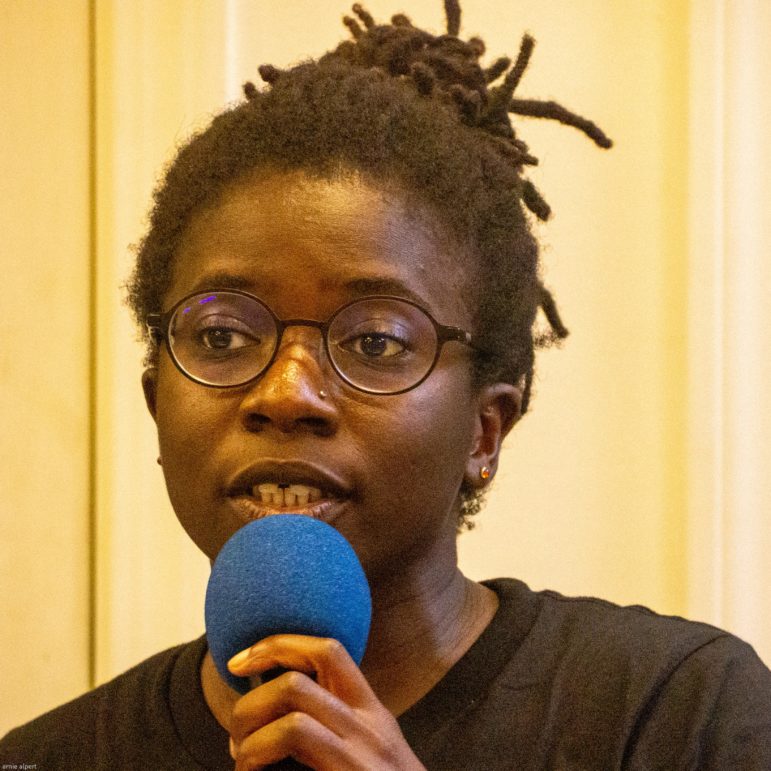 "We call ourselves a nation of immigrants, but we know so often who is included in that definition of immigrants. Too often, black and brown immigrants are not included," Kindeke charged. Instead of inclusion, she said, "we see the horrific practices of our immigration system, when we see the surveillance, when we see the violence, the degradation, the detention, the use of cages, and chains and whips in order to harass, to oppress, and to discourage people from coming here and finding safety."
"Right now we are at a pivotal moment in time where we are finally at a place, at a point, where we can pass a pathway to citizenship." Legislation pending in Congress would extend opportunity to DACA recipients, holders of Temporary Protective Status, and certain categories of immigrants deemed to be "essential workers."
That means it doesn't cover all 11 million undocumented people, "but it does cover 7 million undocumented people, 7 million loved ones, 7 million children, parents, uncles, aunts , brothers, sisters, who are looking, seeking a bridge from where they are to where they can be, want to and should be," said Kindeke, a program coordinator with the American Friends Service Committee. "Let's get it done."
What's lacking is political will, Kindeke said. And that's the purpose of the Solidarity Walk.
Walking is part of many religious traditions, explained Asma Elhuni, who led chants and songs as the marchers headed east on Route 4 through Epsom and Northwood. Walking is "a sign that we are here, we are visible, and we stand for those who are oppressed," she explained.
After the morning prayer vigil, led by the Rev. Heidi Carrington Heath of the NH Council of Churches, the group circled the block around the Norris Cotton Federal Building seven times in a walking allusion to the Biblical story of the battle of Jericho. Instead of the building's actual walls coming down, she explained, their prayers were intended to bring down the walls of injustice. After more prayers and songs, the group caravanned to the Epsom Public Library, where members of the Epsom Democrats had prepared lunch under a set of pop-up tents.
There, GSOP's Chris Potter led a short workshop on the use of Twitter. In the midst of a short downpour, he explained how to use the social media tool to amplify messages about immigrant justice and reach members of Congress. "It's a way we can put pressure on our public officials, to raise the salience of an issue, to put on some heat."
Afterward, the group began its walk to the Northwood Congregational Church, six miles away.
Making a pitstop along the route, Marsha Feder of Hollis and Sheila Grace of Manchester heard from a restaurant worker who disagreed with the marchers' views about immigrants. "We're letting thousands of them in at the border and airplanes are taking them to the center of the country, according to Fox News," the worker told them. It was a view that marked a sharp contrast with recent images of Border Patrol agents on horseback whipping Haitians and sending them back to Haiti.
"Having listened to what she thinks of immigration, I now know why I'm walking," Grace said.
The Solidarity Walk resumes Friday with a march from Northwood to the Lee Traffic Circle and an evening program at the Durham Community Church. It concludes Saturday with a walk from Madbury to the Strafford County House of Corrections and a program hosted by the Maranatha United Church of Christ.