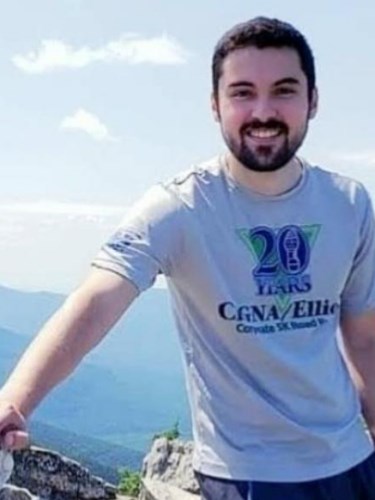 By DAMIEN FISHER, InDepthNH.org
NORTH HAVERHILL — The family of Keene's Jonathan Amerault said Britany Barron, 31, deserves no leniency for her role in Amerault's murder and decapitation on Sept. 19, 2020.
"For hours and days after Jonathan was murdered, she committed unspeakable, barbaric crimes against him," the family said in a statement read Monday in Grafton Superior Court.
Britany Barron pleaded guilty to three felony counts of falsifying physical evidence for the actions she took in the hours after her husband, Armando Barron, allegedly tortured and then murdered Amerault in September of last year. Armando Barron, 30, is facing trial on Amerault's murder, and for his alleged assault on Britany Barron.
The family statement, read in court by Senior Assistant Attorney General Benjamin Agati, expresses disappointment in the deal that could have Britany Barron free in less than a year. The family contends she had multiple opportunities to get help for herself and Amerault through the prolonged ordeal, but instead she lied at every opportunity, their statement reads.
"She was offered so many opportunities to stop the madness, and she refused every single time," the statement reads.
The family blames the married Britany Barron's romantic pursuit of Amerault for the entire situation.
"She deserves no leniency," the family statement reads.
After she told her husband, Armando Barron, that she wanted a divorce last year, she reportedly started a relationship with Amerault, a co-worker at Teleflex Medical in Jaffrey. When Armando Barron discovered text messages between his wife and Amerault on her phone, he reacted with violence, according to court records.
Britany Barron has been getting treatment for Post Traumatic Stress Disorder, anxiety, and nightmares since her arrest last year, according to her attorney, Richard Guerriero.
Both Guerriero and Agati were reluctant on Monday to discuss the plea, citing the pending trial against Armando Barron, where Britany Barron is expected to testify under the terms of her plea agreement. Britany Barron has been cooperating with the investigation since she was first found at a remote campsite in the woods in Atkinson and Gilmanton Academy Grant in Coos County.
She went with police to the campsite after her initial interview, and she showed investigators evidence that implicated herself and Armando Barron, according to Agati. She also went with investigators to Annett Wayside Park in Rindge where the murder allegedly took place, and she showed the investigator more evidence, Agati said.
The elements of the three felonies are that Britany Barron cleaned Amerault's car under orders from her husband to destroy evidence; that she wrapped his body in a tarp and dragged it into the woods, again at her husband's direction; and that she cut the head off of Amerault's lifeless body with a saw, again under orders from her husband, according to court records.
The plea agreement sentences her to three and a half to seven years in jail on one count, but with two years off the minimum suspended. Effectively, Britany Barron will be eligible for releases in less than six months once she is sentenced in October. She will have two more three and a half to seven-year sentences suspended for 10 years. She will also be required to pay funeral and counseling costs for the family, according to the plea agreement.
Misdemeanor charges, including one for abusing a corpse, were dropped as part of the deal.
When Armando Barron discovered the text messages between his wife and Amerault, he first savagely beat and strangled her, at one point putting a loaded gun in her mouth, according to court records. He then used her phone to lure Amerault to Rindge.
There, at Annett Wayside Park, Armando Barron beat and tortured Amerault, at times trying to force his wife to hurt or kill Amerault, which she refused. At one point, both Amerault and Britany Barron were alone in a car, and she was armed with a machete.
"Jonathan pleaded for the defendant to 'pick up the machete and kill him [referring to Mr. Barron].' Jonathan told her, 'Just pick up the machete and kill him.' Britany told Jonathan, 'You don't understand, man. I'm not going to kill him with that blow, and we're both going to die in this car,'" according to a previous motion filed in court.
Amerault had begged for his life when Armando Barron brandished a gun, according to an interview Britany Barron gave, part of court records.
"[Mr. Barron] beat the hell out of this kid . . . He punched him. [Jonathan] fell. And then he just started kicking him and kicking him and kicking him . . . In his back. In his – Anywhere. Anywhere. He didn't care. He was just kicking this guy. He stomped on his face," she told investigators.
In the following moments, Armando Barron ordered his wife to shoot Amerault, and she refused. Instead, according to Agati's motion, she stood on Amerault's neck, putting the full force of her weight down on her lover in an unsuccessful attempt to strangle him. Armando Barron then gave his wife a knife and told her to slit Amerault's wrists, which Agati reports she did. That failed to kill Amerault and Armando Barron then allegedly assaulted him with the machete, Britany Barron told investigators.
"Throughout the assaults, the attempted strangulation, and the cutting of his wrists, Jonathan never lost consciousness," Agati wrote. "According to (Britany Barron,) 'That's the worst part. Like, he was awake for everything.'"
Armando Barron put Amerault in the trunk of Amerault's Subaru, and shot him three times, according to court records.
Armando Barron ordered his wife to drive the Subaru to their Jaffrey home, where they retrieved camping gear. On that drive and at her house, Britany Barron told police she could hear Amerault's moans.
"While loading the camping gear into the car, (Britany Barron) heard Jonathan moaning in the back of his car. According to the defendant, 'He was just going, 'Ugh, Ugh, Ugh,' over and over again," Agati wrote.
At the time, Britany Barron had the loaded gun her husband used in the murder, according to court records. He had put it in her backpack as they got ready to drive north.
The couple then drove separate cars four hours north to Errol where they stopped at a general store and Armando Barron bought cleaning supplies, according to court records. Driving further, they got to the remote campsite where Armando Barron burned Amerault's I.D. and other documents, and ordered his wife to clean the car, according to court records.
They then drove further into the woods, damaging Amerault's car in the process. At this second campsite, Armando Barron ordered his wife to cut of Amerault's head with a saw, and then he left her to hide the body, according to court records.
When Amerault's mother reported her son missing, police learned that Britany Barron had suddenly called her work and announced she quit and was moving away. When investigators talked to her in-laws, they told police she had gone away camping, Agati said in court. In both instances, Armando Barron had told his wife and parents what to say, Agati said.
Some hunters in the Atkinson and Gilmanton Academy Grant had come across Britany Barron, and told her she was trespassing, and that she was in danger. Her campsite was close to a bear baiting site, according to court records. The hunters contacted New Hampshire Fish and Game, and two conservation officers went into the woods to find her.
"I'm in big trouble," Britany Barron reportedly told the officers when they found her.
Judge Peter Bornstein accepted the plea and set the sentencing for Oct. 6.
Almost no one wore a mask in court.
Armando Barron's murder case is progressing in the Cheshire Superior Court in Keene.