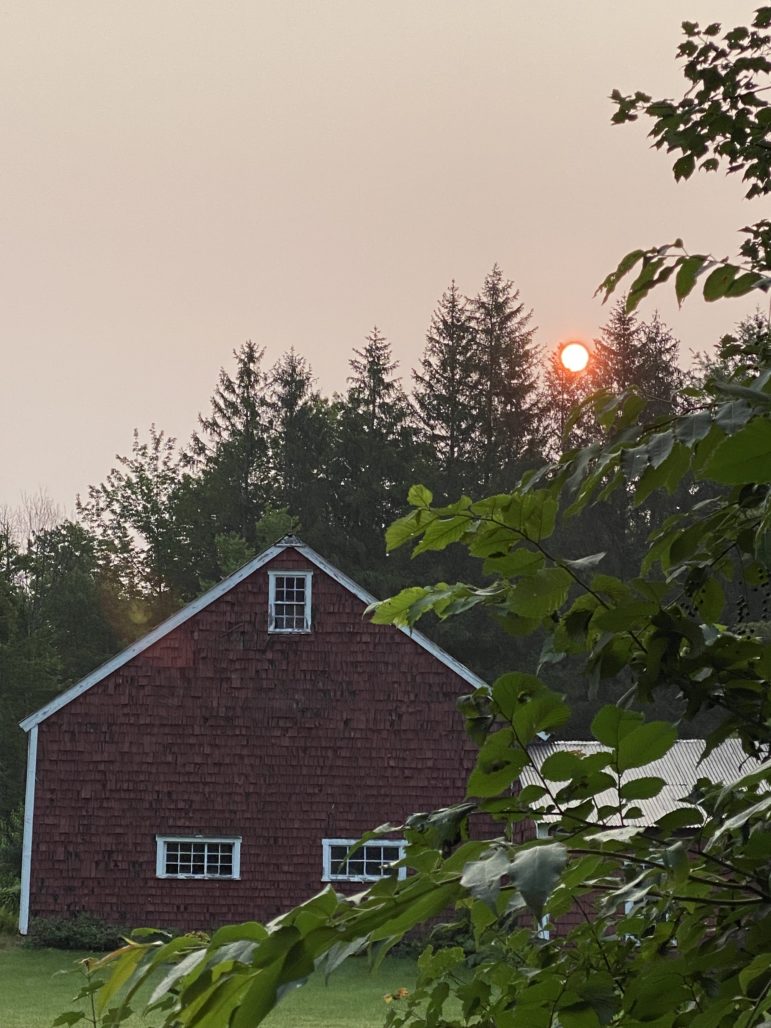 By SARA PERSECHINO, InDepthNH.org
When the rains finally receded early this week, Granite Staters were greeted instead with a haze generated by the wildfires burning out west – a visual reminder that New Hampshire is anecdotally referred to as the "tailpipe" of the country.
On Tuesday, two of New Hampshire's six monitors were above the air quality standards for particulate matter, leading the New Hampshire Department of Environmental Services to declare a smoke advisory for Tuesday afternoon through Wednesday morning. 
By Thursday and Friday, the state listed the air quality here as "good."
"The important thing about air pollution to remember is that it doesn't know boundaries," says Cathy Corkery, Chapter Director and Field Organizer for the New Hampshire chapter of the Sierra Club, noting the historical challenge of trying to control air pollution at a state level.
That air pollution has real impacts on public health, says Allyssa Thompson, Director of Programs at Breathe NH.
"New Hampshire does have one of the highest rates of asthma. A big reason for that is the jetstream and how the air does move west to east," Thompson explains.
According to the most recent data, published in 2019, 7.2% of New Hampshire children and 13.2% of New Hampshire adults have asthma, and asthma accounts for over 4,000 emergency department visits annually. Asthma prevalence in children, ages 0-17 years, is on a decline, from a high of 10.59% in 2013.
Poor air quality days, like New Hampshire saw on Tuesday, can cause increased health complications for people with asthma and other chronic lung conditions, like COPD and emphysema. Symptoms include chest pain, palpitations, shortness of breath, and difficulty breathing.
"The groups that we work with that do have chronic lung disease, they're very, very sensitive to changes in the weather, and it really determines how they spend their day," says Thompson, adding that this summer's humidity has also impacted people's health.
She says days like Tuesday – New Hampshire's second poor air quality day of the year – also impact otherwise healthy members of the general public.
"These days remind us that we do have to be cognizant of the air that we're breathing and what we can do not only as individuals but collectively…to improve the [air] quality," Thompson explains.
Craight Wright, Air Resources Division Director at NHDES, says New Hampshire has seen overall improvement in air quality over the past ten to twenty years, in large part due to the federal Clean Air Act. 2020 was an anomaly, however, in that there wasn't a single day where we were above the air quality standards, likely due to the decrease in vehicle traffic, which accounts for about half of New Hampshire's air pollution.
"That's pretty commonplace across the Northeast," Wright says. "We have a fairly robust system of controls in place for power plants and smokestack industries. But there's just so many cars. The cars themselves today are a lot cleaner than they were ten years ago, but there's just a lot of them…and we're also driving more."
Evidence points to the current wildfires in Oregon, that caused New Hampshire's haze, being exacerbated by that area's heatwave and drought earlier this summer, which impacted forests by depleting the moisture in the vegetation and the soil, making it more susceptible to fire and more intense fire.
"The climate crisis is that sort of magic dust in the equation that makes things so much worse for the communities – not only in Oregon, but here in New Hampshire with this haze," Corkery states.
"There's definitely a correlation with the climate and these really extreme weather events. That's definitely impacting everybody's health," says Thompson. "We're a little bit more fortunate in the northeast, we don't have so many of the extremes. But again, we are certainly affected by what else is happening as that air is traveling east where we're getting that impact here."
Trisha DelloIacono, a mother of four and National Field and Legislative Manager for Moms Clean Air Force, thinks it's time for action. Her organization is calling on Congress to pass an infrastructure plan that invests in clean energy and modernizes our infrastructure.
"Here in New Hampshire, where my family spends the summer, the haze all around is a reminder that deadly heat and wildfires – both driven by runaway climate change – have impacts that go far and wide," DelloIacono says. "It is high time that our country's leaders deliver on climate, justice, and jobs."
Corkery adds, "We have a really unique awesome opportunity to have an impact on these pollutants and reducing them right now. This is generational change, so that we can actually give our kids a better world than what we had."
Wright believes the recent formation of a state department of energy is a positive steep to help New Hampshire continue to develop good energy policy and curb air pollution.
"We all drive our cars every day. We all turn on the power every night when we go home. Well, that power comes from somewhere," Wright says. "Having a Department of Energy will help develop policies that New Hampshire should be looking at as we try to address either air pollution or climate issues."