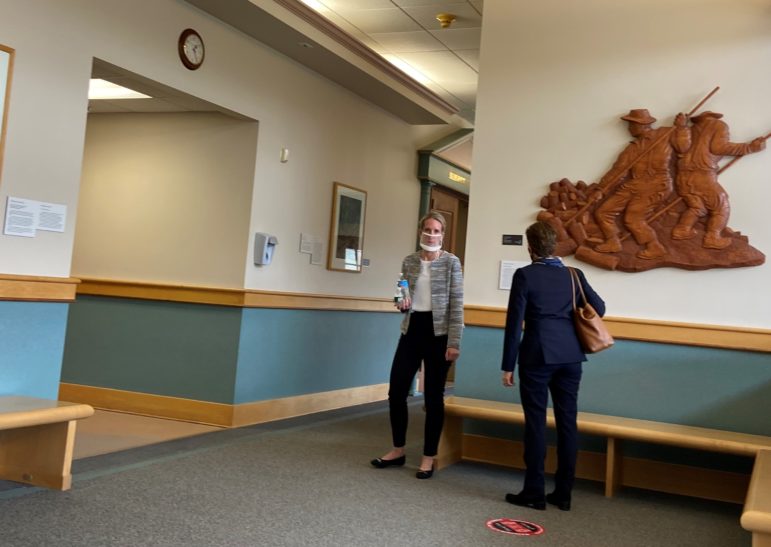 By NANCY WEST, In DepthNH.org
LANCASTER – The jury hearing domestic violence charges against former state senator Jeffrey Woodburn found him guilty of four counts and not guilty on five charges, all misdemeanors, after deliberating Thursday for less than three hours in Coos County Superior Court.
Jurors heard closing arguments Thursday morning after three days of testimony involving allegations that Woodburn, 55, abused his former fiancee Emily Jacobs from December 2017 to June 2018.
The guilty verdicts against the Whitefield Democrat included two counts of criminal mischief, one count of domestic violence and one simple assault, involving the incidents Woodburn had admitted to on the witness stand – breaking the dryer door and a door at Jacobs' Jefferson residence and biting her on Dec. 15, 2017.
Sentencing has been scheduled for July 13.
Woodburn was found not guilty on the five other charges that stemmed from a different incident involving biting Jacobs, throwing a cup of water at her face, punching her in the stomach and trespassing.

"In short, that means they believed me," Woodburn said after the verdicts.
"It's gratifying to be believed by the jury (convicted for what I admitted to and not guilty for the other five charges) but more important to be heard. The process has revealed much – and will reveal more. As hard as this has been, by every measure my life is better because of it," Woodburn said.
Jacobs, a social worker, released a statement to news outlets after the verdict.
"Today, justice was served, and as a survivor of domestic violence, I was believed. I am grateful to the jury for convicting the defendant of domestic violence, holding him accountable for his acts of violence against me.
"Many victims of domestic violence do not come forward out of fear of retaliation or that they will not be believed. I too had that fear, especially in light of the political position and influence held by the defendant. I hope that this verdict will encourage other victims to report allegations of abuse, and that we will see a day when all perpetrators are held accountable."

She said her journey has not been easy, but she is grateful to her supporters. Those include "my family and close friends, the New Hampshire Coalition Against Domestic and Sexual Violence; and domestic violence expert and New York-based attorney Jennifer Friedman. I would also like to thank the attorneys and investigators at the New Hampshire Attorney General's office for prosecuting this case and treating me with dignity and respect throughout the process."
Jacobs broke down sobbing Thursday during closing arguments while sitting in the back row of the courtroom for press and the public. She was helped out of the courtroom into the hallway.
Jacobs had several friends and supporters with her at court Thursday. While on the witness stand Monday and Tuesday, her testimony was often tearful as she told jurors that she was victimized by Woodburn, an older, politically powerful man who made her believe it was her job to fix their relationship.
When they were together, Woodburn was a state senator and Jacobs was the chairman of the Coos County Democratic Committee, candidate for county treasurer and was a delegate for Bernie Sanders.
They both lost their respective elections after Woodburn's arrest and both lost their jobs.
Jacobs and Woodburn were engaged in November of 2017 and the North Country couple shared a passion for politics. Jacobs testified that Woodburn wanted to be governor and talked to her about how to behave if she was going to become first lady.
Woodburn said Thursday he is out of politics now and looking forward to writing a book about what happened.
Although Woodburn was arrested Aug. 2, 2018, there were a number of detours that slowed the case. Ward unsuccessfully tried to have Donna Brown removed as Woodburn's attorney and investigated her and Woodburn for allegedly leaking a photo that was under seal, but no charges came of it.
The trial was also delayed more than a year because of the pandemic. Woodburn's was the first jury trial in Coos County Superior Court since the pandemic.
He and Brown are discussing the possibility of appealing the biting incident that ended in a guilty verdict because Judge Peter Bornstein refused to allow instructions on self-defense, Woodburn said.
"I want to tell my story," Woodburn said. "There was a lot of evidence that was excluded, that the jury didn't have a chance to see. They believed me. They didn't believe her."
During closing arguments Brown and Senior Assistant Attorney General Geoffrey Ward both told jurors the case was simple. It was a matter of who they believed as Jacobs and Woodburn both testified at length.
Ward told jurors that Woodburn lied to them so they wouldn't convict him.
Brown told the jury Jacobs lied because she was out to get Woodburn because he had broken up with her.
On Wednesday, Woodburn testified in-depth for the first time that he was hit by Jacobs on a number of occasions, once in the middle of the night, and was "body slammed" by her. Ward ridiculed that testimony during closing arguments saying Woodburn testified about Jacobs' "super freakish strength."
Jacobs was not charged with any crime and denied using any violence against Woodburn.
Jacobs watched the closing arguments live-streamed Thursday in the small courtroom adjacent to the trial courtroom along with her supporters and friends, Woodburn's girlfriend Patty Dwyer and daughter, Molly, and two reporters. Judge Bornstein allowed only the attorneys and the jurors in the trial courtroom during the proceedings.
Bornstein denied motions filed by InDepthNH.org and the Berlin Sun to open the courtroom to the public and press instead of having to watch it live-streamed on a small TV screen in an adjacent room.