By PAULA TRACY, InDepthNH.org
CONCORD – More than 220 people signed up to speak during a virtual Senate public hearing about the proposed next two-year state budget, House Bill 1 and House Bill 2, with callers urging full funding for services for people with developmental disabilities, Medicaid adult dental benefits, school funding, and more.
Many also called in to ask the Senate to strip a section in House Bill related to a ban on teaching "divisive concepts," related to racism and sexism and calling its inclusion a dangerous form of censorship.
Governor Sununu's third budget proposal, outlined on Feb. 11, would mean tax cuts, moving the Business Enterprise Tax from .6 down to .55 percent and the rooms and meals tax down from 9 to 8.5 percent, increasing the general fund by 7 percent but not increasing taxes.
The House passed its version of the budget, about $13 billion for the next two years, on a vote of 205-178 on April 6 with the House Republican caucus of ultra-conservative and conservative forces coming together to oppose the governor's plan.
Democrats did not like the plan either and made up most of the votes to oppose it.
The House cut out Sununu's proposed merger of the higher education system, opting instead for a study committee. They also stripped Sununu's voluntary paid family leave plan from the budget.
Governor Chris Sununu called the House budget process "completely off the rails" and is hoping the Senate will come up with a better plan as the end of this fiscal year gets closer and a deadline for a deal looms.
In the last biennial budget, Governor Sununu vetoed the Legislature's budget and it took several months of operating on a 90-day continuing resolution before a budget compromise could be reached.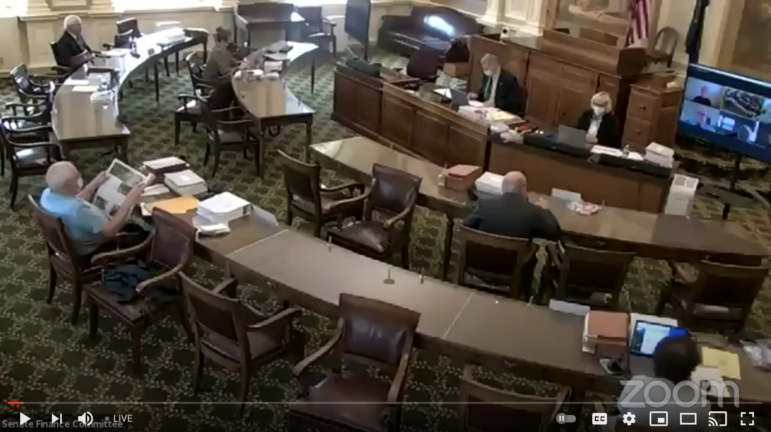 DEVELOPMENTAL DISABILITIES FUNDING
The majority of the comments during the afternoon public hearing came from some of the more than 15,000 families in the state who rely on home and community-based services for individuals with developmental disabilities.
The House version of the budget includes full funding for these programs and many spoke to the necessary retention of those funds. They added hope that there could be a dental benefit for that population.
Some lauded efforts in the past biennial budget to raise rates for workers but some noted that the money has been held back by DHHS and should be released now to increase wages which are among the lowest in the nation.
Lori Breen of Nashua asked the Senate to fully fund the developmental service's budget which allows her to continue to work while her son develops job skills that allow him to work a great job at Five Guys Burgers and Fries and allow him to be an important member of their team.
She said if it was cut and she had to quit her job, it would mean they would lose some of the benefits and be more expensive for the state in the long run.
Lisa Beaudoin, of ABLE NH, also asked for full funding support and ask for them to reinsert a tabled dental benefit for adults in Senate Bill 150, arguing people with poor oral health struggle to maintain employment.
Forrest Beaudoin of Peterborough asked for the full funding for developmental services within the HHS budget, noting the support allows him to live independently in his own community which helps him to work part-time, volunteer, and be active in his community.
"People can't wait for these services," he stressed.
Additionally, many advocates asked for an increased rate of $75 a day for adult senior care services at some of the state's 17 facilities which provide this for many adults with dementia who live at home.
New Hampshire has one of the lowest reimbursement rates in the nation and it could lead to a few of these centers closing, costing the state millions more in care that takes these people out of their homes and reduces their life expectancy and quality.
SCHOOL FUNDING
Leaders in Manchester and Nashua asked senators to consider restoring the loss of school aid, which is due to the way that funding is counted.
Nashua Mayor Jim Donchess explained that some funding is based on the number of free and reduced lunches and the overall number of kids in public schools. He said those numbers this year are "artificially low" because due to the pandemic, people no longer needing to fill out paperwork for free and reduced lunches.
Manchester could face a shortfall of $7.4 million even if the schools get a tax cap increase, said Leslie Want of the Manchester School Board.
Donchess said it could all lead to higher local taxes.
Ken Barnes, told the Senate committee he supports the removal of school voucher language from the budget "because I think it is a terrible idea and discrimination against our public school children and a bad use of money."
"DIVISIVE CONCEPTS"
There was overwhelming opposition among the speakers Tuesday afternoon to a section inserted in House Bill 2 related to the teaching of "divisive concepts" of racism, sexism, and other topics in schools, formerly known as House Bill 544.
Based on a former Trump Administration executive order, the language would prohibit the teaching of "divisive concepts" and limit training or state contracts related to such teachings.
Asma Elhuni, of Rights and Democracy NH, said, "If we can't talk about it we will never be able to address" systemic racism and sexism.
"It will not magically disappear," Elhuni stated noting anti-racism posts on social media by legislators.
Christopher Becker, a public charter school teacher, said he also fears that the language in the former HB 544 is a "Trojan horse" for censorship in schools.
He said high school students are uniquely able to see racism and sexism without it being spun or characterized by a teacher "because they are intelligent enough to identify it on their own."
"It's not a home-grown effort," noted Devon Chaffee of the ACLU of New Hampshire regarding the "divisive concepts" language reference in the proposed House budget.
She noted this is being seen across the country, as an effort to ban conversations in schools about the nation's history and heritage, cultural differences, and history which in some cases has led to systemic racism and implicit bias.
Lindsey Collins of Plymouth said the state has no business in this realm.
"Who does this protect?" she asked "It protects racism."
JJ Smith asked why the state would "stop good discussions of what our history is?" by including the "divisive concepts" ban in the budget.
Barnes also asked to remove the "divisive concepts" language from the budget "because it doesn't belong there and it turns freedom of speech and thought on its head" and it would lead to costly and unnecessary lawsuits.
NH "PEOPLE'S BUDGET"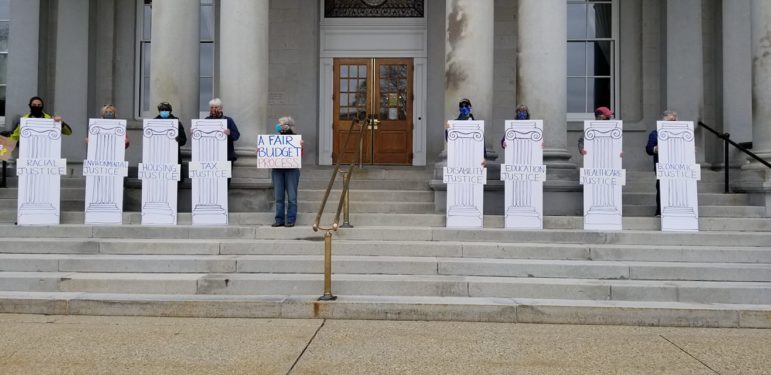 Advocates from the New Hampshire People's Budget Coalition gathered at the State House just before the virtual public hearing to demand that the Senate deliver a better budget than the version presented by the governor and the House.
The Coalition encompasses more than 20+ organizations and center around issues of justice: Education, Health Care, Disability Rights, Housing, Racial Justice, Fair Taxation, Public Services, and Economic Justice, and Transparency in the budget process.
Maggie Fogarty from the American Friends Service Committee opposed the budget as part of the NH People's Budget movement and she said "we deserve better" as a wealthy state.
"Overall, these budget documents fall far short of what the people deserve" for services, she said, noting that they deserve a budget that "invests in all of us."