By WAYNE D. KING, InDepthNH.org
Editor's note: Mike Marland retired recently from editorial cartooning in InDepthNH.org.
"The jester sang for the king and queen in a coat he borrowed from James Dean and a voice that came from you and me." ~ Don McLean
It's funny, I have never actually met Mike Marland, but I feel as if we have been friends most of our lives.
Most everyone you speak with can tell you of a certain musician or type of music that was the soundtrack of their lives. Mike Marland's cartoons and comic strips have been that way for me – for at least my adult years he has been the laugh track of my life. I suspect that a lot of us feel that way, so his announcement that he was hanging up his spurs comes as a bittersweet moment; filled with gratitude for his work, whether he was holding us up or skewering us.
Back in 1988 when I ran for state Senate in a district that had not elected a Democrat since the Civil War I first began to find myself showing up in Mike Marland cartoons. I had been enjoying his RFD comic strip for some time by then and loved his sense of humor, so my visage in a Mike Marland cartoon was a pretty big deal.
In that election I was blessed with, not only a wonderful group of supporters and friends, but an opponent who was one or two sandwiches shy of a picnic – so I ended up on the winning end of an election that seemed near impossible. The day after the election a Mike Marland Cartoon featured a drawing of me over the caption "How Do You Spell Relief?" On either side of me stood an Elephant and a Donkey sporting the word "Bi and Partisan" on their chests. That cartoon has remained one of my most cherished possessions all these years.
In 2018, before the historic victory over the Northern Pass, I asked Mike to do me the honor of creating the cover for my book "Sacred Trust" a vicarious fictional account of a band of monkey wrenchers fighting to stop a similarly ill-conceived powerline project. I was so pleased when he agreed. My Alice gently ribbed me that it was the best part of the book. She was probably right.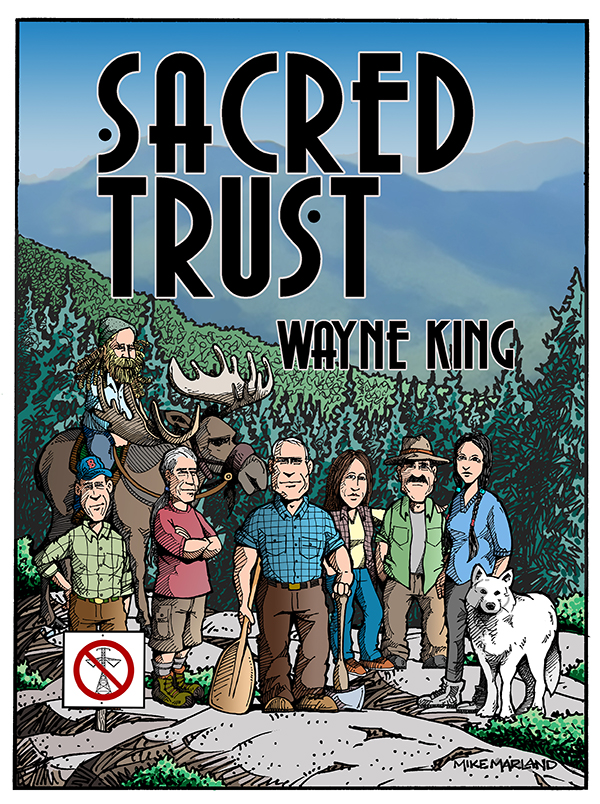 When Don McLean sang "The jester sang for the king and queen in a coat he borrowed from James Dean and a voice that came from you and me," the legend was that he was singing about Bob Dylan but he could just as well have been singing about Mike Marland. For his entire career Mike has been speaking truth to power with a pen. We are all richer for his wit and wisdom.
It's not an original idea to express the thought that the Jester is – not only the smartest person in the room – but the one real truth-teller. It is he or she who sees that the Emperor has no clothes and tells us, whether we listen or not.
Thanks Mike. We'll miss you.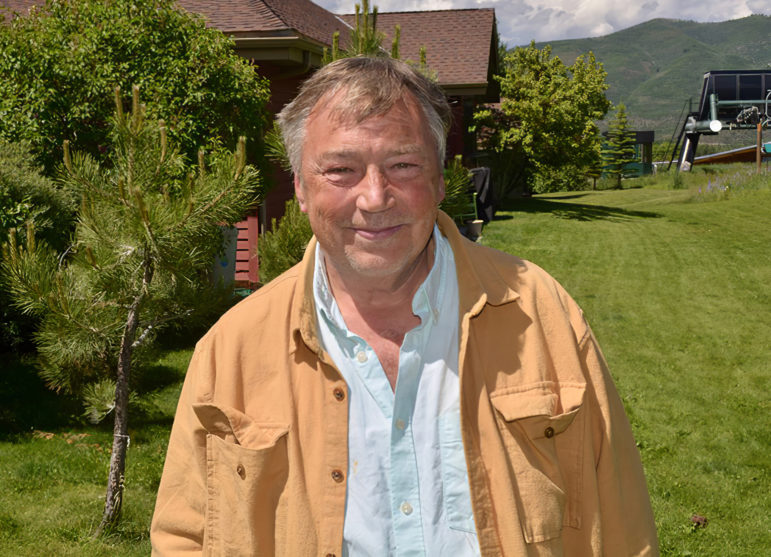 Wayne D. King
Mail: PO Box 1208 Campton, NH 03223Street: 22 Orris Rd #F1 – Thornton, NH 03285
603-530-4460 Cell
waynedking: Skype
@wayne_d_king:Twitter
http://bit.ly/WayneDKing
PodcastsThe Radical Centrist PodcastNew Hampshire Secrets, Legends and Lore Chosen as NH Podcast of 2019 by NH Press Assoc.*NEW!*
Mindscapes – Wayne King Fine Artwww.WayneDKing.com
*Sacred Trust, a Novel*
"The Monkey Wrench Gang Meets the Third Industrial Revolution"https://thesacredtrust.blogspot.com/
The View from Rattlesnake Ridge
New England Newspaper & Press Assoc. award-winning column by Wayne King at InDepthNH.org, NH Center for Public Interest Journalism.Join the mailing list to receive occasional news about upcoming events
and new images by Wayne.
Coming Soon:My New Hampshire – A love story in images and wordsCommon Sense for Our TimesSteady Hands and Open HeartsRenewing the American Idea in the Post Trump Era