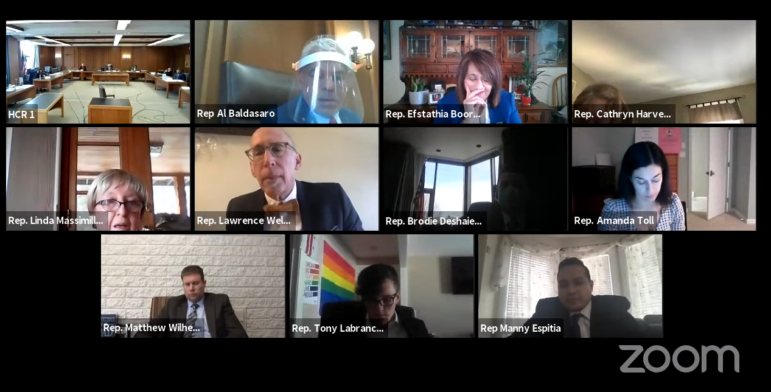 By NANCY WEST, InDepthNH.org

CONCORD – The split between Republicans and Democrats in the House revealed itself again Friday when state Rep. Al Baldasaro reluctantly donned a face shield and chided Democrats for "whining and complaining" that he hadn't worn one for the first three hours of a committee meeting he was chairing.
Baldasaro, R-Londonderry, chaired the House State-Federal Relations and Veterans Affairs Committee at the Legislative Office Building in person a day after returning from Florida while some of the members participated remotely on Zoom.

"To my fellow Republicans, you all know I just came back from Florida, right," Baldasaro said. "I'm going to put this on because I don't want any of the Democrats on the TV screen to get Covid. I know you all don't have an issue," Baldasaro said to the legislators in the hearing room.
Baldasaro said he was socially distancing but could be seen on the Zoom screen speaking with another mask-less committee member who appeared to whisper something in his ear.
Face masks ordinarily aren't required if a lawmaker remains seated and socially distanced in a hearing room.
But Baldasaro would have been required to quarantine for 14 days after traveling outside New England and prohibited entry into the building, except that he was exempted by Republican House Speaker Sherman Packard.

Packard classified Baldasaro as critical infrastructure staff, which means he can attend work-related events during his quarantine period as long as he is not experiencing any symptoms, although he was supposed to be wearing a face mask.

After Packard was notified that Baldasaro was not wearing a mask, he went to the hearing room to remind him of the requirement. Baldasaro left the room for several minutes and put on a plastic face shield when he returned, saying he would "play the game."
Baldasaro and Packard didn't respond to a request for comment.
A statement from the House communications office emailed to InDepthNH.org said:
"In December, we were advised by DHHS that state representatives are considered to be classified as critical infrastructure staff, which means they may attend work-related events during their quarantine period as long as they are not experiencing any symptoms.

"It was determined that Rep. Baldasaro personally could not carry out the essential functions of his role as chairman remotely, and that his Vice Chairman was not prepared to replace him as Chair. As long as he follows our health and safety guidance, and State House face covering policy, all other criteria for the exemption are met.
"When the Speaker learned that Rep. Baldasaro was not wearing a mask in committee, he went to the committee room and reminded Rep. Baldasaro that he should be wearing a face covering even if he was socially distanced, in order to meet the conditions of the exemption," the statement said.
Lawmakers must wear masks when walking around in common areas at the State House and the Legislative Office Building that remain closed to the public due to COVID-19.
Speaker Packard also got in a dustup Wednesday when he went to a committee room to make sure Rep. Rosemarie Rung, D-Merrimack, was removed from a meeting after he stripped her of that committee assignment earlier this month over a tweet she posted about Troy Police Chief David Ellis.
Packard waved Rep. Andy Renzullo, R-Hudson, out of the meeting room at the Legislative Office Building Wednesday and told him Rung had to leave.
Her tweet called for New Hampshire police to denounce Chief Ellis for attending the pro-Trump rally in Washington D.C. on Jan. 6 that led to the storming of the U.S. Capitol. Ellis has said he wasn't part of that mob and attended on his own time.
Rung said Packard has now demanded not only that she apologize to Chief Ellis, but also to him and his staff for the ruckus she caused when the media reported her story.
Packard insisted it was political hay making by Rung and the Democrats. "This is the kind of games they are playing," Packard said.