Arnie Alpert is a retired activist, organizer, and community educator long involved in movements for social and economic justice. Arnie writes an occasional column Active with the Activists for InDepthNH.org.
By ARNIE ALPERT, Active with the Activists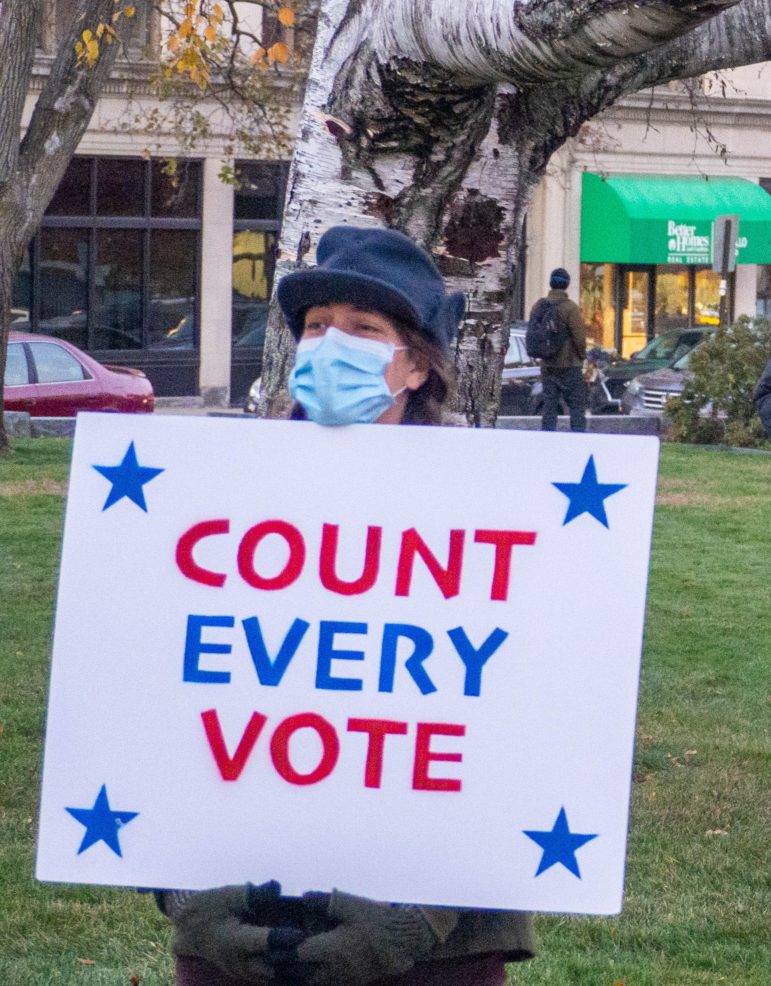 CONCORD – Alarm bells went off across the country when President Donald Trump began signaling that he might not concede power if he were to lose the election on November 3.
Sparked in part by articles published by George Lakey and Daniel Hunter, who pointed out that in other countries coups have been successfully resisted by mass nonviolent action, groups in New Hampshire started to plan for contingencies. With analysis and models provided by national projects such as Choose Democracy and Protect the Results, New Hampshire activist groups hatched plans for active resistance should it be called for.
Sure enough, Trump tweeted late on election night, that "they are trying to STEAL the Election" by actually counting votes cast through mailed-in ballots. "We want all voting to stop," he ranted, after all voting had in fact stopped but while votes were still being counted.
Later on Wednesday, as the sun went down over the State House and vote counts in Michigan and Wisconsin were indicating that Joe Biden had probably won, a crowd of nearly 200 people gathered in Concord to "send a clear message that all the votes are counted nationally," in the words of Asma Elhuni, Movement Politics Director for Rights and Democracy.
Joined by members of 350NH, the NH Youth Movement, and the Manchester, Nashua, and Seacoast chapters of Black Lives Matter, speakers made clear that they were not there just to bid adieu to Donald Trump.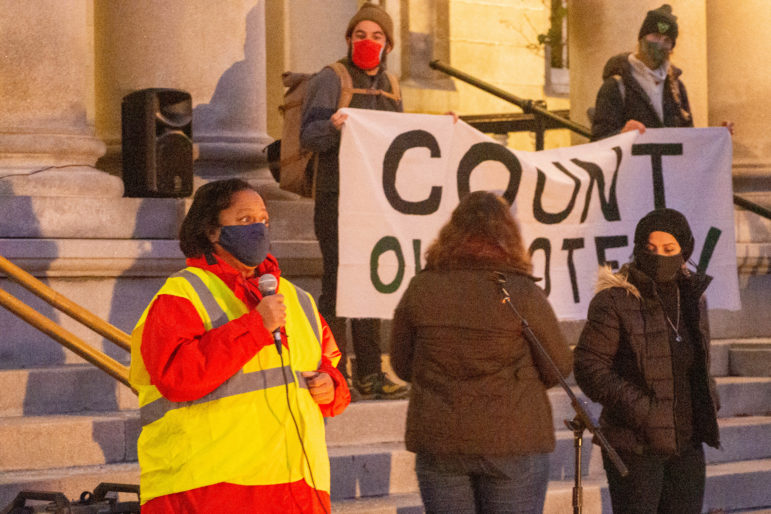 While obviously looking forward to the departure from the White House of a man who has openly given comfort to white supremacists, the speakers, mostly young women of color, delivered emphatic statements that the defense of the interests of Black people, immigrants, workers, and the LGBTQ community can't be left to Joe Biden and the traditional leaders of the Democratic Party.
Elhuni, whose organization campaigns on issues such as raising the minimum wage, promoting Medicare for All, and stopping the use of fossil fuels, said they were also there to send "a strong message to our local government that we are going to continue organizing and that they need to listen to the people, and that we are going to continue to demand fair and equitable policies." Elhuni and other speakers made it clear that whatever the election's outcome, an end to racism and inequality will require continued vigilance and more.
In the meantime, "we could be dealing with a coup-like situation," commented Josie Pinto, Political Director for the NH Youth Movement, when the rally ended. "Today we made it clear that we are going to do everything we can to make sure every vote is counted, that we are watching, and that we are not going anywhere," Pinto added.
Plans for additional rallies, tentatively set for Hanover, Manchester, Dover, Laconia, Portsmouth, Keene, Exeter, and Plymouth on Saturday, may be called off if it looks like Trump has lost and is willing to concede defeat. On the other hand, if Trump follows through on threats to refuse to go along with a peaceful transition in defiance of the will of voters, New Hampshire groups are ready to take to the streets.
The opinions belong to the writer. InDepthNH.org takes no position on politics, but welcomes diverse opinions. email nancywestnews@gmail.com