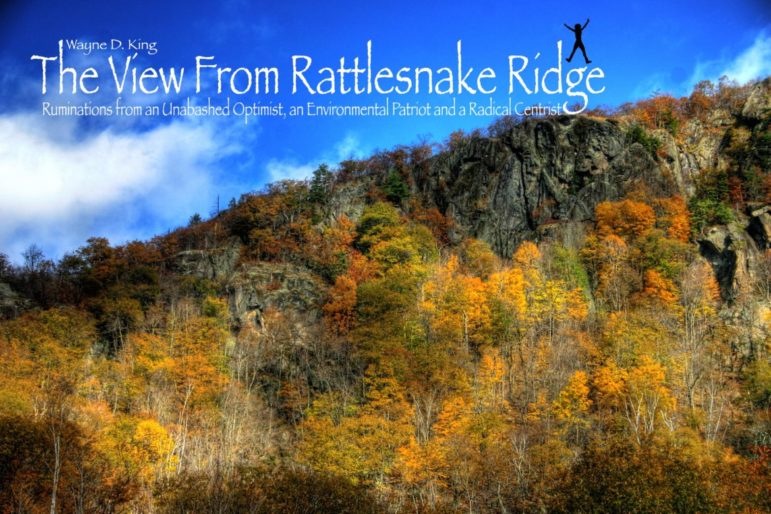 By WAYNE D. KING, The View From Rattlesnake Ridge
Lessons on Common Humanity from A Radical Centrist
Common Humanity Must Be Our Calling
Whenever any American's life is taken by another American unnecessarily – whether it is done in the name of the law or in the defiance of law, by one man or a gang, in cold blood or in passion, in an attack of violence or in response to violence – whenever we tear at the fabric of life which another man has painfully and clumsily woven for himself and his children, the whole nation is degraded."
~ Robert F. Kennedy
Sleep cycles in the midst of a pandemic can be pretty crazy things. I've always been an early riser but lately 4 a.m. is usually my new wake-up hour. At 5 I head out for a walk.
Usually, I begin on the trails behind my home through white pine forest, meandering to the Welch Mountain trailhead before heading back along Orris Road.
The early start has introduced me to a wholly new phenomenon – the Red Squirrel bombardment.
Beginning in late July and continuing into September for 2 or 3 hours each morning – beginning at about 5 a.m. – the army of Red Squirrels who inhabit these woods are ensconced at the top of the forest's canopy, freeing pine cones from the trees, resulting in a hail of debris. Then, almost as if by design, by 7 or 8 a.m., the strafing has stopped completely and peace once again reigns. It makes walking through the woods at this time a bit of a challenge but something of an adventure as well. Picking my way through the woods as the pine cones rain down is something akin to trying to find my way through the flood of tweets and Facebook posts, emails and Instagram posts that will greet me when I return to my studio with coffee in hand.
Will I be able to navigate the digital forest without being clipped by flying debris or being dragged down into a rabbit hole of some wacky conspiracy? Is the storm of detritus in my inbox ever going to subside? How many times will candidate x, y or z cry wolf before I stop paying attention?
Yet, like those Red Squirrels, I keep coming back. Because our survival as a nation depends on navigating the storm.
Let me be clear about this – if I have not already been – I believe that Donald Trump has been a train wreck for our nation and our constitution. Four more years with him as President will likely permanently relegate the United States to second-rate nation status. Yet there is still a chance that he will be able to win by capturing the Electoral College or by "stealing" the election. Just as worrisome is the mischief he is likely to do even if he loses, and the possibility that he will foment violence. All of this has been further exacerbated by the result of the first presidential debate: his refusal to condemn white nationalists and his interruptions that made it impossible for Joe Biden to deliver a clear and concise response.
In the past months, the nation's divisions over racial issues have been deepened by the President's efforts to pit one American against another, supported unashamedly by his Attorney General. What began as a strongly supported series of protests around the murder of George Floyd, Breonna Taylor, and others, has morphed into a deep division driven by small contingents of violent individuals motivated not by a yearning for justice but by their own selfish and violent intentions; far outnumbered by the peaceful demonstrators, but still creating discomfort among Americans of all colors, races, and religions.
Joe Biden has handled the task of speaking out on racism and justice admirably, but there is more that he can do – both now and especially after the election – and each of us can play our part as well.
Biden can begin by delivering a series of brief and cogent responses on the major issues where Donald Trump monopolized the moment and denied Biden the ability to clearly articulate his vision. In doing this he can also draw attention to the unhinged behavior of Donald Trump that made the debate a horrific experience for any thinking American.
I began this column intending to speak about one of this nation's great Radical Centrists, Bobby Kennedy, and then the loss of John Lewis, followed closely by Justice Ruth Bader Ginsberg seemed to call out for their inclusion as well, since I see them both in that same light. All of them drew inspiration from the great feminist and spiritual leader Rev Pauli Murray who said, "when others try to exclude me, I draw my circles wider to include them." While I focus on Bobby – he was, for me, the person who inspired my own deep thirst for a just world – I hope you will see the examples of John Lewis and Justice Ginsberg in both the pauses, the words and the spirit.
Why does it matter that I view them as "Radical Centrists"?
A Radical Centrist is not an individual who embraces the "mushy middle." Rather, it is a man or a woman who believes in the healing power of civility and dialogue and is "radically" committed to a set of moral and ethical principles, superseding ideology or party, that guide them throughout their lives. A commitment to radical inclusion, innovation, and progressive ideals.
In June of 1968 Bobby Kennedy's funeral train made its way from New York to Washington D.C. All along the route Americans of every color, age, religion and social status lined the tracks to say goodbye. Likewise, this week we watched as more than 100 of Justice Ginsburg's former clerks and Americans of all political viewpoints gathered to see her off. The outpouring of grief and gratitude from Americans as they celebrated the life of John Lewis speaks for itself.
On the night Martin Luther King Jr. was assassinated Bobby Kennedy was scheduled to speak at a street gathering in Indianapolis – in what was then referred to as the "most dangerous neighborhood (read black) of the city. "The Mayor and most of the city officials, even some of his own advisers – urged him to cancel his appearance. There was sure to be violence they said and they could not guarantee his safety. But Bobby was determined.
News traveled much slower in 1968. Most of those who would attend the event – at which Kennedy would speak from the back of a flatbed truck – had not yet heard about the assassination. RFK would be the bearer of devastating news. . . Never a good position for a political leader.
He began his impromptu remarks saying that he would only speak for a few minutes – that he had sad news.
When he announced the death of Dr. King an audible gasp rose from the crowd. He spoke without prepared remarks – from the heart. Paying tribute to the work of Dr. King and the things for which he had dedicated, and given, his life. His voice quavering, hesitant, soft, he expressed not only his empathy for the pain the crowd felt but the pain that was in his own heart.
"Martin Luther King dedicated his life to love and to justice for his fellow human beings, and he died because of that effort.
In this difficult day, in this difficult time for the United States, it is perhaps well to ask what kind of a nation we are and what direction we want to move in. For those of you who are black–considering that the evidence is that there were white people who were responsible–you can be filled with bitterness, with hatred, and a desire for revenge. We can move in that direction as a country, in great polarization–black people amongst black, white people amongst white, filled with hatred toward one another.
Or we can make an effort, as Martin Luther King did, to understand and to comprehend, and to replace that violence, that stain of bloodshed that has spread across our land, with an effort to understand with compassion and love."
"What we need in the United States is not division; what we need in the United States is not hatred; what we need in the United States is not violence or lawlessness; but love and wisdom, and compassion toward one another, and a feeling of justice toward those who still suffer within our country, whether they be white or they be black.
So I shall ask you tonight to return home, to say a prayer for the family of Martin Luther King, that's true, but more importantly to say a prayer for our own country, which all of us love –a prayer for understanding and that compassion of which I spoke.
.. the vast majority of white people and the vast majority of black people in this country want to live together, want to improve the quality of our life, and want justice for all human beings who abide in our land.
Let us dedicate ourselves to what the Greeks wrote so many years ago: to tame the savageness of man and make gentle the life of this world.
Let us dedicate ourselves to that, and say a prayer for our country and for our people."
That night, as cities burned all across America, Indianapolis was spared. Such is the power of words that heal and call us to a higher purpose.
On the day that followed, Bobby Kennedy kept only one speaking engagement- at the Cleveland City Club. In what historians consider to be one of the most powerful speeches in American history, he spoke only 10 minutes but his words echo down through the years to remind us of the common humanity we share and the path we must find to build a future together.
Cleveland Club Speech
"It is not the concern of any one race. The victims of the violence are black and white, rich and poor, young and old, famous and unknown. They are, most important of all, human beings whom other human beings loved and needed. No one – no matter where he lives or what he does – can be certain who will suffer from some senseless act of bloodshed. And yet it goes on and on.
Why? What has violence ever accomplished? What has it ever created? No martyr's cause has ever been stilled by his assassin's bullet.
No wrongs have ever been righted by riots and civil disorders. A sniper is only a coward, not a hero; and an uncontrolled, uncontrollable mob is only the voice of madness, not the voice of the people.
Whenever any American's life is taken by another American unnecessarily – whether it is done in the name of the law or in the defiance of law, by one man or a gang, in cold blood or in passion, in an attack of violence or in response to violence – whenever we tear at the fabric of life which another man has painfully and clumsily woven for himself and his children, the whole nation is degraded."
"For there is another kind of violence, slower but just as deadly, destructive as the shot or the bomb in the night. This is the violence of institutions; indifference and inaction and slow decay. This is the violence that afflicts the poor, that poisons relations between men because their skin has different colors. This is a slow destruction of a child by hunger, and schools without books and homes without heat in the winter.
This is the breaking of a man's spirit by denying him the chance to stand as a father and as a man among other men. And this too afflicts us all. I have not come here to propose a set of specific remedies nor is there a single set. For a broad and adequate outline we know what must be done. When you teach a man to hate and fear his brother, when you teach that he is a lesser man because of his color or his beliefs or the policies he pursues, when you teach that those who differ from you threaten your freedom or your job or your family, then you also learn to confront others not as fellow citizens but as enemies – to be met not with cooperation but with conquest, to be subjugated and mastered.
We learn, at the last, to look at our brothers as aliens, men with whom we share a city, but not a community, men bound to us in common dwelling, but not in common effort. We learn to share only a common fear – only a common desire to retreat from each other – only a common impulse to meet disagreement with force. For all this there are no final answers.
Yet we know what we must do. It is to achieve true justice among our fellow citizens. The question is not what programs we should seek to enact. The question is whether we can find in our own midst and in our own hearts that leadership of humane purpose that will recognize the terrible truths of our existence.
We must admit the vanity of our false distinctions among men and learn to find our own advancement in the search for the advancement of all. We must admit in ourselves that our own children's future cannot be built on the misfortunes of others. We must recognize that this short life can neither be ennobled or enriched by hatred or revenge."
As I have said before . . . "a storm is coming." I hope that all of us will embrace our common humanity as we face it.
Links
Kennedy Library Archives – Robert Kennedy Speeches
https://www.jfklibrary.org/learn/about-jfk/the-kennedy-family/robert-f-kennedy/robert-f-kennedy-speeches
Robert F. Kennedy's speech on the assassination of Martin Luther King Jr.
https://www.jfklibrary.org/learn/about-jfk/the-kennedy-family/robert-f-kennedy/robert-f-kennedy-speeches/statement-on-assassination-of-martin-luther-king-jr-indianapolis-indiana-april-4-1968
On the Mindless Menace of Violence – Remarks to the Cleveland City Club
https://www.jfklibrary.org/learn/about-jfk/the-kennedy-family/robert-f-kennedy/robert-f-kennedy-speeches/remarks-to-the-cleveland-city-club-april-5-1968
Rev. Pauli Murray
https://en.wikipedia.org/wiki/Pauli_Murray
Wayne D. King
22 Orris Rd #F1 – Thornton, NH 03285
PO Box1208 Campton, NH 03223
603-530-4460 Cell
waynedking: Skype
@wayne_d_king:Twitter
http://bit.ly/WayneDKing

Podcasts
New Hampshire Secrets, Legends and Lore

Support the Work of Wayne King. Become a Patron of The Radical Centrist at Patreon
Patreon.com/TheRadicalCentrist
*NEW!*
Mindscapes – Wayne King Fine Art
*Sacred Trust, a Novel*
"The Monkey Wrench Gang Meets the Third Industrial Revolution"
https://thesacredtrust.blogspot.com/
The View from Rattlesnake Ridge
New England Newspaper & Press Assoc. award winning column by Wayne King at InDepthNH.org, New Hampshire Center for Public Interest Journalism's website.
Join the mailing list to receive occasional news about upcoming events
and new images by Wayne. Join now and you'll receive a free PDF version of Asquamchumaukee – Place of Mountain Waters, a photographic ramble through the Baker River Valley of NH by Wayne.
Coming Soon:
My New Hampshire – A love story in images and words
Common Sense for Our Times
Steady Hands and Open Hearts
Renewing the American Idea in the Post Trump Era