Arnie Alpert is a retired activist, organizer, and community educator long involved in movements for social and economic justice. Arnie writes an occasional column Active with the Activists for InDepthNH.org.
Active with the Activists
By Arnie Alpert for InDepthNH.org
CONCORD – Anguish, anger, frustration, defiance and determination were in the air outside the New Hampshire Supreme Court Friday when more than 200 people, organized by the state's Black Lives Matter groups, rallied in solidarity with Breonna Taylor and her family and called for New Hampshire residents to address issues close to home.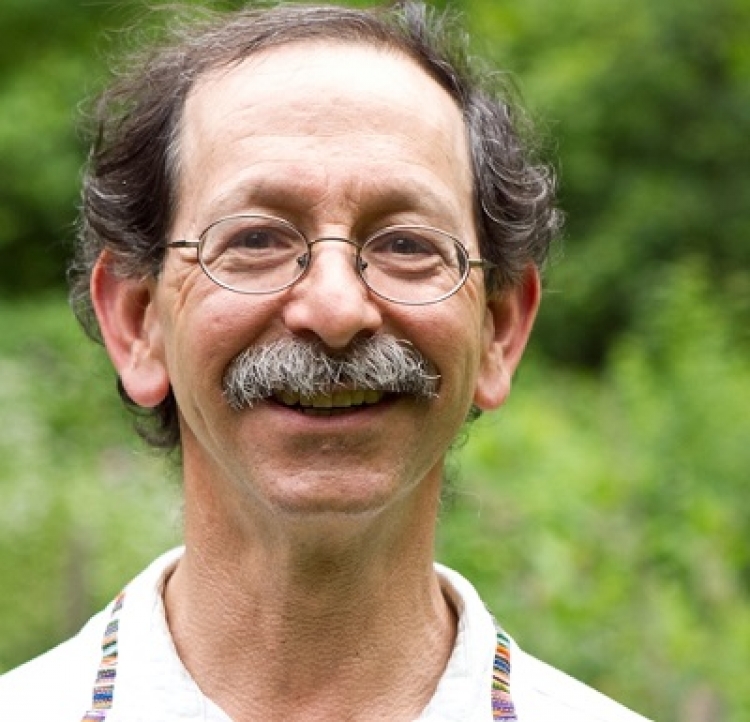 The demonstration followed the decision of a Kentucky grand jury not to charge the police officers responsible for Taylor's killing with murder. One officer was charged with wanton endangerment for shots fired through the wall of Taylor's apartment.
"You have a woman who was murdered in her own home, and one person gets charged for the bullets that miss her," said Julian Maduro, one of several speakers who addressed a rally outside the courthouse. "Now what does that say to every black woman in this country except that you don't matter, except that a wall means more than your life?"
"Any system that is going to say that a wall matters more than a human being, it needs to fall apart. It needs to be taken down," Maduro charged.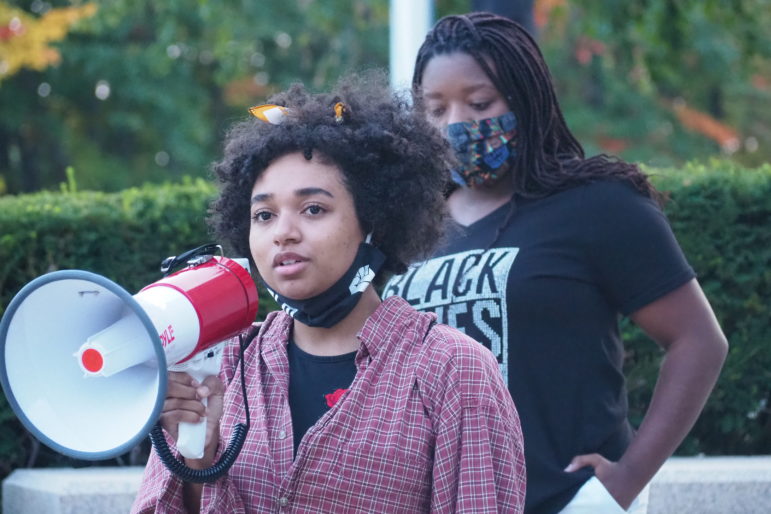 While most of the rally speakers confessed to being worn out, they showed plenty of energy in their denunciations of systemic racism, their calls for greater respect for Black women, and their urging for their supporters to use their votes to hold public officials accountable.
While the focus was on justice for Breonna Taylor, speakers repeatedly spoke about issues closer to home and organizers passed out black rubber wristbands saying, "NH IS NOT INNOCENT."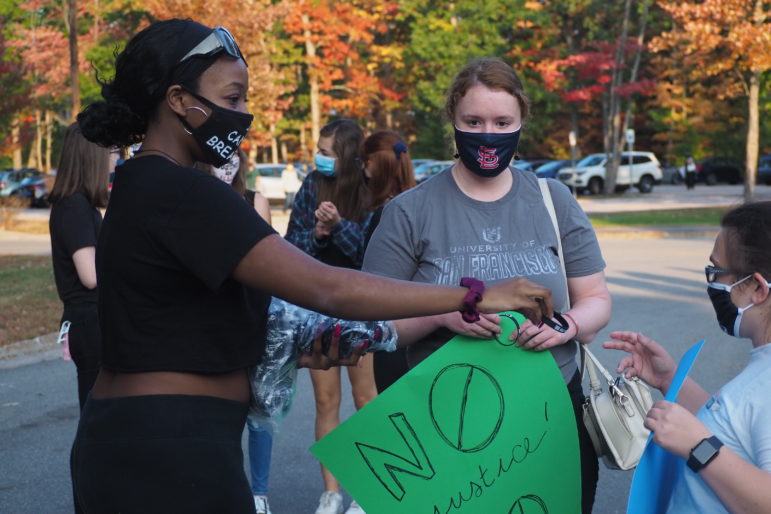 New Hampshire could be "the next hashtag," warned Ronelle Tshiela, a member of Black Lives Matter Manchester who served on Gov. Chris Sununu's Commission on Law Enforcement Accountability, Community, and Transparency.
"Tell your neighbors, tell your friends, tell your family that New Hampshire is not innocent, and we need to continue to fight for our lives before somebody else has to do it for us," Tshiela said.
Following the courthouse steps rally, the crowd followed a "Black Lives Matter" banner down the Supreme Court driveway to Hazen Drive and over to Loudon Road, one of Concord's busiest commercial zones. Taking over the eastbound lane, with police cruisers' lights flashing around them, the marchers chanted Breonna Taylor's name and waved signs on their way to Keach Park, where they rallied again.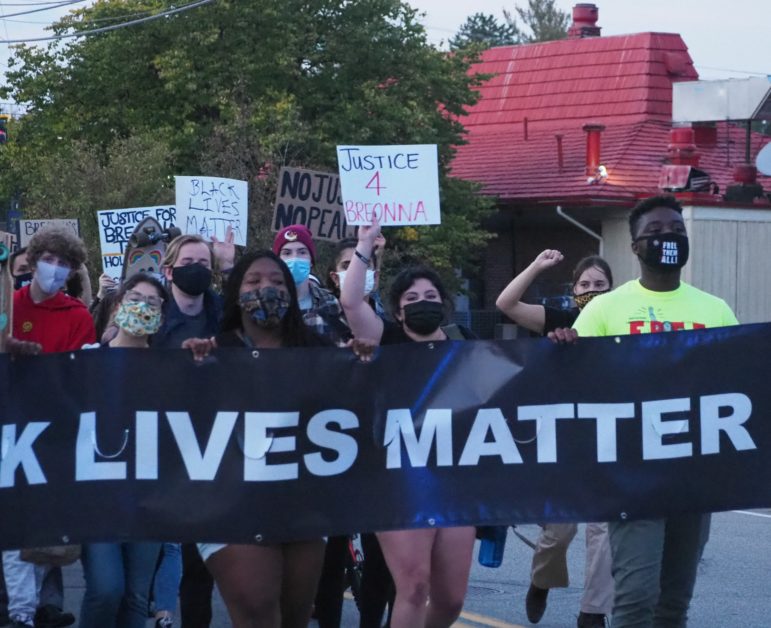 The Commission's recommendations for data collection and investigation of police misconduct are steps in the right direction, she said, but faulted the group for failure to address qualified immunity for police officers and training in the use of "no knock" warrants like the one employed by the Louisville police who killed Taylor in her own apartment.
While we were marching in Concord, a Black friend driving home in another part of the state was stopped by a police officer on dubious grounds. He let her drive away, but followed her home, leaving her frightened and angry.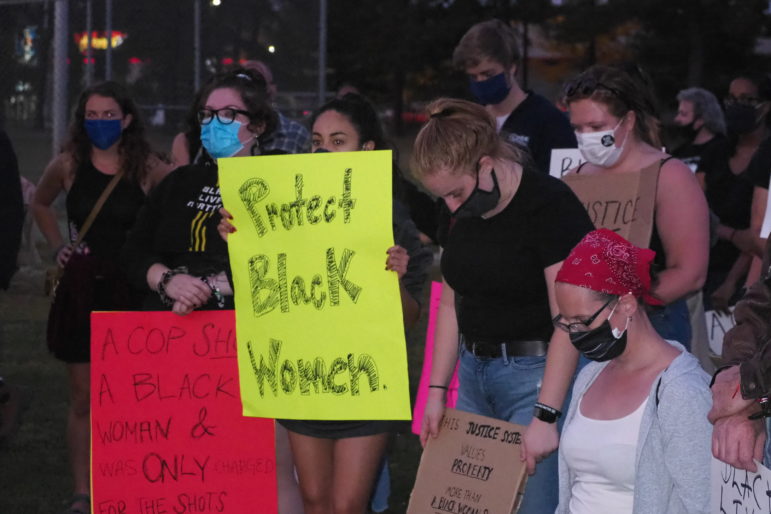 "Every Black woman here knows it could have just as easily been us. It's terrifying," Samantha Searles said on the steps of the Supreme Court.
"We talk about staying woke. A lot. But we really do mean it. Because of people like Breonna who don't get the opportunity to wake up like we all did this morning. Think about that when you wake up tomorrow. It's not just a hashtag. While you are awake you had better work, so we don't have to do this again."
The opinions belong to the writer. InDepthNH.org takes no position on politics, but welcomes diverse opinions. email nancywestnews@gmail.com