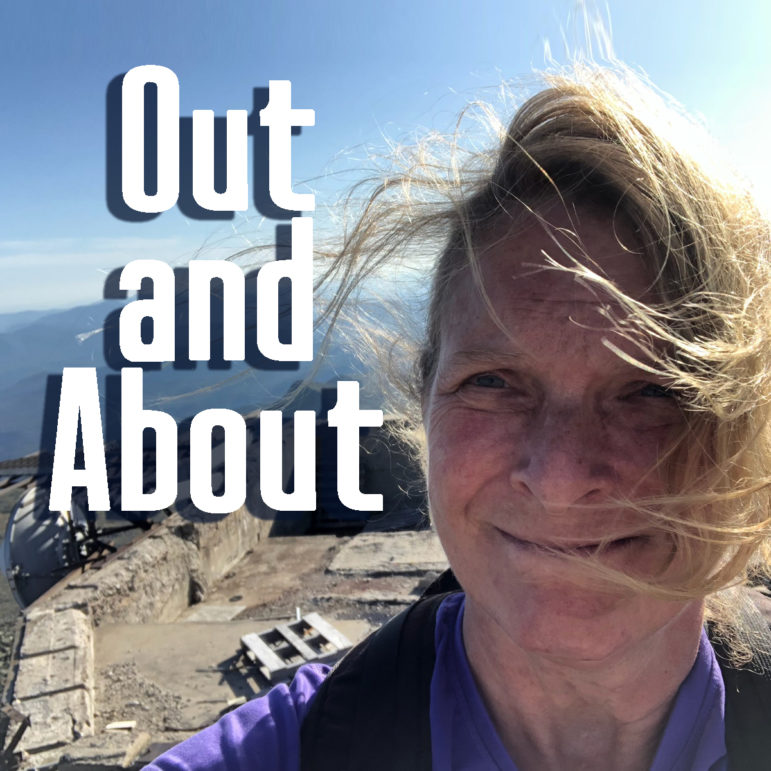 By PAULA TRACY, InDepthNH.org

OK, this one will not require masks, social distancing, Zoom chat, sanitizers or compliance with any of the governor's emergency orders.

It's an opportunity for community star gazing as "one" but separated in this new world of social distancing, which actually looks pretty bright on a clear summer night.

Three Lakes Region conservation groups are hosting this non-event, called "A Night with the Stars."

It is billed as a celebration of conservation and community and it will be held Aug. 15 at 9 p.m. for one hour.

That gives you 60 minutes to lie back and reflect in the dark and recognize 60 years of conservation by these groups and what it has meant to the forests, trails shorelines, and summits around the Squam Lakes. But it can also be a chance to enjoy the dark in other parts of the state and look at infrastructure in your community which is causing light pollution.

The activity is sponsored by three partners environmental organizations; Squam Lakes Conservation Society, Squam Lakes Association, and the Squam Lakes Natural Science Center.

The three have been mighty important in protecting the watershed in my area, improving and maintaining hiking trails, conserving islands where you can camp, and teaching the public about indigenous species of the region.
I visited the Science Center in 1968 as a first grader and have been enjoying its trails and ambassador animals ever since. My husband now volunteers on its board of trustees. Alicia Abbott of Holderness, another volunteer for one of the organizations reached out to me to ask me to write about this.
To help promote the idea for a Night with the Stars, Dan Reidy wrote that light pollution is caused by light from man-made sources directed upward.
That is wasted light, which should be directed downward where it is needed, he said.

This wasted light gets refracted from moisture and small particles in the atmosphere known as "aerosols." That creates a cloudy haze that blocks a good view of the stars and is most noticeable in cities rather than the country.

Waterville Valley

One community that is really focused on reducing the night sky is to the north of us. It is the town of Waterville Valley where most of the street lights are directed downward. This intentional decision was made to focus on being out in the National Forest surrounded by thousands of acres of trees far from the city lights that people are so used to experiencing.

The dramatic clear sky is in itself a way to entertain, relax, and remind you how really small we are in the big picture.
And being outdoors on a cool summer night is always special.
That town has taken many of its cues from the International Dark-Sky Association www.darksky.org, which has a number of tips to help reduce night light pollution for individuals, institutions, and communities.
My hope is to turn off all the lights at my house and head out in my kayak to the middle of the lake to be part of this hour with my neighbors.
Roger Larochelle, an organizer said, "This is a great opportunity to bring the community 'together' to celebrate our amazing surroundings and all the progress made to conserve this region. The event started with brainstorming how to celebrate the Conservation Society's first 60 years of land conservation.

"We couldn't host a large gathering without putting people at risk, so we're attempting something totally different: a non-event event! And it's outdoors and not virtual. A Night with the Stars is something we can all do and appreciate. Just turn off the lights and turn up the quiet. It'll be a time to remember."
For the past six decades, SLCS has been leading the way in conserving land in the Squam watershed.

"So many landowners want to preserve the natural setting of this area. SLCS educates and helps them transition their property to protected land," said Larochelle. "The community support over the years has been outstanding, making Squam Lakes one of the premiere conserved regions in the nation with over 30 percent of its land permanently protected. That alone is worth celebrating."

The sponsoring organizations hope this event will go viral (in a good way) by spreading the word and getting most everyone in the watershed, and beyond, to participate. For more information, go to foreversquam.org, squamlakes.org, or nhnature.org.

To help you understand what you are looking at in the night sky, there is a website that can help you find and identify planets and what you are looking at and it is done by region.
If you are in the Concord area, this site could be helpful. https://www.timeanddate.com/astronomy/night/usa/concord
Paula Tracy's first big hike was in 1975 with classmates from Concord up Mount Lafayette with teacher and outdoor enthusiast Ned Bergman. She was 13 and was immediately captured by the wonders of New Hampshire's great outdoors. It would lead to a lifetime love of exploring the woods, water, and wildlife in the Granite State. As a staff reporter, for 25 years at the NH Union Leader and then for WMUR.com, she has written about the subject extensively and continues here with the hope of connecting New Hampshire's residents with their own backyard.