By PAULA TRACY, InDepthNH.org

CONCORD – The governor's nomination for director of the state's Fish and Game Department drew more than 80 people to a sometimes contentious public hearing before the Executive Council Wednesday.
Some said Scott R. Mason lacks the professional experience for the job and others said he has great consensus-building skills necessary to move the department in a new direction.
Mason of Stratford is Gov. Chris Sununu's pick to replace Glenn Normandeau as the director of the department of more than 180 employees whose role is to protect the state's wildlife resources.

Normandeau is serving in holdover status after not receiving support from the state's Fish and Game Commission for a fourth four-year term.
State Rep. Edith Tucker, D-Randolph, said she "wholeheartedly endorsed the nomination" and has been very dismayed that some believe farming is not "science-based."
Tucker said Mason is a talented problem solver who knows how to work with others.
Rick Van de Poll of Sandwich, who sat on a department study commission, said he issued a lone voice to suggest Fish and Game broaden its base and support a vision that is dramatically needed in that department.
"While I appreciate Mr. Mason's experience… I would suggest that a director of a department with a staff of 200 requires a little more experience than he has," he said, suggesting Mason become a commissioner first.
The Executive Council listened to the public testimony at the Howard Rec Building on the state hospital campus in Concord and asked questions, but did not vote on the nomination.

The earliest opportunity to vote will be when they meet next on Aug. 5.
One of the five members of the council did not attend the public hearing.

In all, 17 people spoke in opposition while 29 spoke in support of the nominee and the others sat and listened, socially distanced. They wore face masks, taking them off only to testify.

The hearing became heated when some members of the public said Mason opposed the creation of a conservation commission in his town as a selectman, with some noting he said they would "interfere." There were comments he made in a legislative hearing in which a state representative recalled him referring to her as a "wackadoodle" during a legislative hearing.

Mason claimed that was out of context and rhetorical in nature but witnesses, including Rep. Ellen Read, said the record shows a different story.
Also many North Country Northern Pass opponents said Mason did not bring people together but further divided the community.

But others spoke of a different man.    

Joe Marone, chair of the University System of New Hampshire said working with Mason the past three years, for institutions that face "massive challenges" like Fish and Game, showed him Mason would be a great selection.

"If I were asked today to establish a new board in New Hampshire, Scott would be one of the first people I would recruit," he said.
"He is an uniter. He brings people together," Marone said, and noted Mason, a dairy farmer, leaves his ego at the door, encourages others to speak, soothes bruised egos and makes one feel like they have been heard.

Marone said Mason is also a problem solver, a businessman and he understands finance.
"I recommend him highly to you without reservation," Marone said.

But Jack Hurley of Claremont, opposed the nomination and said Mason must be aware of the objections to his nomination.
What he lacks, Hurley said is a "vision" for leading the department and has not addressed in his seeking the role to address a warming climate and prevention of transmission of viruses from wildlife to humans, "probably some of the most serious challenges."

"However, the first thing he talked about was having a hunting license and many of the animals he has killed but nothing about the vision. I don't see the relevance to a farmer being a fish and game director," Hurley said.

He said he serves on the Claremont Conservation Commission which has to interact with Fish and Game and he was concerned that as a selectman, Mason opposed the creation of a conservation commission.

"I don't know Scott Mason. People say he is a nice guy. I am a nice guy but I certainly don't have the qualifications to be the Fish and Game Director," Hurley said.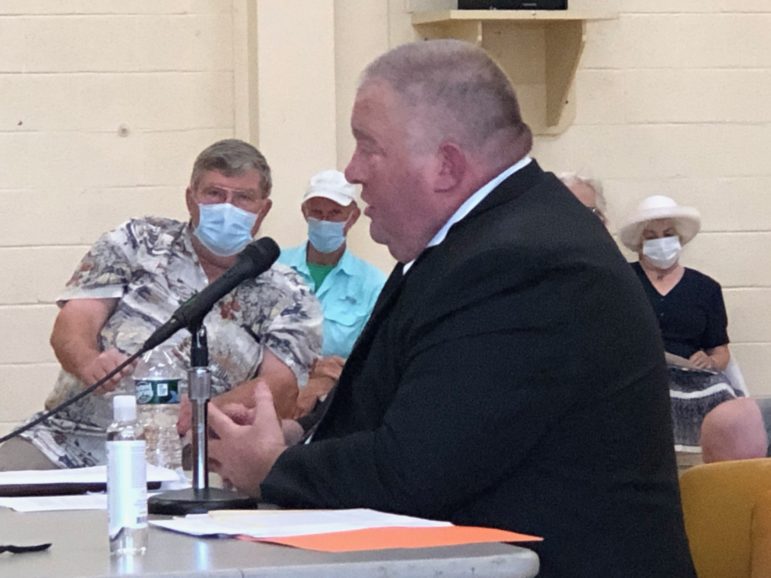 Ken Merrifield of Franklin called Mason "a very wise man."
Margaret Hurley of Claremont said "this is about whether you move the department forward or backward," she said and she believes he would not move the agency forward.

Councilor Andru Volinsky of Concord, a Democrat, and candidate for governor, recused himself from the discussion and will do so on the vote on Mason.
He told InDepthNH.org after the hearing that he served as an attorney for intervenors opposed to the controversial Northern Pass electric transmission project which ultimately failed to get the authority to build.
Mason, as an employee, lobbyist, and advocate for the project in the North Country is "too big of a factor" for Volinsky to be able to impartially vote on the nomination, he said.
State Rep. Suzanne Smith, D-Hebron, opposed the appointment. She said Mason seems like a wonderful farmer and she would support his nomination in an agricultural role, but she was a little upset to hear he opposed a conservation commission in his town. It ultimately was supported and she said in her legislative committee she would need to deal with him on issues of resources, recreation and development.

Smith said it seems Mason has been doing a lot of backpedaling on his record which concerned her.

Weldon Bosworth of Gilford said that after the Fish and Game Commission "canned the director" and then advertised for a new director with extensive background experience, several well-qualified individuals applied.

"So were any of those chosen? No?… We have not heard any executive management experience," in his background. "It's not the same as serving on a commission," Bosworth said.
He said he is among the "so-called House Bill 1571 'wackadoodles' and the goal (of the Fish and Game Commission) is to "further marginalize 95 percent of New Hampshire residents who are not fisherman and hunters."
Mason, Bosworth said, would "further perpetuate the 'we versus them' mentality."

"It is an affront to citizens and almost 200 Fish and Game professionals who have a right to expect leadership," Bosworth said.

Michael Nielsen of Franklin said he is a hunter and fisherman and has come to know Mason as an honest hard-working family man.

Mark McCullock, of North Strafford, a neighbor, said while Mason was making "big money" for Eversource trying to push the Northern Pass on his neighbors, he was fighting against it.

"I am concerned about climate change," McCullock said and worried about Mason in the role as an advocate for wildlife.
He said he was at the meeting when Mason opposed the creation of a conservation commission in town.

"I am ashamed of having you as my neighbor," McCullock shouted.
Pointing to Executive Councilor Michael Cryans who admonished Mason for the "wackadoodle" comment in the legislature, McCullock said to Cryans, "I know the weight on your shoulder right now."
He reminded him of the conservation commission vote as 11-1.
"You are going to put New Hampshire to shame if you put him in that seat," McCullock said of Mason.

Harry Brown, the founder of the Ride-the-Wilds, ATV trails in the North Country said he has seen Mason under fire and is impressed.
"He knows politics and works to find a compromise," Brown said.

Brown said those who oppose Northern Pass "are living in the past" and are opposing this nomination for that sole reason.

Chelsea Petereit, a former middle school science teacher and resident of North Stratford and a member of conservation commission in the town, said she spoke as an individual in opposing the nomination for a lack of qualifications for the position.

The mission of Fish and Game is so diverse, she said, and Mason's experience is limited.

But that was not the only concern.

"It was the way he treated people when he worked for Northern Pass. He was divisive. Many people feel betrayed that he made a lot of money to support a project that would destroy the environment that other North Country residents hold dear," she said.

Paul Frangione of Chichester said he has known the Mason family and said he would do a great job.

Denyce Gagne, a Fish and Game employee, said she was at the hearing on her own time and her opinions were her own.

She described an encounter with Mason in 2015 when the department was working on an integrated pest management plan for his property related to pesticides to minimize impacts on pollinators and other creatures.

Mason reached out to discuss it and the first thing he said was to accuse the Fish and Game Department biologists at his kitchen table of being "ignorant."

What she found is he hadn't fully read the letter or the plan the department laid out before he issued a very personal "strong opinion."

Elise Letizia, of Claremont, supported the nomination.
She said she has held a hunting license for a few years and belongs to several clubs. Letizia said Mason has used a metaphor of making the table larger so that all opinions could come out.

Paul Grenier, mayor of Berlin and a Coos County Commissioner. gave "full unadulterated support" for Mason.

Grenier said he has known Mason for 30 years and he is of the highest moral character, is honest and straightforward. He said he respected his work on the Northern Pass. Grenier was also a supporter.

Rep. Read of Newmarket said she wanted to talk about Mason's lack of experience and compare it to Normandeau's resume, but, she said, "he seems to feel that conservationists are actually against hunters in general" and has spoken with much disdain about scientists.

Eric Stohl of Columbia, a Fish and Game Commissioner and long-time conservation officer, said he was chosen as the leader of a search committee for this job. He said in the first round of applications the state received about 20 resumes and in the second round, about 18.

"Some people will say that Scott Mason does not have a biological degree. I really wasn't looking for a candidate who was going to be a biologist," saying the department has enough of those.

Bob Baker of Colebrook and a Northern Pass opponent, said Mason is a good man and farmer but these attributes do not make him qualified for the stated statutory job requirements.

Wayne Saunders, a former North Country Fish and Game lieutenant, supported the nominee.

Christina Snyder of Chester opposed the nomination. As a member of her town's conservation commission, she said Mason cited "interference" that such a commission would have on his life as a farmer and resident.

"We were able to acquire 150 acres in my town, something the select board would never have the time to do. We spent hours of wheeling and dealing and I want to say all 150 of those acres in my town are open to hunting and fishing and that would have never happened," if a commission was not present.

Mason, she said, "puts farming above everything else including his strong opposition to a conservation commission…he wants to protect farmlands over wetlands."

Ted Burns of North Stratford said he has admired Mason and called him a champion for providing trail access.

Rick Samson of Stewartstown said he came to speak about Mason's lack of experience for the job. The department needs better direction and is underfunded, he said.

Beth Marino of Goffstown, representing the Voices of Wildlife, spoke on behalf of the organization to oppose the nomination for lack of background for the job.

Ted Tichy of West Milan, a former Fish and Game commissioner from Coos County and the person identified as recruiting Mason for the job, said Mason has all the right credentials to run the department.

He said he has become friends with him from various sporting activities.
Mason has both the business background and common knowledge to do that job, Tichy said.
He said opponents in the room "fight the department on just about everything" and for some reason, they were opposing Mason.

Corrine Rober spoke in support Bear Rock Adventures, an ATV and camping outfitter, and is involved in the local chamber of commerce. Rober said her area has been challenged to reinvent itself economically and relies on tourism and the North Country needs someone to bridge the relationship with the "bureau" and the region.

Jasen Stock, executive director for the NH Timberland Owners Association, whose members own over 1 million acres, came in support of the nomination.

Jim Morse, representing the NH Wildlife Federation, which represents 49 clubs, spoke in support of Mason as did Todd Stout, of the NH Hunters Association.

The council also held a public hearing on the governor's nomination of Lindsey Courtney to serve as the director of the Office of Professional Licensure and Certification.

Courtney has served as interim director since winter. It is a relatively new agency created in 2015. The agency regulates everything from tattoo parlors, LNAs, and hairdressers.
Her nomination was supported by all but public activist Joe Hass.