By PAULA TRACY, InDepthNH.org
CONCORD – Social distancing is leading to the rapid decline of dementia patients across the state, observers told the Governor's Economic Reopening Task Force recently, recommending that adult day centers reopen.
The task force agrees and has passed on guidance that would allow for the reopening of adult day centers that are particularly helpful to families whose loved one suffers from Alzheimer's or a related disease.
In the first opening phase, such centers would be allowed to be open at 50 percent capacity with no new admissions, no visitors, and daily screening of everyone for the virus COVID-19. Masks would be worn by staff and patients with exceptions.

These centers, which allow those with dementia such as Alzheimer's Disease, a place to safely interact while still being able to live at home with care, have been on the decline in the state. They are ways to help the individuals age at home with family rather than going to long-term care facilities, which in this state has seen about 80 percent of all the state's deaths from COVID-19.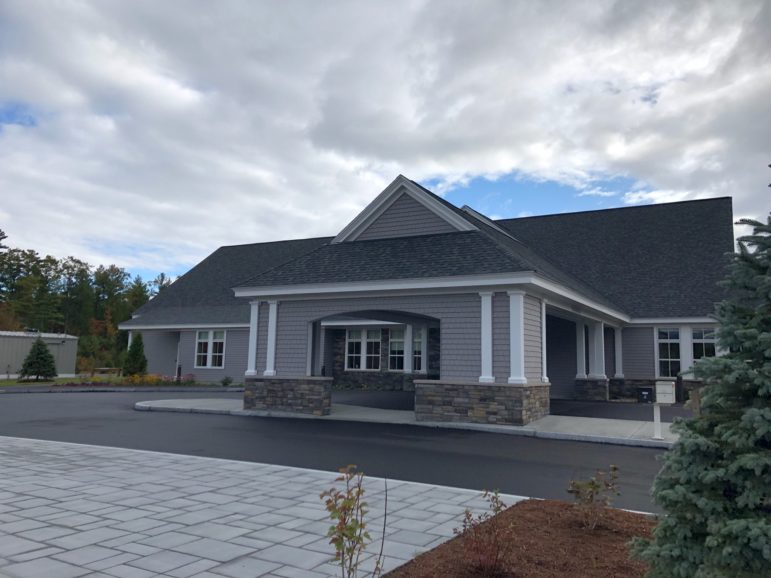 Examples
Donna Martin of Center Conway said she has witnessed the decline of her husband Dave's condition since the Mount Washington Valley Adult Day Center closed, noting her husband no longer had something "to go to."

She wrote the panel that the time is now to reopen these day centers for the mental health and well-being of her husband and so many others out there who need the help.
Her husband, Dave had become a regular at the Mount Washington Valley Adult Day Center, which opened six months ago, and was doing great while it was open.

In an interview before the pandemic, Martin told InDepthNH.org about the opening of MWV Adult Day Center, that it had become a godsend for both of them. He started when he could no longer drive himself to the gym or ski with his buddies after hearing a story of him standing with one shoe on and one ski boot on in the lodge at Cranmore.
Friends said he did not know whether he was taking his boots off or putting them on to go home. The heartbreaking realization that he could not drive anymore arrived when a clerk at the Sunoco station near their home approached her to say to her "I worry" because of his confusion and his repeated and constant efforts to give him an Irving card.
At the center, he thrived, but without it, there have been impacts on health.

Julie Anne Van Dyne, the center's nursing coordinator, wrote to the committee that social distancing for this population particularly, allows their conditions to worsen. She asked such centers be allowed to return to provide a "lifeline for caregivers" who need to go back to work as well.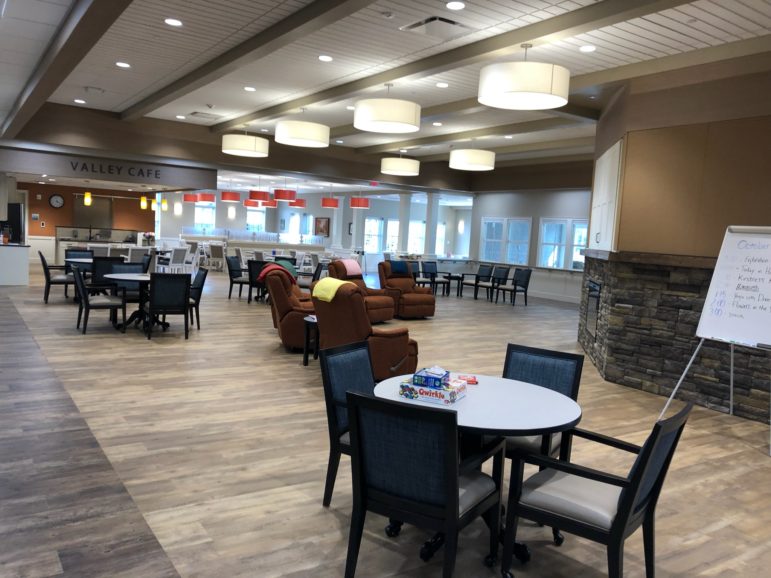 The governor's advisory board concurred. Last week, they found that adult elderly, while physically most at risk for the most negative outcomes from COVID-19, were suffering under the stay-at-home orders.

The task force noted a "disheartening number of individuals experiencing significant cognitive decline," since March.
The thrust of the guidance allows existing CDC rules on COVID-19 to be followed, a limit on the size of groups, focus on screening and sanitizing, and wearing masks unless it creates a negative impact like breathing.

Adult Care
There are currently 17 licensed centers that serve close to 1,000 a day, according to the NH Adult Day Services Association.

Wendi Aultman is a bureau chief for the state Bureau of Elderly and Adult Services in Concord. She said the state has been losing licensed adult day centers in recent years in part due to reimbursement levels and access or transportation to adult centers.

She said Easter Seals operates two smaller day centers in Rochester and Manchester but the state has lost a facility, TLC, in Concord and she believes there was one in the Lakes Region prior to her tenure. There is one listed in Nashua.
http://www.adultdaycareofnashua.com/
She said the state completed a four-year state plan for aging in 2019 https://www.dhhs.nh.gov/dcbcs/beas/spoa.htm which involved stakeholders from every region and there was a lot of talk about the need for more day centers.
"There are workforce issues and needs for services" because she said such facilities allow workers to stay in their jobs who would otherwise need to be at home caring for their loved ones. While there is not a lot of formal evidence, she said there is anecdotal evidence that social interaction at day centers help those facing dementia and allows for them to stay at home longer and avoid expensive nursing homes.

New Center
After four years of planning, the White Mountain Adult Day Center opened last September at 987 East Main St. in Center Conway. It is a collaborative community effort funded in large part by philanthropy, but it has been on hold for three months.

The 14,000 square foot, state-of-the-art environmentally friendly facility has a capacity for 60 clients when at full operation. It had on any day between 16 and 20 clients before it closed due to the pandemic.

The center has transportation – an electric vehicle – to bring clients there and take them home. Inside the center, it is almost a little village. There is a hair salon, studio, spa, cafe, dance studio, activity rooms for arts and crafts, and an outdoor sculpture garden almost an acre in size designed by Sandwich resident Rick van der Poll.
It is a natural native environment with blueberries, enough for clients to pick 10 gallons last fall. There is an herb garden used to make rosemary bread, group center for lectures, and more.
"This place is absolutely wonderful," said Martin, noting the Veterans Administration was paying for Dave to be there for five hours a day twice a week and she was hoping that they would add another day onto his week.

"It gives him a reason to get up in the morning," she said, and it gave her five hours to do bills, clean the house, read a book "uninterrupted" or just enjoy some quiet. If she had to pay for it, the center would cost her about $15 an hour or $75 a day, comparatively less than it costs to have a home aide come to the house.

Private healthcare insurance does not cover the rate at most of these facilities. The benefit to Mount Washington Valley is one of the workforce opportunities.
Rather than leave the workforce to care for a loved one at home or force that loved one into long-term care, day centers provide a public benefit in allowing people to work.

The state estimates that by the year 2030 more than one-third of New Hampshire residents will be over the age of 65. https://www.dhhs.nh.gov/dcbcs/beas/spoa.htm.

Current Status
The Adult Day Centers are hoping to open by July 1 and to reduce or stop the cognitive slide which is going on across the country among dementia patients, said Sue Ruka RN, Ph.D. director of Elder Health Services and Population Health for the MWV Adult Day Center. She is employed by Memorial Hospital.

The impact has also been felt on care providers who are exhausted. She said she is hearing nationally about hospitalizations, injury, and in some cases deaths related to impacts caused by the social distancing resulting from COVID-19. Loss of sleep, loss of eating, increased effort to get out of the house, wander and depression among the things Ruka said the profession is hearing about.

"Caregivers are exhausted and some are thinking about nursing home placement," Ruka said, though many worry about the pandemic. The center has kept in touch with daily Facebook posts, Zoom activities and telehealth "but it is just not the same," Ruka said.

Ruka said the pandemic has allowed adult care providers to have more conversations, though she worries the financial impact of COVID-19 could lead to some centers closing. A unique partnership allows for the new center in Conway.

The Betty C. Ketchum Foundation owns the MWV Adult center and Memorial Hospital leases the building and runs the operation.
The MWV is licensed as an Adult Day Center by the state through Memorial Hospital and is licensed under Memorial Elder Health Services, which is part of Memorial. The two have a formal working agreement.

"There are a few types of Medicaid programs. We work mostly with CFI, which is Choices for Independence. We work with the case manager. They authorize up to five days a week (generally between 3 and 5) based on need and desire. We are always advocating for increases in Medicaid rates and coverage," Ruka said.

Medicare (which is for everyone over 65) does not cover adult day centers. "There are a few Medicare Advantage plans, I am told, that does cover, but nothing in our area," Ruka said.

Future Funding

U.S. Sen. Maggie Hassan, D-NH, has been involved in the issue and visited the center Feb. 18 for a tour and to discuss issues of aging. That was only a few weeks before the state of emergency went into effect in New Hampshire due to the pandemic.

During that visit, Ruka said the staff brought up reimbursement to Hassan as well as the issue of including no Medicare coverage.
Aultman said she is finding that both the Manchester and White River Junction, Vt. centers for veterans are "coming along" with the concept and are increasing direct home aid for veterans.

But for many, who are not veterans, there is not a lot of help. The Veterans Administration covers adult care centers for a large number of veterans.
"We work extremely well with the local VA and find them very supportive in encouraging vets to attend. They recognize benefits and needs," she said.

Some long-term care insurance plans cover such care but there are very few people who have such insurance, Ruka said. The center also has some funds from donations and a small grant from MaineHealth (operator of Memorial Hospital) that allow help for people to attend.

"We use it when people are pending (in process of applying for Medicaid or VA or may need help with additional days," Ruka said.

Philanthropy has played a key role in the development of the center. While the center is operated by the local hospital, the actual building and its 70-acre grounds were a gift in memory of Mount Washington Valley resident Betty C. Ketchum who died at age 90 in 2011, after seven years of care at the Merriman House at Memorial Hospital. She suffered from memory loss.

Her daughter, Wendy Ketchum and husband Norman Cloutier of Tamworth designed the facility to address what they saw as a gap in the area's offerings for early-stage memory loss. When it was completed, the gift from the Betty C. Ketchum Foundation was $9 million for the facility.

Wendy Ketchum said she hopes that the foundation's effort will offer the community respite, care, and love for generations to come. It represents, she said, lasting expression of her mother's love and support for her community.

A decision on reopening Adult Day Centers may come this week from the governor's office following review of draft guidance from the task force to the desk of Dr. Benjamin Chan, state epidemiologist who must balance the physical risks against the mental wellness issue.