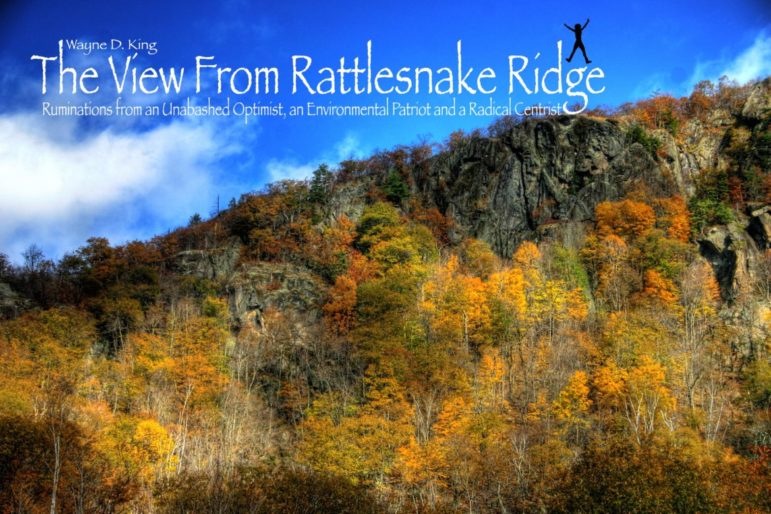 The View from Rattlesnake Ridge,
By WAYNE D. KING
Social Distancing is relatively easy here in the shadow of Rattlesnake Ridge and along Orris Road at the base of Welch Mountain in Thornton, where I've recently moved.
One only has to step out the door and head in any direction to find deserted trails and fresh air aplenty.
It's quiet and peaceful. Yet, like everyone else, I feel the cloud of our national crisis looming over me as I walk. I worry about my nephew Jeremy Maggin, in the thick of the battle as an ER Doc in Los Angeles, along with his wife, Stephanie, a nurse at Kaiser Permanente, administering tests to suspected COVID 19 victims.
My niece Hallie Jennings is a nurse right here in New Hampshire and I worry about whether she has proper PPE to protect her and the elderly patients for whom she cares. We are so proud of them and so fearful for their futures.
Walking along Orris Road for the first time since last fall, I feel a little like the old "Peanuts" character Pig-Pen, the dusty cloud of worry and caution tagging along just behind me.
But despite it all; despite the heartache for all the Americans who are suffering right now; despite the concern for friends and family and the unknown millions of others who are facing the financial and health challenges brought on by the virus; despite my silly sadness that my favorite old "wolf-tree" has fallen during the course of the long winter; I am also – like so many Americans – looking for hope and for ways that I can be of use to my fellow citizens. I am seeking hope and purpose in the wake of this international crisis.
The President, unsurprisingly, has been not only irrelevant but downright counter-productive. Am I sad and angry about that? Hell yes.
But let's set him aside for the moment. There's plenty of folks providing far more thorough critiques than I could in this column. Further to that, the calm, empathic and steady leadership of Governors Cuomo, Baker, Newsome, Sununu, and others provides a far more powerful countervailing force than anything else and I am thankful every day that they are providing that leadership. The time will come when we litigate the past few months but let us not be blinded to the hopeful signs that have arisen in the midst of the pandemonium because they contain the seeds of an American renewal – perhaps even a broader one.
Federalism, the system of government that divides power between the National and State governments has, ironically, been both the bane of our battle against the virus and our saving grace. The Federalist system, designed by those who gathered in Philadelphia in that smoldering hot summer of 1787 has provided the backstop for a Federal system crippled by 20 years of growing and bitter partisanship added to 50 years of growing income disparity.
When push came to shove, America's governors, mayors, and civic leaders have – for the most part – stepped into the breach created. Equally important, in the face of the pandemic Americans have chosen science and reason over the hollow rhetoric of a small number of wingnuts on both ends of the political spectrum. If you watch and listen, you can once again hear them singing the American song.
Leaders
Governors – especially Governor Cuomo who finds himself at the center of the crisis – Mayors, the media, Republicans, Democrats, and Independents, stepped forward to fill the leadership vacuum with common sense, courage and tenacity and, most importantly, honesty.
Healthcare workers, EMT's and paramedics, nursing home workers, truckers, police and firefighters, corrections officers, and the U.S. Military, including the National Guard, even grocery clerks, have all rushed in despite the dangers. Countless state and national workers, most of whom we will never even know have been propping up the system, are also going to work every day despite the dangers.
These are the folks so cynically labeled as the "deep state" by those who don't understand that they are the heroes who make government work for us. They too are stepping up in this time of crisis. Even the Congress set aside differences to stand together in our hour of need.
In short, while the administration has failed us, Americans have come together and they are getting the job done. It's not pretty . . . but it is truly beautiful.
Americans have come together in an unprecedented fashion and while it may seem premature to look to the day when the smoke will have cleared, for me it seems the most useful thing I can offer that will honor the magnificent heroism of those who have the talent and heart to wade into the medical crisis while so many of us do our – admittedly modest – civic duty by staying at home.
The Coronavirus crisis has laid bare many of the weaknesses that have developed in our society over my lifetime.
Healthcare
For my entire life, we have stood by as advanced countries all over the world created healthcare systems that served ALL of their people while ours left millions behind, even though we have spent more per capita than any of the other nations. We should not emerge from this crisis without a national system that provides healthcare to every American.
Income Inequality
1973, the year I graduated from high school, was the last year that middle-income wages and those of the poor and working-class grew, beyond the cost of living. Yet during all those years, the taxes of those same Americans continued to educate generations of children, build and maintain roads and bridges and airports and railroads that guarantee a vibrant, mobile and innovative workforce for the 1% who have seen their wealth increase a thousandfold.
Our smartphones are crowded with apps created largely through the sweat and generosity of the American people – who through their taxes have financed the research of an alphabet of agencies from DoD, to USDA to NASA, DARPA, and ARPA where research drove the development of the Internet and the Apps that have created cost-free avenues to wealth for many.
If you are a regular reader of this column you have already read many of my arguments for Universal Basic Income. Principally based on the belief that UBI (or whatever you choose to call it) should represent a fundamental recognition that Americans at every income level have, for years, invested in the American economy but we have yet to recognize a means of rewarding average folks for the equity value that is rightfully theirs.
There are also a host of other social challenges that can benefit from a universal recognition of the investments of every American in the capitalist economic system ranging from reparations "due" nearly every social group to freeing the poor and working-class (commonly referred to now as the "precariat") from the "welfare pimps" of the left and the "welfare demonizers" of the right, and the challenge of providing quality, well-paying jobs in the new "gig economy.
New research being done into linking UBI to block-chain technology offers very promising ways of fairly determining what portion of the equity value within the economy should be allocated to various sectors of the economy – INCLUDING INDIVIDUAL AMERICANS, as well as how to assure that resources to fund a UBI are available and fairly assessed and preventing anyone, or any group, from gaming the system.
Bear in mind that the lion's share of the cost of a UBI can be funded by simply reallocating funds already being spent to provide our social safety net, used far more efficiently because we will be able to squeeze most of the bureaucratic costs out of such a system. We may even be able to take a shot at other challenges like college and trade school tuition, child care, paid family leave and a host of other expensive ideas – converted from "entitlement to al-la-carte personal priorities."
There is no better time than now to begin. The Corona Virus has already compelled us to institute what is a temporary form of UBI to assure that Americans can survive the economic hit of this crisis. A Universal Basic Income would provide stability to the economy as we emerge from the Corona crisis and unleash a wave of entrepreneurial activity that truly would create an economic renaissance. UBI is not a liberal or a conservative idea – after all, it was most recently proposed by President Richard Nixon and conservative economist Milton Friedman but it is also supported by liberal economists like former Labor Secretary Robert Reich and Libertarian thinker and economist Charles Murray.
Climate Change
While we are on the subject of saving capitalism and the planet. There is no better time to adopt the Carbon Fee and Dividend idea first proposed by conservatives George Schultz and James Baker. With the cost of gasoline at historic lows, this bi-partisan idea will allow us to leverage the existing marketplace cost of carbon-based fuels and the lull in atmospheric carbon dioxide production. The existential crisis of climate change has witnessed a temporary reprieve. With millions of cars taken off the roads, we have been given a rare opportunity to look to the future and take action now, while the opportunity still exists. The fee and dividend concept presents a market-driven means for assessing fees in a low-bureaucracy manner and further boosting the monthly income of middle class and working-class Americans by putting a carbon dividend in their pocket on a monthly basis.
Renewing the American Spirit through National Service
While our young men still register for the Selective Service, even with an all-volunteer military, women are not expected to do so. The Peace Corps is a shell of its former glory and AmeriCorps – as great as it is – remains an enigma to most Americans. We have lost the national pride and the unity of purpose engendered through the expectation that all should serve the country in some capacity. Universal Service for every young person in America provides a pathway to moving beyond the poisonous partisanship that has infected our country.
Restoring a Vibrant Democracy
We are already seeing the cracks in our democratic system created by trying to preserve democratic institutions in the age of the Corona Virus, especially our national franchise – the vote – as difficult as it is to find consensus in this era of partisanship, we must find ways of assuring that no American is disenfranchised and every American can easily register to vote and cast their vote in elections.
Pandemics are never happy but in the very brief history of humans on this planet the one constant seems to be that they have opened the doors for social changes that served the greater good. The Black Death was also the death knell for serfdom and the beginning of the enlightenment and the birth of a middle class. The 1918 Flu Pandemic ushered in the social safety net of Social Security, Medicare, and women's suffrage.
To achieve these things we will need to take full advantage of the spirit alive in America right now. The notion that we are all in this together and the belief that we can emerge from this hell a stronger, better and wiser people. We can begin by making every possible effort to end the marginalization of people and the demonization of those who do not share our social and economic circumstances.
There is no shame in being wealthy and there is none in being poor. But there is shame in acting as though that wealth is ever actually self-made, just as there is shame in believing that someone else owes you a living and that self-improvement and self-sacrifice are for other folks, not me.
To Jeremy, Stephanie, Hallie, and the millions of Americans on the front lines today, if I am here when the smoke clears I pledge to you that I will fight every day to assure that this tragedy yields to an American renewal that will make you proud to have fought the fight to save us all. I believe that most of us will do you that honor.
About Wayne D. King: Wayne King is an author, artist, activist and recovering politician. A three-term State Senator, 1994 Democratic nominee for Governor, now a registered Independent; he is also the former publisher of Heart of New Hampshire Magazine and CEO of MOP Environmental Solutions Inc., and now the host of two Podcasts – The Radical Centrist (www.theradicalcentrist.us) and NH Secrets, Legends and Lore (www.nhsecrets.blogspot.com). His art (www.waynedking.com) is exhibited nationally in galleries and he has published three books of his images and a novel "Sacred Trust" a vicarious, high voltage adventure to stop a private powerline all available on Amazon.com. He now lives in Thornton, New Hampshire at the base of Welch Mountain where he proudly flies both the American and Iroquois Flags. His website is: http://bit.ly/WayneDKing . You can help spread the word by following and supporting him at www.Patreon.com/TheRadicalCentrist .
About Hope in Our Time
The welcome blossoming of Trillium and Dutchman's Breeches heralds the coming of spring even when surrounded by the roots of a dead tree and the subtle suggestion of darker forces in the background. https://www.waynedking.com/workszoom/3513493#/