By PAULA TRACY, InDepthNH.org

MEREDITH – New Hampshire's ski industry enjoyed a great winter with an estimated 4 percent increase in visitors from the previous winter.
Jessyca Keeler, Ski NH executive director, told members at its annual business meeting on Monday that the season, which started early and "never really let up" brought an estimated 2.3 million skier visits in the 2018-19 ski season.
She estimates that there were 2.1 million annual alpine visits, representing 90 percent of the annual visits and that there were 119,421 cross country visits up, 2 percent from the previous winter.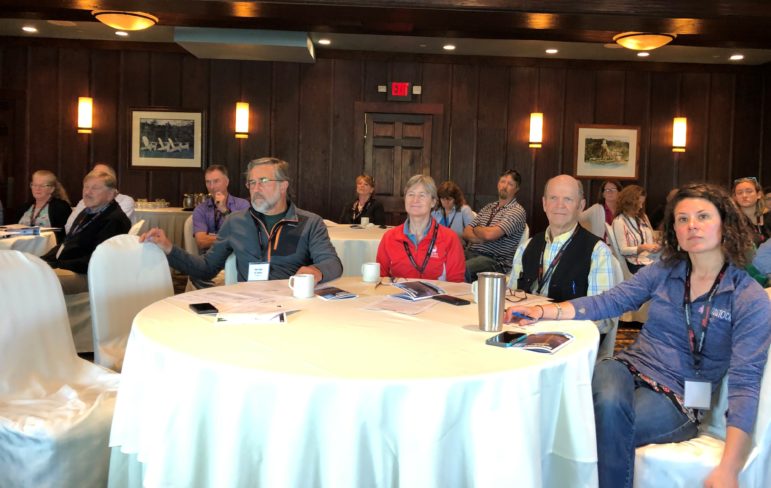 An area that saw a significant increase was in snow tubing, which shot up 18 percent from the 2017-18 season.
Cranmore Mountain Resort in North Conway had the longest season in its 81-year history.
Across the state, November and December visitor numbers were significantly higher than average due to early season snowfall, Keeler told the annual gathering at Church Landing at Mill Falls in Meredith.
March in 2019 was not as gang-busters as March in 2018 when tons of snow that year helped produce larger than normal skier visits.
Additionally, ski operators were told that the state expects to unveil its summer travel predictions later this month in Littleton where the state is projecting an incredible summer with visitor spending up and more than $100 million expected in state rooms and meals tax revenues.
Ski areas have been moving toward making more activities available in the summer season at their resorts and have seen this as a growth area.
"We are headed in the right direction," she said.
The industry used state joint promotional funds last year to produce marketing products to promote summer activities at ski areas, said Shannon Durfey-Ball, Ski NH marketing, and communications manager.
The state has partnered with the organization, which represents a majority of the state's ski resorts, to promote skiing, said Becca Deschenes, marketing committee chair, and marketing director at Cranmore.
She expects a "robust" marketing campaign with the revival of the "Live Free" motto which focuses the message on variety and proximity to its markets, which are New England, New York, Montreal, and Toronto.
The organization got to see some videos produced in partnership with the state that focused on outdoor tourism.
Olympic skier Sue Wemyss, ski school director at Great Glen Trails, noted with some dismay the lack of cross country footage in the promotional products out there, adding that they were missing the opportunity to market to a demographic which is moving away from downhill skiing and would like to know what other options are nearby.
Keeler said there is an evolution to more lifestyle promotion which shows everything to do in New Hampshire from snowshoeing to mountain coaster riding.
Bruce Berke, who handles legislative affairs for the organization at the State House, said there is currently a lot of uncertainty on how the next biennial budget will be crafted in the coming weeks and that some of what is kept in or taken out of the budget may impact ski areas.
Keeler said Plymouth State University is now working on an economic impact study for the industry and a preview includes the estimate that the industry employs 6,000 to 10,000 a year and represents $500 million in annual economic output.
When factored together, Keeler said the industry is the fifth largest employer in the state and its fourth largest in winter.