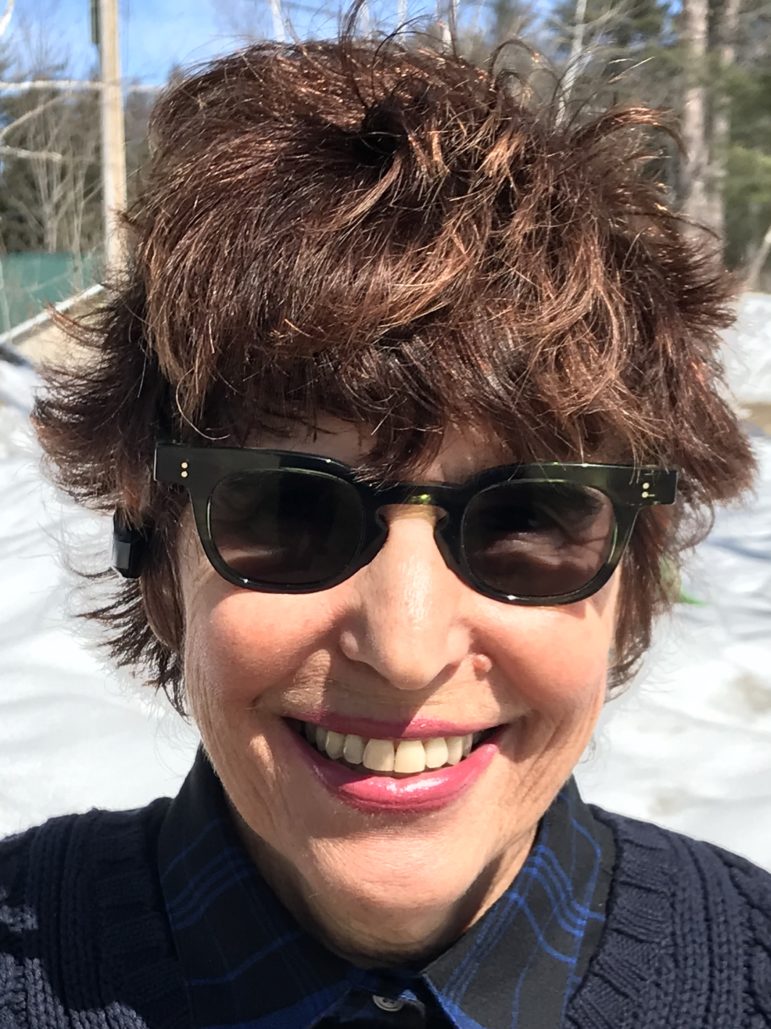 Welcome to InDepthNH POINTS NORTH, our reporting on North Country business and entertainment news and community event listings. If you know what's happening, tell Rachael Brown at rachaelbrown@roadrunner.com.
The Sweetness of Success at the Crumb Bar in Littleton
By Rachael Brown, InDepthNH.org
LITTLETON – "Breaking records over here. Today was our second busiest day ever," proclaimed Kaylee Klein on her Crumb Bar Facebook page the day before Easter this year.
The Crumb Bar, which began as the Crumb Bum Bakery is turning up the heat at 97 Main St. in Littleton.  The custom bakery at first operated out of an apartment building selling specialized baked products at local farmer's markets and for wholesale distribution.
Kaylee Klein, pastry chef and owner along with her partner Chris Sweeney succumbed to positive peer pressure; customers were asking for a store. In December of 2018, they opened the brick and mortar bakery.
"We were at farmer's markets, making custom cakes, selling wholesale and making wedding cakes, which really took off. People got to know us, saw our vision, what we are embracing," said Klein, speaking from the bakery's side room on an overcast, cool Sunday. It may have been cloudy outside, but it was sunny inside the busy bakery.
"All great mountain towns have a few things in common, access to the outdoors, great breweries and great bakeries. We have one here [brewery] and are looking to offer the other," stated Sweeney in their Crumb Bum Bar Expansion Crowdfunding video.
Speaking of crowdfunding, Klein, says they began by taking out a small loan and then had a $30,000 crowd funding appeal.
"We were able to raise the money and received sixteen thousand from the community," explained Klein.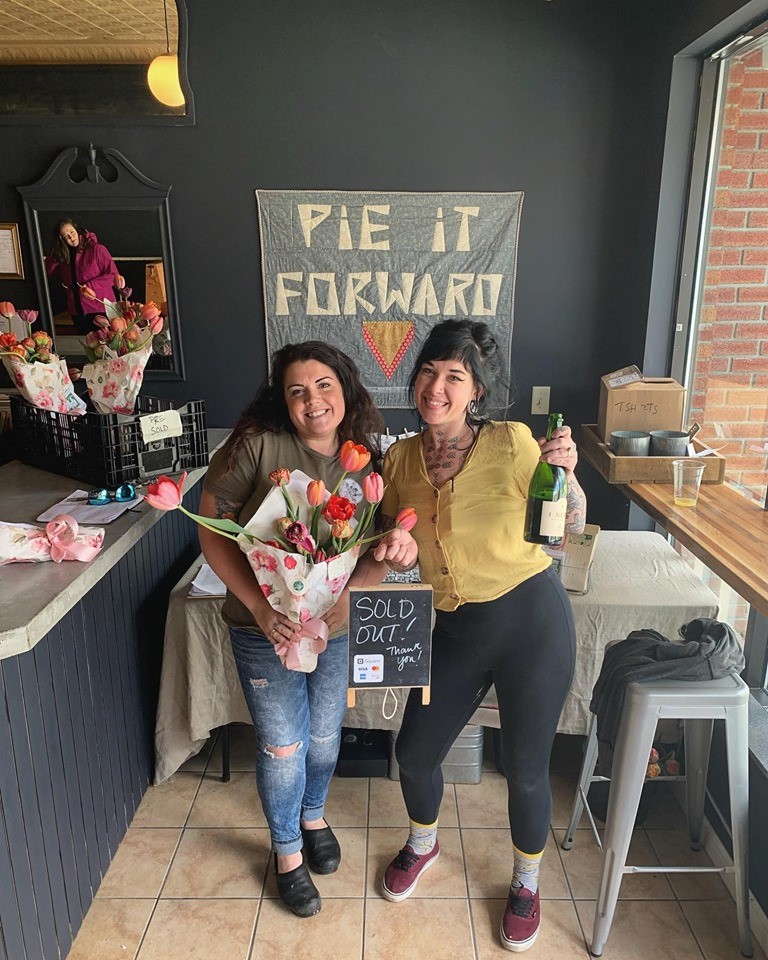 The Crumb Bar- as it is now called- is up and churning out sweet items like key lime pies with toasted meringue and graham cracker crumbs, chocolate raspberry, fruity pebble, burnt honey and toasted peanut macaroons and savory delights such as basil and walnut goat cheese croissant and the new creamy sage chicken salad on house plain croissant.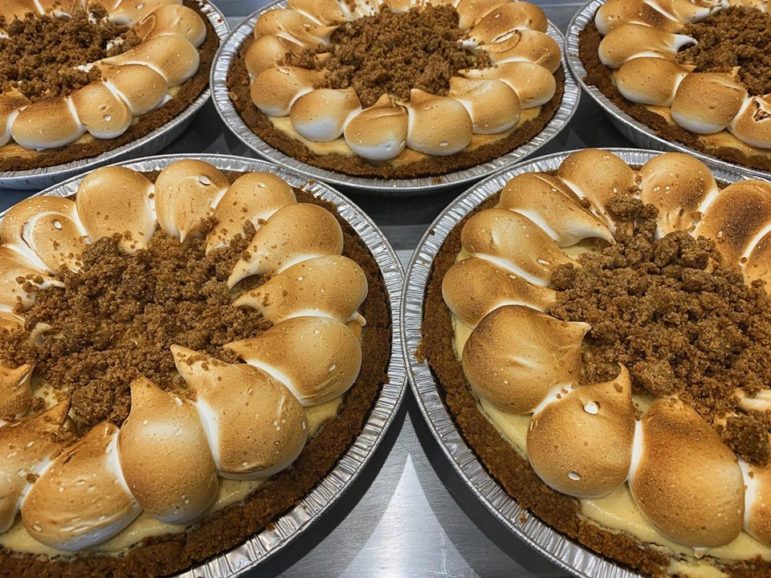 Klein was on hand at the bakery – the former location of Emishika Alberini's POP M, to tell her story.
"The owner of Chang Tai, [Alberini] right down the street, owns this space and the one next door, which we plan to expand into. We did a lot of renovations, peeled off layers and found the original tin ceiling. There is new lighting and painted walls, counter space and wooden booths," said Klein of the cosmopolitan décor, with grey flannel walls, wainscoting and light wooden booths. Mirrors and art work adorn the walls.
Fortunately, Sweeney is handy and helped with some of renovations, added Klein. He also owned the apartment building where they began.
"I like to say this about the Crumb Bar, 'Big city tastes in small downtown Littleton,'" she added.
So, how do two millennials from far away-Klein is from Tampa, FL, has lived in New York City and Nashville, while Sweeney is from Nashville- raise a family and open a business in the North Country?
"Chris had friends from Nashville who were here. They got us to move. I read that Littleton and Bethlehem are getting younger. This area is appealing to younger people with the outdoors. Chris likes the outdoors and winter, I like hiking and water. Plus, you could never do this anywhere else. We had a lot of support," stated Klein.
It also helps that they both have experience in the hospitality industry.
"Chris used to manage a bar and tap room. I went to pastry school in New York City and worked in Manhattan," added Klein.
Sweeney and Klein have a toddler son.
"My son loves the cinnamon rolls, though sometimes he doesn't like to come in here only because he knows I never leave. He does walk around like he owns the place," beamed Klein.
Raising a family, starting a business in an area with a very long winter has its challenges.
"I was a new mom, just had my son. There was lots of learning, but we grew at a pace which you need to grow, keep it slow and keep quality. We closed for April this year and people were bummed out. I don't think we'll do that again. I am pleased with the business and didn't think we would expand so soon," explained Klein, adding they hope to add beer and wine and expand hours and the space this summer.
And, what about those winters?
"Oh, I had to adjust to winter. This is my fourth winter and winters are hard, but I pushed to do it, to do my own thing and to be a part of the community," smiled Klein.
For more information: https://www.facebook.com/crumbbar/
Tour de Borderlands, Next Stop East Hereford, QC
Back in 2017, the Northern Forest Center began working with small mountain biking groups in northern New Hampshire, northern Vermont, Maine and Quebec to promote trail riding, to strengthen the trail network, to build an identity, to encourage the local community to ride and to draw more people to experience the Northern Forest and North Country in a different way.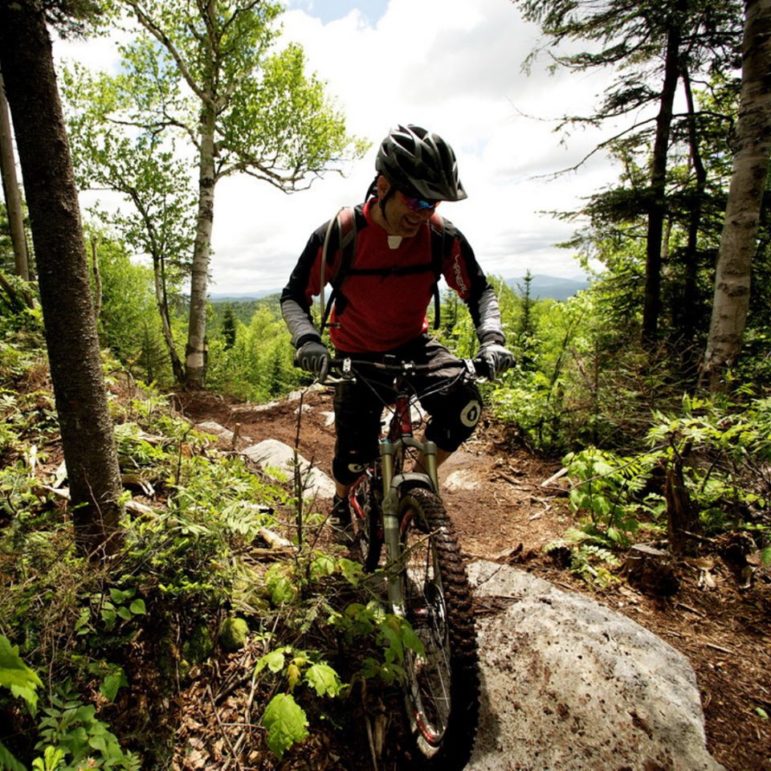 The six group MTB Collaborative, Borderlands includes: Coos Cycling Club, Gorham, NH, Mahoosuc Pathways, Bethel, ME, Kingdom Trails, East Burke, VT, Franconia Area Chapter of the New England Mountain Bike Association, Franconia, PRKR MTN, Littleton, NH and Circuit Frontiers, East Hereford, Quebec.
This year Bike the Borderlands is offering a Tour de Borderlands, a series of seven stops. The first stops were at Profile Trails and PRKR in Franconia and Littleton, May 18th and 19th. Next up, Circuit Frontiers East Hereford, QC, June 8th, Mahoosuc Pathways, July 13th, Kingdom Trails, August 10th , Craftsbury Outdoor Center, Craftsbury Common, VT, September 8th and last tour, Coos Trail, Gorham, NH, September 21st..
"It is more than a series of stops, we are also collaborating with economic development and branding. We looked at what is right geographically, within a two hour driving radius, east to west and north to south. We looked at trail quality, commitment. The bike organizations are small, volunteer driven and we want to make it bigger and better," said Maura Adams, program director for Northern Forest Center.
The Tour de Borderlands is also offering a challenge. Ride all seven destinations and to prove you were there, take a photo on the trail and at one of the businesses in the area. Enter the photo in the contest by TAG # borderlands on Instagram, post to Borderlands Facebook page or email; info@bikeborderlands.com.
The prize is a weekend getaway at one of the Borderland towns of choice. The deadline is September 14, 2019. Winner will be announced at the final tour, Coos Trail in Gorham, NH on September 21, 2019.
So far the tour turnout has been robust.
"It has been really nice, about eighty to one hundred people showed up for the first tours. We are not sure how many will show for the next stop, Circuit Frontiers. We are excited to get people to East Hereford, though. The riding will be different than in New England. After all, it is another country and just barely across the border," added Adams.
The Northern Forest Center coordinates the Borderlands and Adams wanted to thank the funders.
"Borderlands gets funding from foundations, federal agencies, and private contributions. The USDA Rural Development, the Northern Border Regional Commission, The Neil and Louise Tillotson Fund, the new Hampshire Charitable Foundation, the David Conservation Foundation and the Economic Development Administration, US Department of Commerce," she added.
For more information: https://www.facebook.com/BikeBorderlands/
Taxes in Retirement
Littleton Opera House
2 Union St.
Tower Room, Littleton. Thursday, June 6th, 11 a.m. to 12:30 p.m.
This Mountain Life
A film examining human passion set high in the peaks of British Columbia
Colonial Theatre
2050 Main St., Bethlehem, 603-869-3422, Friday, June 7th, 7:30 p.m.
Pollyanna Glad Day
All day free celebration
Littleton Public Library
92 Main St., Littleton, Saturday, June 8
Free Training: Quickbooks Desktop, presented by Crane and Bell CPAs
Summit by Morrison
56 Summit Drive, Whitefield
Thursday, June 13th,  9 a.m. to 3 p.m., Lunch Provided
Pre-registration required: Chris Bryne, 603-788-4928
chris.bryne@craneandbellcpas.com
Dad's Golf and Fly Free, Omni Mount Washington Resort
Bretton Woods
A complimentary round of golf or free canopy ride for dad with the purchase of a full price canopy Tour or round of golf
Canopy Tour Reservations —call 603-278-4ZIP (4947); Golf Tee-times: call 603-278-GOLF (4963). June 16
\