Sign up for InDepthNH.org's free newsletter here.
By NANCY WEST, InDepthNH.org
The redacted list of police who have been disciplined for dishonesty, excessive force or mental illness appears to be growing at a fast pace as the lawsuit seeking its release heads to court on Monday and a lawmaker fights to make it public by law.
The list grew from 249 redacted names to 258 in just six weeks from the Nov. 29, 2018, update to the most recent one InDepthNH.org obtained last week that was dated Jan. 11, 2019. The June 1, 2018 list had 171 names.
The March 2018 list had only 153 names.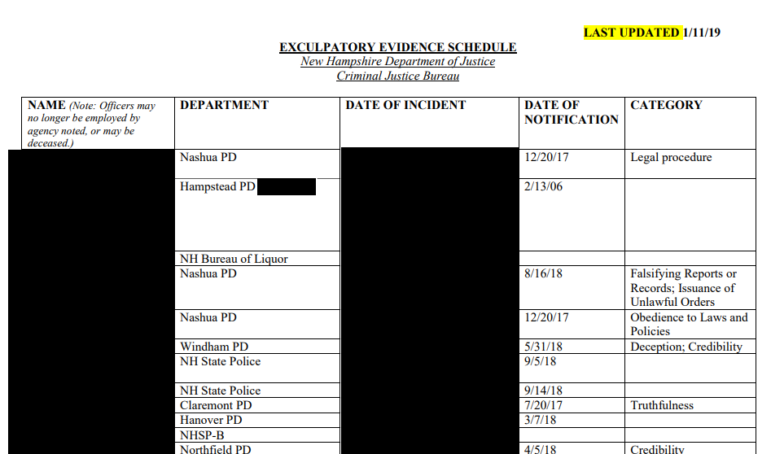 The public records lawsuit filed last October by ACLU-NH and six news outlets, including the New Hampshire Center for Public Interest Journalism, will be heard Monday in Hillsborough County Superior Court South in Nashua with Judge Charles Temple presiding.
Gilles Bissonnette, ACLU-NH's legal director, argued at a related hearing last October that the list should be public.
"We're dealing with misconduct that goes to the heart of what a police officer's job is, that officer's trustworthiness, the character traits that go to the core of an officer's job functions," Bissonnette said.
At the same hearing, Solicitor General Daniel E. Will argued that the list, now called the Exculpatory Evidence Schedule and formerly known as the Laurie List, is confidential by law. The state argues, too, that the law protects the privacy rights of police officers from making public disciplinary records in their personnel files.
Examples of the discipline that could land an officer on the list include: a deliberate lie during a court case, falsification of records or evidence, any criminal conduct, egregious dereliction of duty, excessive use of force or mental illness or instability that caused the law enforcement agency to take some affirmative action to suspend the officer for evaluation or treatment as a disciplinary matter.
Parallel proceedings
Legislation sponsored by state Rep. Paul Berch, D-Westmoreland, that would make serious police discipline public and allow officers a process to fight the discipline are being heard in Concord.
The full House is expected to vote on House Bill 153 this week. It allows serious police discipline to be made public. House Bill 155 allowing officers to challenge the discipline, will be heard by the House Judiciary Committee on Tuesday.
"It may be that what the court decides affects the need for some of the legislation. The court may decide based on the constitution or statute that Laurie List must be public. Then we don't need legislation," said Berch, a retired public defender.
"As citizens, we need to know what our employees are doing, especially employees who have the authority to wear a gun and arrest and jail people. People need to know if this authority is being handled in a responsible manner," Berch said.
His legislation would also protect police who fear the Laurie designation as a career stopper. Police fear that they won't be promoted or able to do certain jobs if they are limited in their ability to testify at trials.
The bills also assure accountability and transparency when it comes to police discipline, Berch said.
No answers
Senior Assistant Attorney General Geoffrey W. Ward was not available all of last week to explain some questions raised in the release of the latest list.
However, the rapid increase in listed names may be attributable to police departments around the state completing the certification process, which shows they have gone through all personnel files to make sure no officers have been overlooked.
This process was required by former Attorney General Joseph Foster when he released rewritten and updated Laurie List protocols in March 2017.
Foster required police chiefs provide their updated lists to the local county attorney and to the attorney general by Sept. 1, 2017, and then re-certify that the list is up to date every year. Last April, Attorney General Gordon MacDonald issued a memo to clarify Foster's update.
That certification deadline has been pushed back several times, but the most recent certification list shows some departments are still out of compliance.
Although most of the departments listed are police departments, sheriffs' departments and corrections officers, some entries raise questions that the Attorney General's Office has declined to answer.
The category entries mostly involved an officer's credibility and untruthfulness, but some included sexual harassment, excessive force, egregious dereliction of duty, receiving stolen property investigation and deliberately lying during a court case or administrative hearing.
There has been no explanation, for instance, for the listing of the medical examiner's office, the Department of Corrections/ Secure Psychiatric Unit or another one that says "Bedford PD Justice Department," which lists "truthfulness" under category and 9/14/18 as date of notification.
The names of the officers and the dates of the incidents are totally blacked out. Many of the listings under categories and date of notifications are blank. In most cases, the department section is filled in, but some are difficult to interpret.
For example, some list two departments under the same category making it unclear if there are two officers involved or one that works at two different departments. Another lists "2 findings," making it unclear if they are against the same or two different officers.
Mandatory disclosure
The Exculpatory Evidence Schedule is kept to alert prosecutors when testifying police officers have credibility, excessive force or mental health issues that resulted in discipline.
Prosecutors are then constitutionally mandated to disclose the discipline to criminal defendants if it is considered exculpatory evidence – that is favorable to the defendant – who could use it to impeach an officer's testimony.
Failure to disclose could result in the conviction being overturned if discovered down the road or discipline could be brought against the prosecutor in egregious cases.
The mandate is the result of the U.S. Supreme Court Brady v Maryland. Foster's update explained the 1963 landmark case that established the obligation of a prosecutor to provide potentially exculpatory evidence to the defense.
He quoted the court's decision: "Society wins not only when the guilty are convicted, but when criminal trials are fair; our system of the administration of justice suffers when any accused is treated unfairly."
Foster continued: "This bedrock principle of the criminal justice system forms the basis of a prosecutor's obligation to inform criminal defendants of any exculpatory and/or impeachment evidence which relates to their case."
"Exculpatory evidence is evidence that is favorable to the accused. This includes evidence that is material to the guilt, innocence, or punishment of the accused or that may impact the credibility of a government witness, including a police officer."
Laurie history
The term Laurie List comes from a New Hampshire murder case.
Carl Laurie's first-degree murder conviction was overturned in 1995 because prosecutors allowed a police officer who had been disciplined for dishonesty provide critical testimony against him.
Laurie was convicted of murdering Lucien Fogg. On April 21, 1989, Fogg's body was found in the woods near his Franklin home. He had been beaten and stabbed to death several days earlier.
Laurie had been sentenced to life in prison with no chance for parole, but after his conviction was thrown out he pleaded to a lesser offense and was eligible for parole. But he walked away from the North End Transitional Housing Unit in Concord on Oct 29, 2008 and later received an escape conviction. He is expected to be eligible for parole again in 2025.
The media outlets participating in the ACLU-NH public records lawsuit besides the New Hampshire Center for Public Interest Journalism are the Nashua Telegraph, the Union Leader, the Concord Monitor/Valley News, the Portsmouth Herald/Foster's Daily Democrat, and the Keene Sentinel.
Read our full list of coverage of the Laurie List here.
InDepthNH.org is New Hampshire's only statewide, nonprofit daily news outlet. Reach Nancy West by email at nancywestnews@gmail.com