By PAULA TRACY, InDepthNH.org
CONCORD – A bill that would legalize, tax and regulate adult use of marijuana in the Granite State was heard before a crowd of more than 200 people in Representatives Hall on Tuesday.
The event marked the beginning, in earnest, of a major debate on the merits of a regulated cannabis market in the Live Free or Die state.
Surrounded by states and a Canadian province that have already legalized pot, the question now is whether it is a good or bad idea to be an island in a sea of green.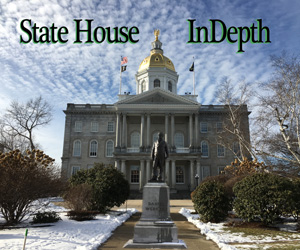 Kate Frey, of New Futures New Hampshire, an opponent who served on a statewide commission that studied possible legalization, said House Bill 481 is irresponsible legislation that does not protect the state, particularly its children.
"Since 2013 we have had a robust medical program with 7,000 participants," she said, but this measure would allow for a high-potency drug with no limits and it would allow for vaping in public.
"We are an island," Frey said, acknowledging the state is surrounded by the legalized drug, but insisted New Hampshire should remain that island for its families' health.
"Marijuana is a harmful addictive product, especially for kids," she said. "Their brain is still developing" and the drug would damage it.
Paul Twomey of Chichester, another member of a commission and a retired criminal defense attorney, said studies show legalization of adult use actually keeps kids safe.
In five states that have decriminalized cannabis, Twomey said, youth use has declined.
He said legalization would effectively limit youth access to other drugs sold on the black market, including opioids.
Republican Gov. Chris Sununu has not supported legalization in the past but advocates said they hope he will be open-minded as the conversation goes forward through House Bill 481. He has said the state is in an addiction crisis and this would add to the problem rather than improve it.
An override of a veto would require two-thirds support in both House and Senate.
Advocates believe legalization has the best chance ever of passing in New Hampshire this year because the November election brought in a number of new legislators who campaigned in support of legalization.
House Bill 481 as introduced, follows many of the recommendations from the bipartisan state commission that looked at how the state might want to regulate it if it decided to legalize.
The bill's prime sponsor, state Rep. Renny  Cushing, D-Hampton, also chairman of the House Criminal Justice and Public Safety Committee which heard the bill, said the time has come to take pot out of the hands of drug dealers and treat it like alcohol, controlled for use by adults age 21 and over.
Raymond student
Alex Cooney of Raymond, a student, said there is already a misperception among his peers of the risk of marijuana. Legalization would only make that worse if the measure is passed, he said.
Bedford Police Chief John Bryfonski, representing the New Hampshire Chiefs of Police Association, also opposed the legislation.
For police, it would be difficult to test for impairment among drivers of cannabis, he said, and there is no solution on the horizon.
The state has already decriminalized small amounts and has taken measures to provide for medical use, but adult legalization is a different thing, he said.
"It's just not the right choice for New Hampshire," Bryfonski said.
Dr. Joe Hannon, a member of the study commission, supported the bill and said New Hampshire kids have no problem accessing the drug on the black market now, which might change if it is legalized for adults.
It is not a completely harmless substance, he conceded, adding neither are alcohol or tobacco.
"Do we want the market to be run by criminals?" Hannon asked. "Or do we want a regulated market that is responsible and allows adults to choose."
David Crawford said the measure is long overdue.
"I was a kid once but I smoked pot," he said. "It wasn't the big horrible thing."
There were about 50 speakers at the hearing, split among opponents and supporters. At the beginning of the hearing, a list outside the hall showed 115 attending who did not want to speak, with 41 indicating they opposed the measure.
The bill is opposed by New Futures, a nonprofit public health lobby, the New Hampshire Medical Society and individual physicians, the New Hampshire Chiefs of Police and the New Hampshire State Police associations, the Roman Catholic Diocese of Manchester and the American Automobile Association.
It is supported by the American Civil Liberties Union and Americans for Prosperity – New Hampshire, among others.
Legislative history
After vetoes in 2009 and 2012, New Hampshire passed a law allowing for the medical use of marijuana in 2013. It passed a decriminalization bill in 2017.
A legalization bill has never made it to the Senate, though it has passed the House on two occasions.
Cannabis is now legal for adult recreational use in 10 states and the District of Columbia. Nine states, including all the states surrounding New Hampshire, have allowed for marijuana to be regulated and taxed. Vermont, which passed legalization last year, is developing a plan to allow for its sale.
Matt Simon, New England political director for the Marijuana Policy Project, called the political climate for this bill "very favorable."
"It's the only chance. We've never had a prayer in the Senate," he said. Two other legalization bills that passed the House never made it to the Senate as they were killed in House Ways and Means.
While he said he is somewhat optimistic this will be the year the bill gets passed, "I am very optimistic in the long view," describing that time frame as the next five years.
A work session on this bill is scheduled for Wednesday before the Criminal Justice and Public Safety Committee.
THE BILL – A WALK THROUGH House Bill 481-FN-A-Local, as introduced.
The bill says it is in the state's interest that law enforcement focus on violence and property crimes rather than arresting people for consuming marijuana or cannabis and there are values to generating revenue for education and individual freedom.
It has been estimated that taxing marijuana could raise $33 million a year.
It would tax marijuana at $30 an ounce. Thirty-three percent of that money would go to the general fund. The rest would be distributed to public health and education, law enforcement and first responders.
It would declare the use of cannabis to be legal for a person 21 years of age or older and be taxed in a manner similar to alcohol.
It would be illegal to sell it to minors and driving under the influence would remain illegal.
Cannabis that is sold would need to be tested, labeled for content, and subject to additional regulations.
An ounce of marijuana or "pot" in New Hampshire costs about $300 to $400 an ounce on the black market, but at dispensaries in states that have offered legal sales for years, including Colorado, that cost has dropped to $200 an ounce.
People would not be allowed to grow cannabis in public view, or within access of a minor. It could only be grown on property controlled by the grower and public smoking would be prohibited with a fine of not more than $100.
It would also be prohibited to be consumed in a moving car, boat, aircraft or recreational vehicle with fines of not more than $500 or suspension of license for up to 6 months upon first violation.
It would also continue to be illegal to sell outside of a state controlled dispensary.
The bill looks to create a cannabis control commission with regulatory and licensing authority over cannabis establishments.  The commission would consist of the chairperson of the commission and two commissioners who would be nominated by the governor within 30 days of the bill's passage.
A link to the bill is here.http://gencourt.state.nh.us/bill_status/billText.aspx?sy=2019&v=HI&id=28&txtFormat=html