By NANCY WEST, InDepthNH.org
CONCORD – House Speaker Stephen Shurtleff has agreed to accept anti-harassment training the House Republican Alliance provided to 31 members in place of the mandatory program required by a recently passed rule.
Shurtleff, a Concord Democrat, said he has met with state Rep. Jess Edwards, R-Auburn, who provided the training to the 31 Republican House members last month, after originally being skeptical it would pass muster.
"I was concerned that it wasn't open to all House members and staff and hadn't seen the syllabus before the training and the slides," Shurtleff said.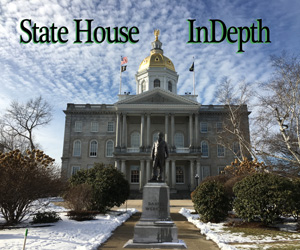 But after Edwards provided him with the slides and information that he shared during the training, Shurtleff agreed to accept it, but cautioned Edwards to alert his office beforehand if it is going to happen again.
See letter from Shurtleff to Edwards here. https://indepthnh.org/wp-content/uploads/2019/02/Shurtleff-Sexual-Harassment-letter.jpg
Rep. Edwards used some of the same slides as the presentation Associate Attorney General Anne Edwards presented for House members with some additions including: "Augmented to add history, Rights of the Accused and Recourse for False Allegations as well as other information Strategies for self-protection."
Associate Attorney General Edwards, no relation to Rep. Edwards, provided a copy of the slides her office uses. https://indepthnh.org/wp-content/uploads/2019/02/aSexual-Harassment-PPT-General-Court-January-2-2019-version-5.pdf
The one Rep. Edwards used with additions is linked: See here.https://indepthnh.org/wp-content/uploads/2019/02/Sexual-Harassment-PPT-General-Court-January-2-2019-Edwards-2.pdf
Edwards was pleased with Shurtleff's decision. Shurtleff had also accepted training by the state for a House member who is a firefighter who asked to be exempted.
"I would like to compliment the Speaker on his reasonable position," Edwards said, calling it a "good news" story.
"I would like to return the good faith. We're all just trying to make the New Hampshire House a place where everyone can be respected," Edwards said.
Rep. Jim Spillane, R-Deerfield, who organized the separate GOP session, said: "The HRA is very happy to see the Speaker recognize that the course we offered complied with the House rule as it was passed."
Spillane said he will be offering the GOP version again for people who missed it. Shurtleff, too, said he will be offering another training session.
The House voted 284 to 92 on Jan. 2 to create a new rule mandating the House members and staff "attend in-person education and training regarding sexual and other unlawful harassment and discrimination."
The vote came after several high-profile harassment complaints against House members were made public last year.
Shurtleff said he is moving ahead to set up a system for complaints with an eye to having someone from the personnel department be in charge.
"I'd rather have it handled by career human resources personnel so there will not be even the appearance of a conflict," Shurtleff said.