By GARRY RAYNO, Distant Dome
CONCORD – Is this the year New Hampshire's death penalty is repealed?
New Hampshire is the only state in New England with the death penalty and one of 30 states nationwide.
However, since 1985 when New Hampshire decided to change its method of administering the death penalty from hanging to lethal injection, lawmakers have made numerous unsuccessful attempts to abolish capital punishment.
Once nearly every two-year term for more than two decades, the New Hampshire General Court has voted on a bill to abolish the death penalty.
Twice the House and Senate approved repealing the death penalty — in 2000 and last year in 2018 — but both times were successfully vetoed, by then-Gov. Jeanne Shaheen in 2000 and last year Gov. Chris Sununu vetoed the bill and lawmakers failed to override.
But this year repeal advocates, who range from clergy to murder victims' families to former law enforcement personnel, believe there may be the votes to override a veto.
Democrats have control of both the House and Senate but not by veto-proof margins.
Long-time advocate Arnie Alpert, co-director of the American Friends Service Committee in New Hampshire, insists the issue is not partisan and has garnered much support from all sides of the aisle: Democrats, Republicans, Libertarians and Independents.
The sponsors of this year's bill bear that out. The prime sponsor as he has been numerous times, Rep. Renny Cushing, D-Hampton, whose father was gunned down by an off-duty Hampton police officer, and other long-time opponents such as Sen. Martha Fuller Clark, D-Portsmouth, and Mary Jane Wallner, D-Concord, to new converts like Laura Pantelakos, D-Portsmouth, and David Welch, R-Kingston, along with conservatives such as Sens. John Reagan, R-Deerfield, Bob Giuda, R-Warren, and Rep. Carol Maguire, R-Epsom. Other sponsors are John O'Connor, R-Derry, Paul Berch, D-Westmoreland, David Danielson, R-Bedford, and Linda Harriott-Gathright, D-Nashua.
No public hearing date has been set for House Bill 455, which replaces the death penalty with life imprisonment without parole as the penalty for capital murder.
The Criminal Justice and Public Safety Committee will have to decide what recommendation to make on the bill by March 14 and the House will have to take action by March 28. Cushing is the chair of the committee.
The House has approved repealing the death penalty a number of times, but the Senate was often the block, including several years when a tie vote doomed the bill.
In the repeal effort's early stages, any attempt was a difficult climb because law enforcement would turn out en masse to oppose the bill.
Every state attorney general still living would testify against the bill as would police chiefs from Pittsburg to Seabrook to Hinsdale.
Representatives Hall would be packed with police officers in uniform all opposed to the bill and calling the death penalty the greatest deterrent when their lives are on the line.
In New Hampshire, the death penalty is only applied when someone is convicted of capital murder, which originally meant killing someone in law enforcement — police officer, sheriff, probation or parole officer, or a corrections officers while on duty or in retaliation for doing their jobs.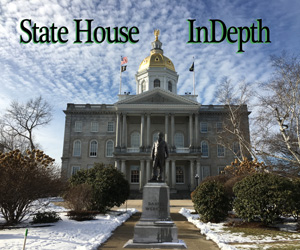 The list grew
Judges and those in similar positions like marital masters, as well as prosecutors were added to the list.
Capital murder also includes murder committed during a kidnapping, rape. robbery or drug offense. Someone can be tried for capital murder for a contract killing, and if a person in prison for life without parole commits murder.
In recent years, New Hampshire has done more to expand the capital murder statute instead of repealing it.
But six or seven years ago, the tide for repeal began to change with several former attorney generals, Philip McLaughlin and Gregory Smith, some former or current police chiefs, and state and local prosecutors began to publicly support repealing the death penalty.
And in 2014, the House Criminal Justice and Public Safety Committee, for the first time voted in favor — by a large margin — to recommend repeal. Those backing repeal included some long-time supporters who said they had changed their positions after listening to the stories.
New Hampshire may have had the death penalty since 1734, but has not put anyone to death since 1939, when Howard Long, a store owner from Alton, was hanged for molesting and fatally beating a 10-year-old boy from Laconia.
Two women in Portsmouth who were believed to have killed their "bastard" infants were convicted of concealing the deaths, the first people to be put to death in 1739.
From the first deaths through 1939, New Hampshire administered the death penalty to 24 people.
For many years, New Hampshire had no one on death row. In 1949, Ralph Jennings was sentenced to death for killing a woman, but he hanged himself in his jail cell.
Death row inmate
Since then no one had been on death row until Michael Addison was given the death sentence in 2008 for killing Manchester Police Officer Michael Briggs two years earlier. His case is currently on appeal.
Addison's case both helped and hurt the push to repeal the death penalty. Some lawmakers wanted to include a provision that if the death penalty were repealed, it would not change his status.
Whether that was possible or not was the subject of much debate, but most legal scholars believed if the state repealed the death sentence, his sentence would also change to life without parole.
But his sentence also made the repeal effort more urgent. It is hard to make the case the death penalty needs to be repealed when no one is on death row and the state has no facility to carry out the sentence.
With a person on death row, that argument changes.
While advocates are hopeful, finding a two-thirds majority to override a sure veto from Sununu is still a pretty steep climb.
Override requirement
The House requires a two-thirds majority of those present and voting, so if all 400 members were present, 267 would need to vote for the override.
In the Senate, 16 votes are necessary for an override.
Last year the Senate voted 14-10 to override Sununu's veto of Senate Bill 593, which would have repealed the death penalty, two votes short of what was needed. The House did not vote on repeal because the Senate voted first and failed. Earlier the House passed the bill on a 223-116 vote, which is five votes shy of a two-thirds majority.
This term Democrats control the Senate by a 14-10 majority and the House by a 223-167 advantage.
While repealing the death penalty is not a partisan issue, it is apparent advocates' optimism is justified.
Garry Rayno may be reached at garry.rayno@yahoo.com
Distant Dome by veteran journalist Garry Rayno explores a broader perspective on the State House and state happenings. Over his three-decade career, Rayno covered the NH State House for the New Hampshire Union Leader and Foster's Daily Democrat. During his career, his coverage spanned the news spectrum, from local planning, school and select boards, to national issues such as electric industry deregulation and Presidential primaries. Rayno lives with his wife Carolyn in New London.
InDepthNH.org is New Hampshire's only statewide nonprofit news outlet published daily by the New Hampshire Center for Public Interest Journalism.