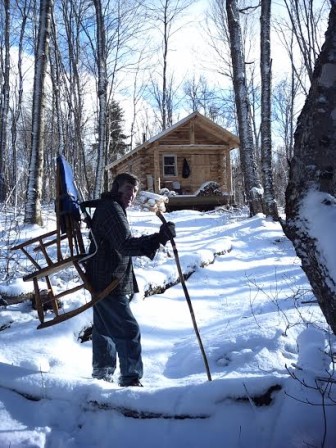 It came in a column I did for InDepthNH.org, "Iowa, Schmiowa," in which I wrote that I was "number than a two-by-four about presidential politics." The problem with that phrase is that "number," as in "He's number than a fencepost," looks and reads just like "I tried to get her telephone number and she smacked me number than a dead cod."
Thanks to my brother-in-law Peter Benjaminson, a writer who lives with my crazy sister Susan in Manhattan and checks up on me on InDepthNH.org, I've found a way to use "number" that is both hermaphroditic and removes all doubt about meaning.
Pete wrote a comment at the end of my last column, "Iowa Schmiowa," in which he thanked me for using "for Pete's sake" because he likes the Japanese adult beverage sake.
"Harrigan knows what he's talking about. And I appreciate his coupling my first name 'Pete' with my favorite drink 'sake,' of which I usually have more than one, thus 'sakes,'" he wrote.
When I went to visit my late brother Peter Harrigan in Japan, where he was an editor for the Pacific edition of Stars and Stripes, one of the items on my to-do list was to go hiking in the high country, which we did.
The day was cold and wet and the occasional little huts, which were toasty-warm and served sake, were welcome refuges.
Sake is good either cold or warm, and the hut-keepers kept their sake in heavy little teapots atop little pot-bellied, coal-fired stoves, right there alongside the warm, salty meat-pies and other salty treats that made you want to have more sake, of course, like the salty string- cheese right there by the beer taps in Quebec City.
Warm sake will warm, and numb, a hiker numbed by the cold. Hence I could have said, raising a hand in friendly request, "I'll have another one of those little numbers." This is delightfully correct in both senses, but barely translates in English, let alone Japanese.
+++++
When I get up in the morning, usually at around 6, the first thing I do is let the dog out, and the second is check the thermometer. This morning, Sunday the 14th, there was little need to check the temperature, because Millie was out and back in a flash, proving again that the fastest thing on four feet is not the cheetah but a dog let out on a below-zero morning.
It was 24 below, nothing unusual for this time of year, but then I turned on network television to find out who had blown up what during the night and was warned (again) about "wind chill," and that it was dangerous to go out.
Holy batteries and candles! "Stay indoors" indeed. What are we coming to, when we're told what the temperature "feels like" (weatherspeak for "wind chill") instead of what it actually is?
There is an antidote for this growing neurotic obsession over anything below zero, wind or not. It's called "clothing," with a scarf if there's a breeze.
Longtime statewide outdoor writer and North Country newspaper owner John Harrigan of Colebrook writes for InDepthNH.org whenever the spirit moves him. His weekly column "North Country Notebook" runs in the Salmon Press papers covering the northern two-thirds of the state (newhampshirelakesandmountains.com), as well as the Colebrook News and Sentinel.  He is a guest every Thursday morning at 7:10 on Concord's WTPL FM 107.7 with host Peter St. James. He has been working in various media, with a lot of radio and television but mostly newspapers, for 47 years and, he says, "still counting."